In just a few short weeks, I'll be back in Costa Rica running our May workshops. (Yeah!) So, it's probably not too much of a surprise that visions of rainforests have been sneaking into my thoughts with increasing regularity.
At the forefront of those musings is one of my favorite species, squirrel monkeys. Now, before you click away with the idea that this article may not apply to you, just give me a chance. Although squirrel monkeys are the topic of this article, many of the techniques apply to pretty much any animal you find loitering about in trees. So, even if you aren't planning a visit to Central America anytime soon, I think you'll still find some value here.
Of the four different species of monkeys you can find in Costa Rica – howler, white-faced, spider, and squirrel – I think the little squirrel monkeys are my personal favorite. In fact, if it wasn't wildly illegal, I'm sure one would find it's way into my carry-on at some point.
I remember when I saw a troop of them for the first time. We had actually just finished up with an incredibly photogenic three-toed sloth and were bouncing down a rutty dirt road heading back to the resort. It was warm (as always), and a cacophony of insect and bird calls drifted through the open windows. As we made our way down, popping through potholes and partially sliding here and there, I was thinking about how productive our first day was. Too bad it was coming to an end already – or was it?
That's when our (seemingly supernaturally) sharp-eyed guide, Dennis, spotted this troop of squirrel monkeys passing through in the trees above! For me, it was love at first sight. These little monkeys were cuter than a box full of kittens.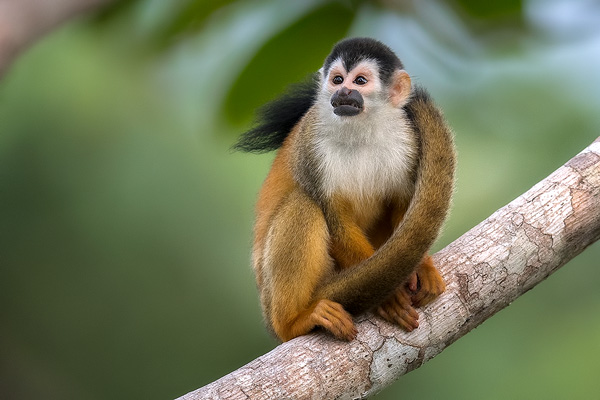 In this first set of photos, the light was getting low, and the monkeys were at a little bit of a distance. I had my D5 and D500, so, to put more pixels on my monkeys, I went with the D500 and 600mm F/4. (It's better to use a crop camera than to crop full frame camera of lower pixel density – see this post.)
The most significant challenge for these shots was maintaining a fast enough shutter speed to keep things stable on my end, and just as critical, to also freeze their constant action. Even when these guys are sitting still, they tend to be in motion. However, at the same time, the light was low, and even F/4 on my 600mm was struggling to let in enough light.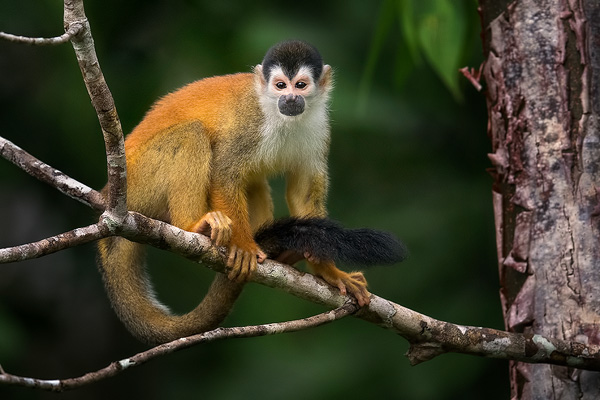 On top of everything, my ISO was climbing like it could see the summit of Mt. Everest and was about to break a world record.
In the end, I ended up using a shutter speed of 1/250th of a second, VR enabled, and everything mounted on my tripod. The truth is, 1/250th was slower than I really wanted, but there just wasn't much choice – my lens was already wide open, and I couldn't bear to watch that ISO climb any higher on my D500 (ISO 2800 ~ 4000 on average). Exposure mode was, as usual, Manual + Auto ISO, and Matrix Metering handled the scene without any need for compensation or override.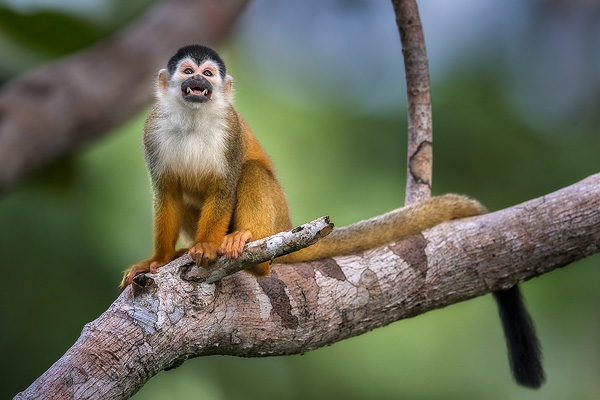 So, while I would have liked to capture some of their more animated shenanigans, I knew that at 1/250th all I would get for my trouble was a blurry mess on my memory card. Instead, I decided to work with what I had, so I targeted any monkey that decided to "stop" for a moment (using the word "stop" loosely here).
Using single point, Continuous AF, I would maneuver my AF point so it was right over the eye. As soon as I thought I had a shot, I'd fire away – always keeping my AF active in case they moved a little from shot to shot (which, of course, they did).
Each time a good moment materialized in the viewfinder, I would pop off a short burst at 10 FPS. When faced with low light, slow shutter speeds, or iffy AF (or all the above), I find that bursting in this fashion can often yield more keepers than just popping off shots one by one. In fact, I did an article about that you can read here. More info on this and similar techniques can be found in both of my books.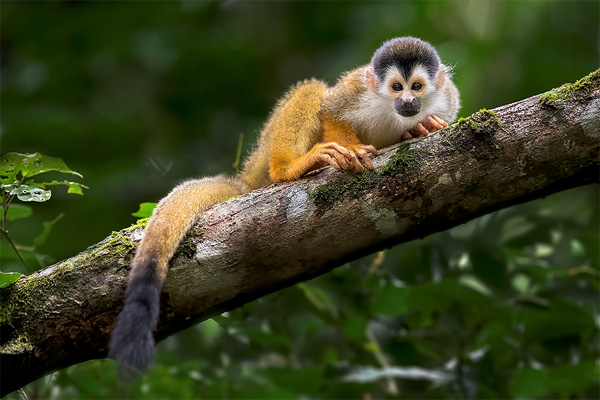 I was delighted with that first evening and decided that even if I didn't see another Squirrel Monkey on this trip, that would be OK. I knew I had a couple of nice keepers.
However, the best was yet to come!
A few days later we were along a desolate dirt road when we happened upon another troop!
They were really close this time and the light was at least a smidgen better. I started with my 600mm F/4, but quickly realized that was far too much lens for the task at hand. These guys were right on top of us and didn't seem to mind our presence at all.
So, I grabbed my 200-500mm instead, stuck it on the D5 this time, opened it to F/5.6, and started poppin' off shots as they moved through. Oh, and once again, Manual + Auto ISO – although this time at 1/500th of a second (VR on). Still not enough speed to stop all the action, but better than the 1/250th of a second from the other day. My D5 was floating between ISO 3200 ~ 9000 depending on how deep the shadows were.
This area presented a variety of issues, so let's tackle them one by one.
#1 – Dynamic Range
Dynamic range was a major issue for this location, The trees weren't overly thick and in many places, the bright overcast sky poked through. This meant the contrast between the shady areas where the monkeys were and the cloudy sky was incredibly harsh. The problem was, if you exposed for the monkey, the background was blown away to a bright, distracting mess. However, meter for the background and you'll never see detail in the monkey.
A lose-lose scenario if ever there was one.
Plus, although it was slightly brighter in most areas than in the last scenario, it was only by a stop or so better most of the time – and that stop was the difference between F/4 on the 600mm and F/5.6 on the 200-500mm I was currently using. Fortunately, my D5 has better ISO performance than the D500, so I was able to use it at higher values – but still, it was tough.
The biggest problem with higher ISO in this situation wasn't so much overall noise, but rather the loss of dynamic range.
The thing is, as ISO increases, dynamic range drops. So, that meant it was going to be even tougher to get a workable shot if I ended up with a backlit monkey. In fact, backlit monkeys really weren't an option at all. Plus, a white sky background tends to pull the eye away from the subject, so not only was it a no-go for exposure, it was also a compositional disaster.
My solution was the same as it always is for animals in trees under these conditions – maneuver around until you can get the animal against vegetation without any sky (or at least, very little sky) in the background. Plus, as a side bonus, as long as I didn't have too much bright background behind them, the Matrix Meter could handle the job without any help. This allowed me to keep my goldfish-like attention trained on my subjects and my positioning rather than finessing the meter.
#2 Motion
These guys were also in motion, so I needed to think about both the background I wanted and where they were going.
Ideally, you want to be in a position to photograph them as they come to you, rather than chasing from behind. If you walked alongside, by the time you stopped and brought the camera to your eye, you were looking at butt shots through the viewfinder. That may work for Instagram Celebrities, but not for squirrel monkeys.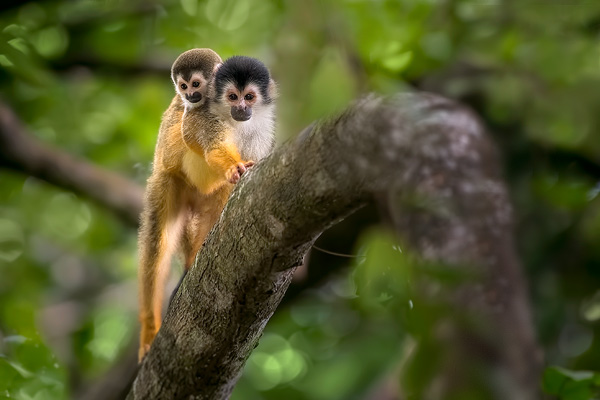 So, keeping a bit ahead of them was critical.
#3 Obstructions
Finally, in this scenario – and in most scenarios involving trees – I was dealing with vegetation and branches that had an uncanny knack for getting right in the shot during the perfect moment. So, just when you think everything is coming together perfectly, you notice a branch right across the little guy's face.
The bottom line is that it all came down to maneuverability – as it often does in these types of scenarios. The key was finding a position that had a good background, a good "window of vegetation" to shoot through, and a front or at least side-view of the monkey.
As soon as I saw a good composition through the viewfinder, I shot away as before. Single Point, Continuous Autofocus, AF point right on the eye, and shoot in short bursts. Since the monkeys were really on the move, all of these were hand-held. I love to use my tripod, but when you need rapid changes in height to shoot through little pockets of vegetation – coupled with fast-moving wildlife – you'll never make it with the sticks. About the only support I would consider using in that scenario is a monopod since there's only one leg to manage.
My favorite shots were when the monkeys would stop and rest for a moment on a branch, although even those shots were fleeting. Sure, they appear to be camping out for the day, but the monkeys in this article were in the "rest" position for less than a minute each.
Not every image I captured that day was a winner of course, but I do like the ones I've displayed with this post and I actually have even more to process when I get a chance.
All I can say is that even though it's a challenge, I am looking forward to seeing these little guys again in a few weeks.
Oh, and as always, your comments are welcome.
~Steve
PS…
If you enjoyed this post, I think you'll REALLY like my e-books, Secrets To Stunning Wildlife Photography and Secrets To The Nikon Autofocus System. They're filled with hundreds of pages of information just like this. Check it out – click here (hey, it's free to look 🙂 )