I recently received a nice compliment from one of our blog readers who mentioned that I seem to have a knack for capturing the "perfect moment" with my wildlife images. She also mentioned that she would like to know if I had any tips/tricks for grabbing these decisive moments or if it was mostly a product of luck.
While I readily admit that luck plays a part in any compelling wildlife image, there's also a trick I use to help load the photographic dice – and that trick is high speed bursting. In fact, maybe "trick" isn't even the right word, maybe "cheat" is what I should say – because that's what it feels like sometimes.
Yeah, I know what you're thinking, everyone (sort of) knows this, but stick with me here a bit.
Most of the time, when a photographer lays on the shutter release and rocks off a dozen or more images, it's because they have a viewfinder packed with non-stop action. And shooting high-speed bursts in that situation is a technique I use all the time. This little hummingbird I grabbed as she zipped around some flowers in Costa Rica is a prime example: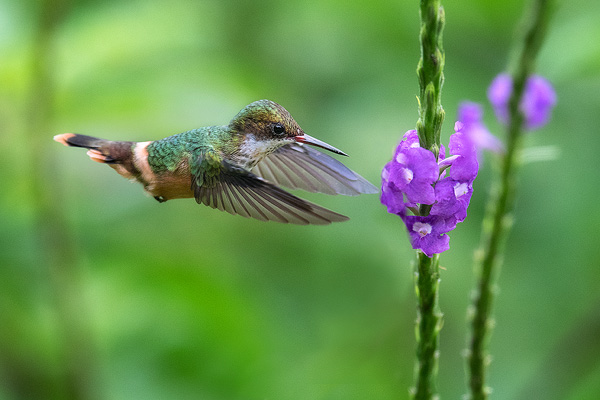 However, where I tend to part company with the typical photographer is for almost (but not perfectly) static subjects. Many people shooting with me for the first time are surprised when I knock off a short fast burst every time an animal does something interesting. After all, wouldn't a single image or two get the job done as he turned his head? Do I really need six, or eight photos each time? Do I just like the sound of my shutter? (Well, OK, if you accused me of that you wouldn't be wrong.)
The thing is, I've learned over the years that even seemly "slow" scenes often benefit from shooting controlled, high-speed bursts during decisive moments.
In so many cases, a short burst will yield slightly different expressions or body positions from frame to frame – often with a single notable standout in the series (that last part bears re-reading). Sure, you risk getting a sequence of identical images, but really, how much did it cost you?
I realize this may not seem like it would garner a significant increase in the number of wall-hangers adorning your home, but you'd be surprised just how often shooting short bursts can help you nail that perfect moment.
I think the best way to demonstrate the effectiveness of this technique is to break out a few examples. In the interest of brevity, I'm only going to put in a few images, but the truth is my hard drives are overflowing with images that have benefited from this technique.
First, let's take this meadowlark. For this shot, I kept the AF spot right on his eye and waited for him to start singing. As soon as the music started, I ripped off a ten or twelve images at 8FPS. And you know what? Almost no two were exactly alike. In most of them, he had his nictitating membrane pulled over his eye, making him look like he just finished up the role of the "zombie bird" in some horror movie. In some shots, his head was too far forward or too far back. However, I ALSO captured one or two that I really liked, including this one – eyes wide, beak open the right amount, and his head in the perfect position. Had I just popped off one here and there, the chances of nailing this moment would have taken on lottery-like odds.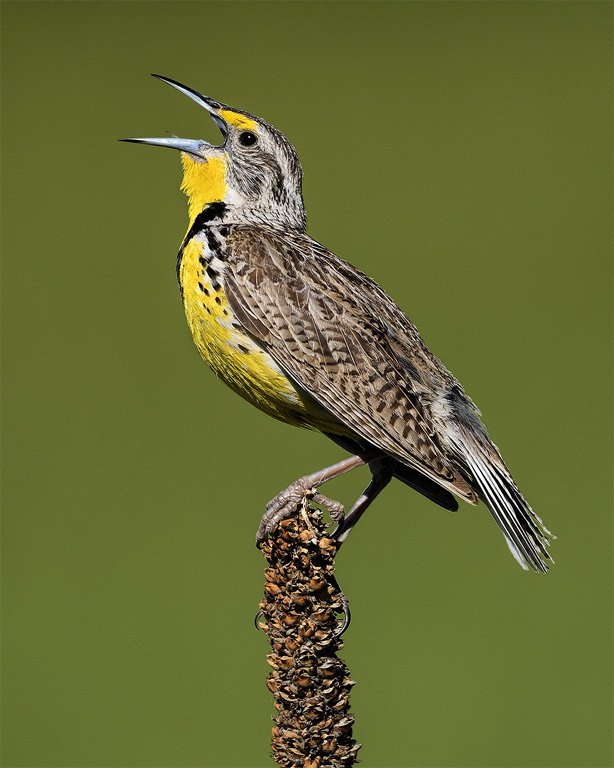 Next, we have this black bear between the trees. This image was captured just as she woke for the day. She decided to get between the trees and do a few stretches to get the blood pumping, and it was quite a good show. (In fact, the show was of such high caliber one of the group inquired if there was a tip jar nearby.) Again, instead of just trying to pick off a shot here and there, I would lock onto her eye and fire off short bursts each time I saw an expression I liked. Since she was moving her head and slowly shifting positions as she did so, I captured a wide variety of poses and expressions – far more than had I just tried to pop off one shot at a time.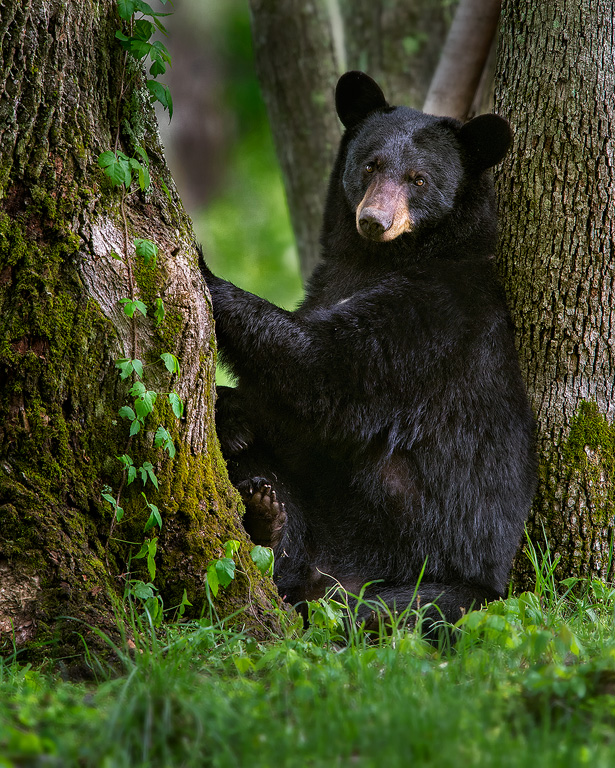 Next, we have this photo of a spoonbill preening. Again, the same type of scenario. The bird is relatively still, but as he's preening (I think it's a "he"), you get a wide variety of head positions and preening postures. For this shot, I'd watch him through the viewfinder, and when I saw something I liked, I shot off a burst until he finished. Most of these were just a second or less (6~7 frames on the D7200), but the extra images gave me an excellent selection. In the end, I chose this photo from the series – and what's interesting is that none of the other images I shot that day were quite what I was after – only this one.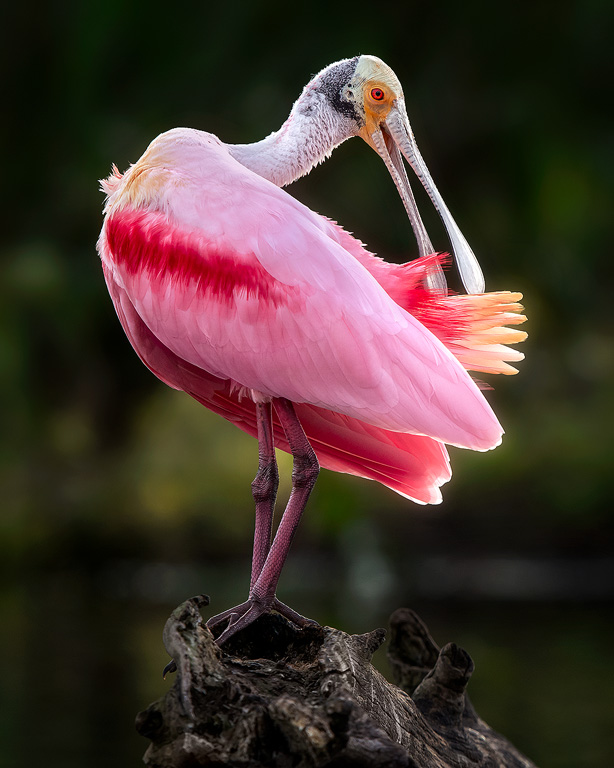 Finally, we have these wild burros. Although it looks like the little guy was just kinda laying his head on his mother, that wasn't what happened here. Nope, in reality, he had an itch to scratch and was rubbing his head up and down on momma with some real vigor – I had to use 1/1000th just to stop the action! I shot in 8FPS bursts (D7500) for the duration of each time he did this and ended up with several shots I liked (this one is the standout favorite). Note that the vast majority were nowhere near as adorable as this one. Once again, bursting gets the special moment.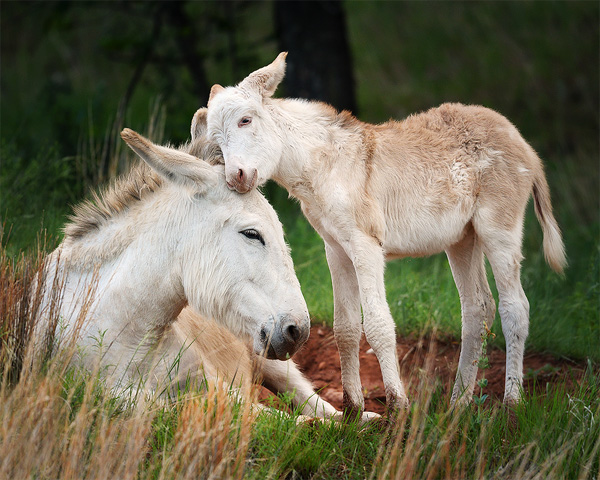 Of course, the short-burst naysayers might argue that they can get perfectly acceptable images by just popping off a shot at the "decisive" moment, but I urge them to consider this:
When you only pop off a single shot here and there instead of shooting in short bursts, you will capture images that look great from time to time – no doubt. However, the bigger question is, what didn't you capture? The thing is, if you didn't burst, you don't know if the expression you captured was the best or not – you're limited to just the single frame or two on your memory card.
Coming from film, I learned this the hard way. When I first started shooting digital, I popped off frames as if I were still loading 36 exposure rolls of film into the camera. Eventually, I "untrained" myself and started shooting in short bursts and sure enough, I found myself capturing that perfect moment more and more frequently.
Now, of course, in many cases shooting short bursts like this is completely unnecessary. After all, for a perfectly static animal and good support / shutter speed on your end, a shot or two is often sufficient. However, my rule of thumb is that if the animal is moving – even just a little – then shoot in high-speed bursts when you like what you see in your viewfinder. I encourage you to try this even if it seems like you may only need a single snap to get the job done.
Of course, you don't need to take this to the extreme either, bursting away like a crazy person shouting, "Steve Perry made me do it!" My point is simply this: don't be afraid to burst when you see something you like in the viewfinder. The moment you stop liking what you see, let off. (Most of my short bursts are 3-4 frames.)
But wait, there's more!
In addition to helping you capture the perfect pose/moment, shooting short bursts during peak action can aid with sharpness. It does so in two ways:
Bursting Helps With Motion Blur
First, bursting can help with motion blur. I know, that seems like an odd thing to say, and you'd be forgiven for thinking I was a few fries short of a happy meal. So, just how does bursting help get sharp images? Easy – by giving you more opportunities to get a sharp capture. As wildlife photographers, it's no secret that we frequently flirt with slow shutter speeds that are less than ideal. In those cases, you're fighting both subject and photographer movement.
When I'm facing dangerously sluggish shutter speeds, I know that my percentage of sharp images will go down as the shutter speed plummets. So, if I'm at a shutter speed where I think only 20% of my images will be sharp, that means for every five shots I take, I can probably rely on capturing at least one that's useable. So, rather than just popping off one and hoping for the best, I shoot five or ten (or more). The slower the shutter speed, the more frames I shoot.
I've been in situations where the shutter speed was such that even a slight amount of movement from myself or the critter would have been a disaster. In those cases, I may shoot dozens of images to get a single sharp exposure (especially if it's a crazy good shot). Admittedly, this isn't the prettiest method, but when faced with slow shutter speeds I'll happily endure the odd looks from nearby onlookers to put a few keepers on the card.
Bursting like this is also helpful if you're in a situation where you're hand holding a large lens. I was recently shooting in Costa Rica, and due to the conditions, I frequently had to forgo the tripod in favor of hand holding. Things were simply moving too fast to adjust a tripod every few seconds, but I was also hand-holding a 600 F4. Yikes!
If you've ever hand-held a big hunk of glass, you know all too well that your body (arms in particular) will begin to falter and eventually betray you after awhile. So, if you're in an long, intense shoot with slow shutter speeds in the viewfinder, you can have a serious stability problem on your end – not to mention the fact that the critter in question is moving around too. It's a grim scenario to be sure. In the shot below, my arms were about spent, but bursting allowed me to get a couple razor sharp images of this howler monkey:
In those situations, I would often only get a handful of keepers out of several bursts – but the point is I got some keepers! Just a casual shot here and there simply wouldn't have cut it.
(NOTE: Keep in mind this is for relatively stationary animals – if you're photographing a walking, running, or flying animal at really slow shutter speeds, be prepared for some disappointment back home when you review your images).
Bursting Also Helps With Focus
The other place bursting can help is when your autofocus is finicky. I think we've all faced uncertain autofocus at one time or another and when it gets finicky, it also tends to get inconsistent. If your AF system is struggling – even a little – it's not a bad idea to try the following technique:
1. Set your camera to Continuous Servo AF (AF-C). You should already be there if you use Back Button AF as I do.
2. Now, place (and keep) your AF point right on the subject's eye – or at least something that's on the same plane of focus.
3. Finally, fire off your burst while keeping the AF point on your target. If you're using back Button AF, make sure you continue to press and hold the AF-On button. Shutter release shooters can just fire away.
Since the camera is in AF-C mode, as you shoot it will continue to make micro adjustments to focus as you hold down and fire. Often, when you examine the resulting images back home on your computer, you'll discover that one shot was slightly front focused, one back focused, another spot on as the AF system struggled to get/keep the lock. For example, the dark face of the howler monkey (below) in the dim jungle light was NOT my D5's favorite AF target. However, using the technique put some keepers on the card.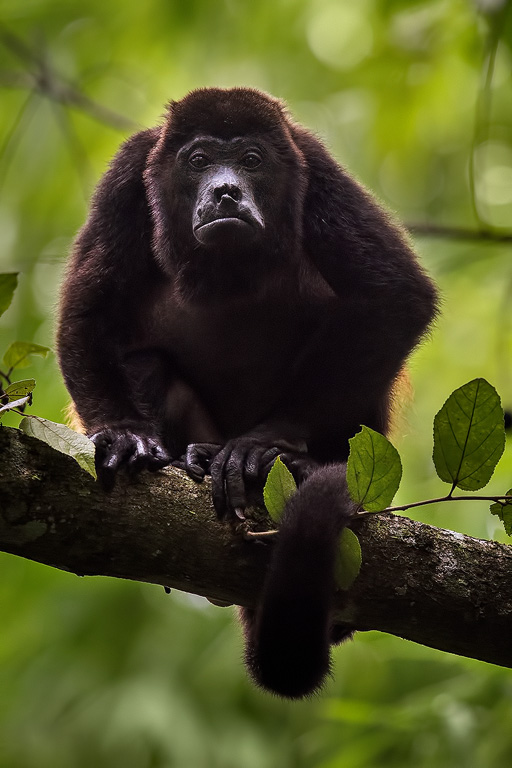 A related problem is sometimes you just can't quite get the AF point precisely where you want it on the subject. Maybe you're hand-holding a large lens and you're just not quite able to keep the AF point precisely on the eye as you shoot. Maybe the eye is sort of on the side of the head as your subject is looking at you and you're not entirely sure if you're focusing on the forehead, the side of the head, or the eye. In those cases, bursting "around" the area will often yield an image where the eye is perfectly sharp.
For example, with this little chipmunk, the AF area was slightly bigger than his eye (DX crop from my D850). So, while I did have the AF point on the eye, the camera could also choose to focus anywhere the blue arrows are pointing. By shooting in a burst and allowing my AF point to slightly move as I shot (happens pretty naturally on a loose tripod gimbal with a 600mm + 1.4TC), I was able to get a few where the center of the eye was sharp.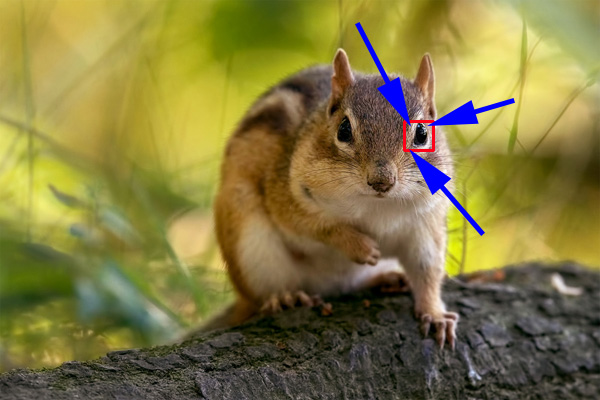 Another potential problem is if you're using VR. When you use VR, you'll notice the image in the viewfinder sort of "floats" around a little. This "floating effect" can actually make it difficult to keep pinpoint accuracy on the eye since it sort of becomes a moving target and may not be exactly where it appears in the viewfinder as you shoot! By using short bursts instead of single shots, you give yourself a better chance of getting an image with focus right on the eyeball. Also note that if your lens has a VR mode called "Sport" mode, that you may want to try that instead. It keeps the "floating" sensation in the viewfinder to a minimum and I tend to recommend it over "normal" mode for action shots. (Note – for a full rundown of VR modes, see page 218 of my Nikon AF Book).
One final word of caution. Bursting has treated me really well over the years. However, it's not perfect. There are times when dealing with a sensitive animal that a shutter ripping off at high speed may startle them. So, I always watch the reaction of the animal when I start to shoot. If the shutter clanking away seems to be ruining our fun, I'll dial it down a notch. Scaring the animal off is no good for them and a sure way to lose the shot!
So, there you have it. Next time you're out shooting, think about using short bursts more often and you'll find that capturing those perfect moments isn't too tough after all.
~Steve
PS…
If you enjoyed this article, I think you'll REALLY like my e-books, Secrets To Stunning Wildlife Photography and Secrets To The Nikon Autofocus System. They're filled with hundreds of pages of information just like this. Check it out – click here (hey, it's free to look 🙂 )