Thanks for the interest in my e-books and video workshops!
Secrets To Exposure And Metering For Nikon
Are you ready to go from snapshots to masterpieces? Then it's time to really learn exposure and metering! In this book, we explore note only the intricacies of exposure (shutter speed, F/Stop, and ISO), but also how to leverage them for maximum creative advantage!
In addition, we also dive deep into your cameras exposure modes and metering patterns, teaching you how to get the most from every single one. It's time to take total control over your images! Check it out!
Noise Reduction Using Photoshop And Lightroom – Video Workshop
Win the war on noise! Learn how to do amazing noise reduction with just Lightroom and Photoshop. This video workshop will show you the noise reduction techniques I use on my high ISO shots. The techniques require no extra plug-ins and are my personal go-to whenever I face a noisy photo. Very little experience with Photoshop / Lightroom required! Click here for more info.
Secrets To The Nikon Autofocus System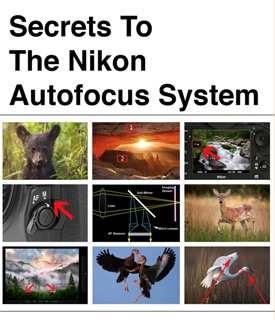 Ever get frustrated with the Nikon AF system? Feel like you may be missing something? Want to know how to get the most out of it? Well, you've come to the right place. This amazing 450 page guide will make fuzzy photos a thing of the past. Every aspect of the system is covered, a must-read for every Nikon user. Click here.
Secrets To Stunning Wildlife Photography
The book that started it all! This is the wildlife photography book you've been searching for all your life. In this fun, fact-filled 290 page book, we'll examine the the critical information every wildlife photographer needs to know. Forget the learning curve, grab this book today and take your wildlife photography to the next level! Click here