4:00 AM, Badlands National Park.
The world is peaceful and silent, save for my iPhone alarm jolting us out of bed. Time to head out and see if my wife and I can track down some adorable bighorn lambs. We'd spotted them in the same place a couple days in a row (about a 45-minute drive from camp), and while we were able to secure a few good shots, I just didn't feel like I had "the shot" yet.
I'm sure you've been there as well. You've captured a few good pics of a particular subject, but this nagging feeling keeps whispering in your ear that you need to keep trying.
That feeling was more like a yell than a whisper with these baby bighorns.
Still, the previous day produced more than a few keepers. However, early on the action was abruptly cut short by a family forcing a screeching child out of the car to "see the babies" (pro tip – don't take a 3-year-old out at 4:45 AM). Not to mention the guy with the barking dog going berserk over the sheep. It honestly blows my mind how people can be utterly oblivious to how their hysterical dog is terrifying the wildlife. Ahh, nothing like Sunday in a national park…
Between the kid and the dog, I honestly don't blame the entire herd for retreating into the canyon. I kind of felt like going with them if we're being honest. The situation seemed to take on the quality of a lost cause, but luckily there was a curious little dude that couldn't resist taking a peek over the ridge to see if the circus was still in town.
The second I saw his adorable little head break over the edge, I trained my hand-held 500PF on him, focused on the eye with the D6, and let loose. The biggest trick was the grass blowing in front of him, but thankfully I was able to get a couple shots that didn't have vegetation blocking his eyes.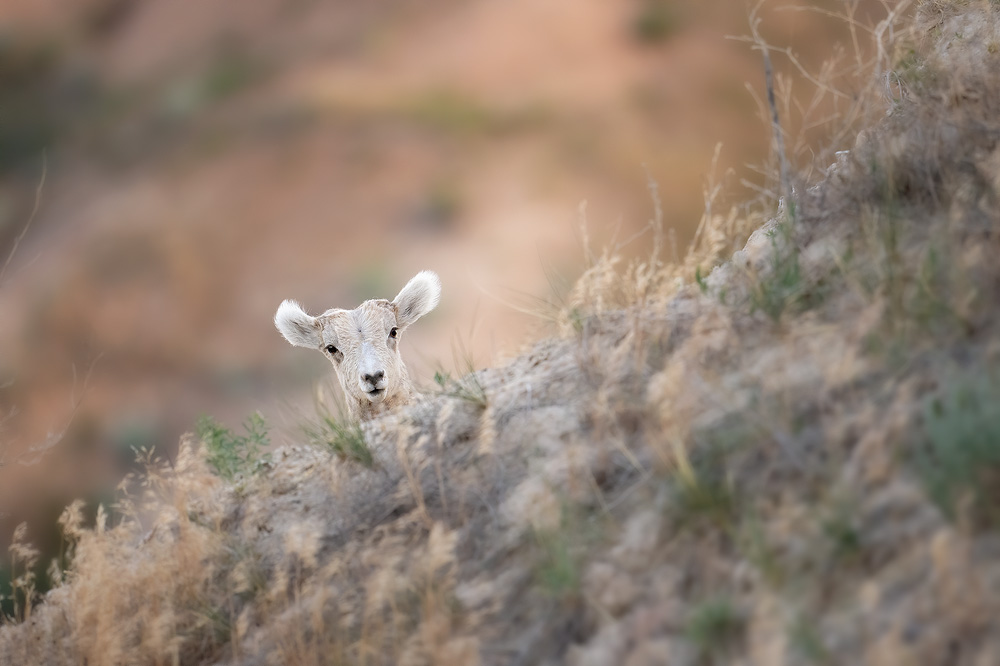 The truth is, I really liked that shot and thought I was satisfied. But that little nagging feeling kept rearing its head every so often throughout the day, making me feel like I was still missing something.
As evening approached, we made our way back out to the Badlands to see if we could unearth a few more bighorns. I had my sights set on some big, beautiful, full-curl rams that we had spotted earlier. Sadly, when we found them, we discovered they had chosen a terrible location for a photoshoot – and there seemed little we could do to change their minds. We moved on.
Once again we came across some lambs – only this time they were far more active. As they played and bounced, I quickly realized what that nagging feeling was about – I wanted an action shot too!
Up until this point, the lambs had been more or less docile. Sure, there was the occasional moment of excitement when they would run and play a bit, but it was short and never prolonged. This group was rambunctious and would leap high into the air, mock fight (smashing their tiny heads together), run, sprint, you name it.
Sadly, a storm was moving in and the light was dismal – even by D6 standards. When the action did erupt, I just wasn't able to muster the shutter speed required to freeze it.
BUT… now I knew what I was after! So, the 4:00 AM wake-up call was greeted with far more enthusiasm than you might expect considering the early hour.
This time, we went back to the largest group, hoping to see some action and weren't disappointed. As the first light of sunrise struggled to break through the cloud cover, we spotted a large group of lambs – under the supervision of the watchful eyes of the ewes, of course. We pulled up, the truck creeping along incredibly slowly, finally stopping a comfortable 50 yards from the herd.
We very carefully opened our doors and stepped out. I grabbed the D6 and the 180-400. I'm not usually a "zoom guy" for long glass, but a few otherwise fantastic action shots were ruined the day before, thanks to some cropped ears and too much lens (the 500PF in this case). Plus, the zoom offered more versatility – and if I could keep it at or below 400mm, I also gained a stop of light over the 500 PF (F/4 instead of F/5.6). A welcome bonus in the dim morning light.
Since I'm field-testing the D6 at the moment, that was the camera of choice. I decided to use one of my custom Group AF areas (7×7) this time. The problem with leaping or running lambs is their head tends to go up and down very rapidly – and it's challenging to pan both horizontally and vertically at the same time. This is especially true when they are filling most of the frame. So, the larger Group AF area allowed me to basically cover the entire area where I anticipated I'd want to place the head in the composition. Now, when the action starts, all I need to do is keep the head somewhere in the 7×7 square – easy enough.
Although the light was low, I still dialed in 1/1600th of a second. Not as fast as I'd like, but it seemed like a good compromise between ISO and shutter speed.
We started our approach, slow and steady. As we closed in on the main group, a NASCAR wannabe came racing by in his pickup (I really wish these sheep wouldn't always hang out right next to the road). As the truck rattled and clanked by, the babies took to the canyon.
Seems like we'd been cheated again.
However, just before we started back to the truck, we spotted a couple "leftovers" hanging out with their moms. These two seemed quite fearless and were soon play-fighting, chasing, and butting heads – and they couldn't have cared less about the two gawking spectators with long lenses pointed their direction.
At one point during a mock-fight, the little guy you see in the image below bounced at least six feet off the ground! When something is that high in the air, it usually has feathers and a beak!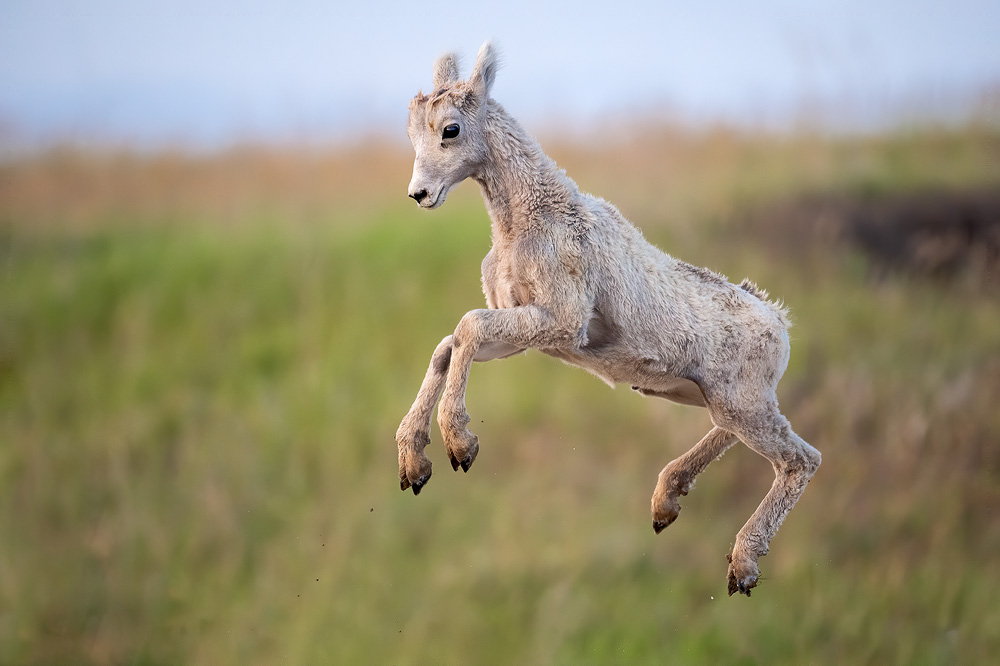 While I try to avoid too much chimping in the field, I have to admit, I did indulge this time. I just couldn't resist taking a moment to check that image. If you think I had a stupid grin on my face afterward, I'd say that's a fair assessment.
After this little performance, things settled down. There was a bit of running here and there that I happily captured as the opportunities presented themselves, but I figured there's no way I'm topping or even matching that "lamb-in-flight" shot.
Wrong!
About 45 minutes after the image above was captured, the bighorn family started to make its way through the meadow. We advanced alongside as they went, maintaining a distance that seemed to make them comfortable. However, at this point, they were all but ignoring us.
I was kneeling down shooting some portraits – in this case, using my Pv button set to Single Point so I could let go of the button and jump back to Group if the action started. As I shot, I noticed that one of the ewes was leisurely trotting towards another part of the herd farther back in the field. The lambs weren't paying attention – at first. However, the second they realized mom had wandered off, they decided the appropriate course of action was to sprint after her.
In the shot below, I was back to using standard-issue Group AF (moved a little left of center) and thanks to increasing light levels, 1/2500th and F/4.5. As the little guy sprinted past, I captured about 20 images – trying my best to keep on his neck and head. Most of the shots were pretty cool, but this one of him leaping over the purple flower was the obvious pick. That 14FPS gives you a LOT of choices in an action scenario!
While I'm sure I'll come back again for more sometime down the road, for now that little nagging feeling seems to have taken a day off. 🙂
PS – If you enjoyed this post, I think you'll REALLY like my e-books and video workshops! Thousands of pages and hours of videos filled with tips, tricks, and techniques – all my best content! Check 'em out – click here (hey, it's free to look).