I love pouncing coyotes! And I don't think I'm alone – these airborne coyote shots are by far some of the most popular images on the site. They also generate a few questions from time to time, so I thought they were a good candidate for the "How I Got The Shot" series.
These photos were captured back in 2013 in Yellowstone National Park – just after a late lunch.
Earlier that day I had not one, not two, but three awesome grizzly bear encounters at three separate times! So, by early afternoon, I was pretty well satisfied with my photographic catch and not feeling pressured to find anything else. I planned to start working my way back to my hotel (maybe I'd be there before dark for a change), and if anything particularly good popped up along the way, I'd consider it a nice bonus. Still, I felt like I had already exceeded my quota of great photos for that day.
However, the photography gods were still smiling on me that afternoon. 🙂
Before we get too far, allow me to share a little background with you. You have to understand that I really love coyotes. I know, not everyone is a fan, but I can't help it – they're one of my favorite animals.
I think a large part of my favoritism stems from my admiration of the aerial pounce they sometimes employ when pursuing prey. Their approach is decidedly cat-like in its execution and incredibly graceful to watch.
So, there I was, driving along, eyes alert for anything exciting when I spot this coyote out in a field. I quickly extracted my gear from the back of the truck, with hopes of getting a few nice "posed" shots of him majestically surveying the meadow – little did I know what was in store.
As I approached, he stopped and stared intently at a small area of vegetation – no doubt a mouse had tried to scurry away but waited too long to make his move. The coyote crouched down, cat-like, gave a slight wag with his entire body (a sure sign of an imminent pounce), and sprang into the air. The pounce was flawless – he fell upon on his prey and came up chewing.
YES! He was a pouncer!!
Now I was excited. Not all coyotes are pouncers, many just sneak up and snag from behind in a hurried, brute fashion that no one would call elegant. However, this particular 'yote had some serious flare and seemed to favor a dramatic leap to catch his dinner. The first pounce was a bit too far out for a good photo, but I knew if he'd allow a closer approach I might have a shot.
So, with my D4 (remember, this was 2013) and 600mm F4 (with 1.4TC) mounted to my Gitzo 5 series tripod, I headed out to the meadow.
Back then, my D4 was my go-to camera, and frankly, if this opportunity came up now I would probably grab my D5 over my D850 (or anything else in my bag) simply for those insane 12 FPS.
When you're trying to capture a coyote in mid-air, a high frame rate is your best friend. It's not that you can't get shots like these with a slower camera, it's just that you get more OPL (opportunities per leap – you heard it here first 🙂 ) with a high frame rate. Figure a jump lasts about 1/2 second, so my D4 gave me 5 OPL, the D850 would be 4.5, and the D5 would snag 6 OPL.
Shutter speed is also critical in this scenario, and you likely need more than you think, especially for the "launch" portion of the leap. In reviewing my original images for this article, I discovered I was around 1/1200th for the first pounce. I must have noticed the images were a touch soft upon verifying them on the back of the camera because for the next set I bumped the ISO to 1000 and ended up at 1/3200th of a second. (This was when I was just starting my transition to Manual + Auto ISO, so I was still leaning on Aperture Priority for shots I deemed important – well that and regular manual mode).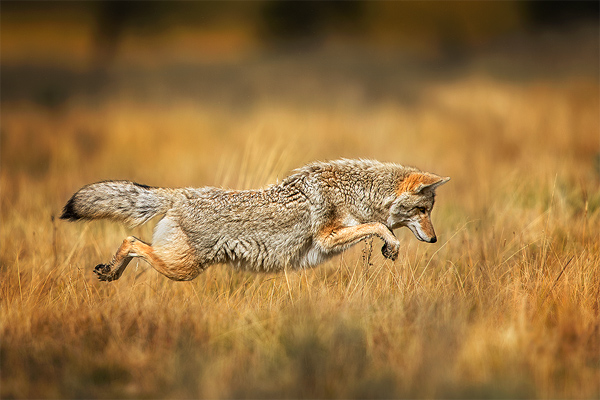 I mentioned that I checked the image on the back of the camera for a very particular reason. From time to time, you'll see some internet "pro" announce that "real" photographers never chimp (i.e., check their images on the back of the camera). Well, I ALWAYS do – and for this very reason.
Had I arrogantly assumed everything was fine, we wouldn't be having this conversation right now. One key advantage with digital photography is that it allows you to verify your images and make adjustments on the spot if there's a problem. I think ignoring that option tosses away one of the most significant benefits of digital photography – and that's nuttier than a squirrel turd.
The secret is to do quick checks between the action – you NEVER want to miss shots because you were gawking at the back of your camera. However, I think it still pays to take a peek now and then as opportunities permit.
OK, off my soapbox 🙂
Next, let's talk light. You may have been surprised when you read that these were captured right after lunch – after all, I'm a pretty strong advocate for shooting during the early morning and late evening.
However, the day I took these photos the sky was overcast, with a hazy viscosity that had varied wildly throughout the day. When I captured this image, it was under a bright overcast with the sun trying to break through (but never quite succeeding). I think it was just the right amount of light for the fast shutter speeds I wanted, but not so harsh as to cause unsightly shadows beneath my subject.
Metering was, as usual, done with Matrix. This scene was a cinch for the camera – middle tones everywhere with nothing tricky attempting to fool the meter.
I chose an F/stop of 6.3 for this shot, 1/3rd of a stop from wide open (remember, it was a 600 F4 + 1.4TC). I always found my old 600mm F4 G seemed better if I closed down just a bit from wide open. It doesn't seem like 1/3rd of a stop should make much difference – and I suppose it wasn't night and day or anything – but every little bit helps. (For the record, the new 600E is as sharp as I'd ever want wide open.)
Finally, the AF modes. In this case, I was just in single point AF, using AF-C (back button AF of course). Truthfully, the target was pretty easy since all I had to do was keep the AF point on his side when he was parallel to the camera. For the shot where he is more at an angle, it still wasn't that tough to stay on target. If I were shooting this with my D5 or D850, I'd probably select D9 just to be safe since the AF points in those cameras are smaller in actual size than what we had in the D4 (or any of Nikon's 51-point AF systems).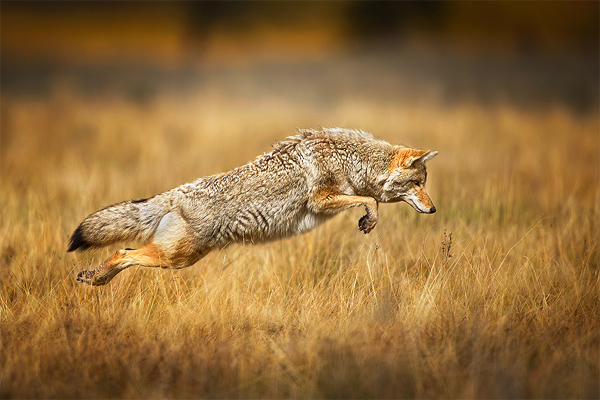 Luckily, he allowed a closer approach and I was able to secure what I think are several nice pounce photos. Oh, and yes, he did manage to snag a mouse on just about every pounce too – he actually only missed his mark once out of five tries. Probably the reason he was such an impressive looking animal.
By the way, this was not the first time I'd been face to face with a pouncing coyote. I'd had opportunities before but always managed to bungle them – mostly because I didn't have enough practice / thoroughly know the behavior yet.
Since my first few failed attempts, I had learned exactly what precedes a pounce (that crouch and waggle I mentioned earlier for starters), how to frame, and basically what to expect.
I'd also had more than a few opportunities to stalk and observe coyotes in the field, which helped me recognize the signs of agitation when I was getting too close.
For example, coyotes habituated to people usually don't sprint away (at least not in 2013 YNP), but instead, start to move off gradually from your position as you follow along with them. Nervous coyotes also tend to pay more attention to you than what they were doing moments ago, maybe lower their tail, crouch down a little more (now you're too close for sure) and pick up their pace. You know, those kind of things.
However, it's more than just knowing when you're too close.
My previous coyote experience also allowed me to anticipate where he was going and position myself at a location that would not force him to alter his path.
So, getting this shot came down to understanding the animal and applying what I learned on my failed attempts. The more you photograph a particular species, the more your skills for photographing that species develop.
All in all, I only spent about 20 minutes with this guy, but it was probably one of the most productive 20 minutes of the entire trip.
~Steve
PS…
If you enjoyed this post, I think you'll REALLY like my e-books, Secrets To Stunning Wildlife Photography and Secrets To The Nikon Autofocus System. They're filled with hundreds of pages of information just like this. Check it out – click here (hey, it's free to look 🙂 )