Think fast!
You're out searching for wildlife – your camera in hand – when you spot some critter you've always wanted to bag off in the distance. Sadly, you know that your lens is just not going to be quite long enough to get the shot you want on its own.
So, here's the question – what's going to give you the best-looking photo, slapping on a teleconverter or just cropping the non-teleconverter image to the same size back home on your computer?
Well, that's a good question and one that comes up on a regular basis, both on internet forums and in the minds of photographers faced with the situation in the field.
The image below, I choose to crop instead of using a teleconverter. Was it a mistake? We'll answer that at the end of the article 🙂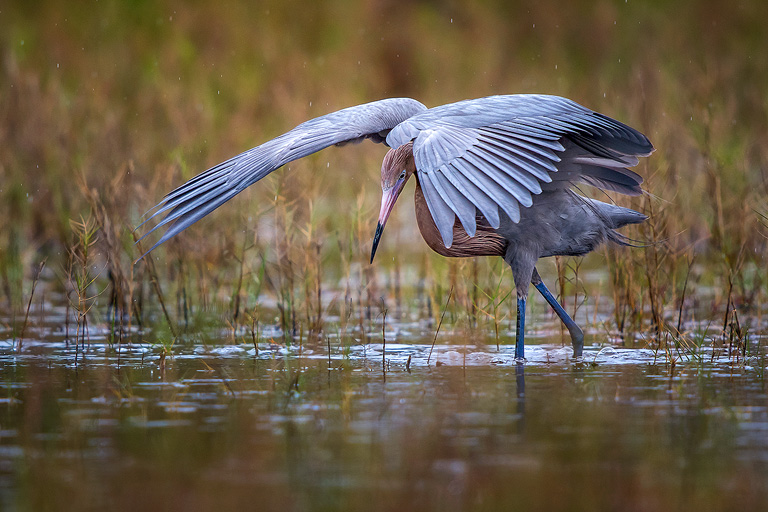 So, which way gives better results? Well, I decided to do a few tests that will (hopefully) put that question to bed.
For this test, I used the Nikon 300PF attached to a Nikon D810, D5, and D500. I choose the 300PF because it takes a teleconverter very well and I think it's typical of what we would see with most quality lenses and 1.4 TCs.
Since the cropped shots are lower resolution, I had to downsize the teleconverter shots so we could compare. Also, note that I cropped to the same size as the teleconverter – a 1.4X crop, not the 1.5X DX or 1.6X APS-C crop. I currently only use the 1.4 TC, so I can't compare other TCs.
Also, be sure to click the images below for a full-size version (they will open in a new tab). NOTE – when the image opens in a new tab, you may have to click it one more time for the full-size image.
Here's the overall test scene: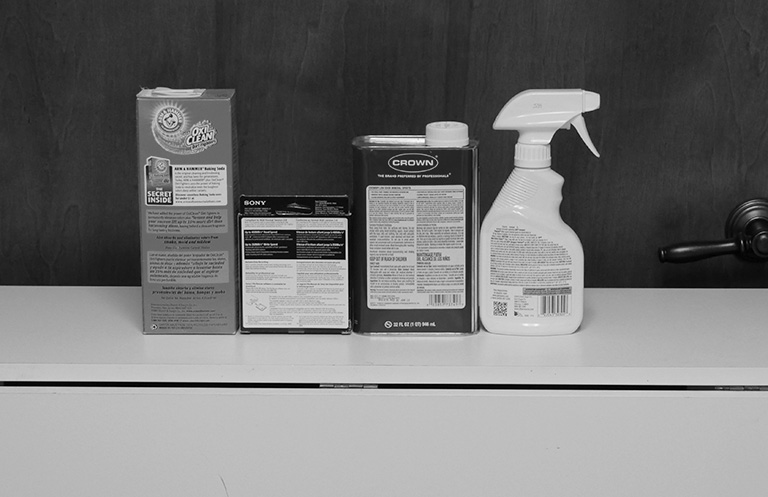 The results are as follows:
First, we have the D5. As you can see, the teleconverter shot has a lot more detail so a TC is definitely the way to go here.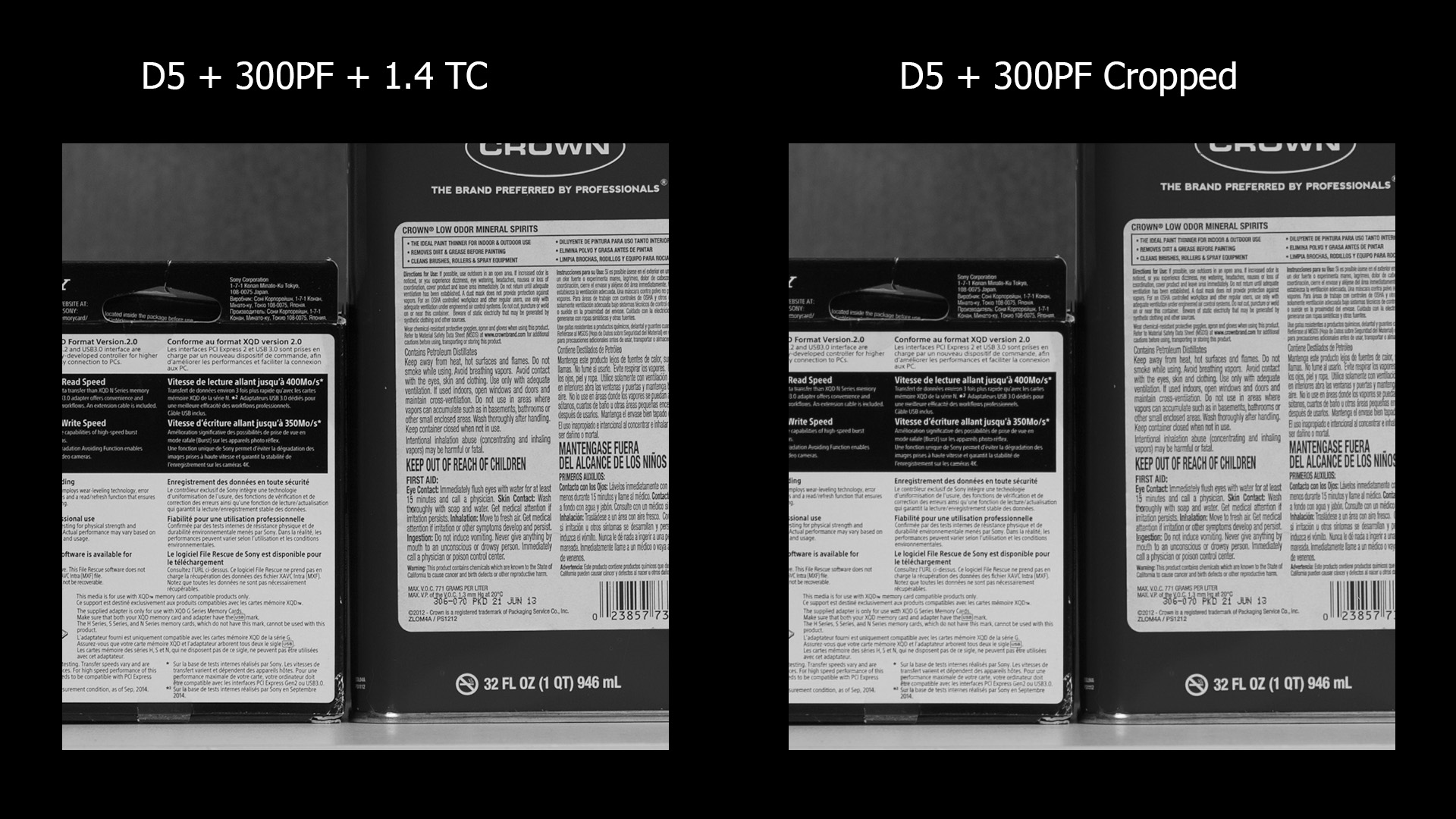 Next we have the D810. In this case, it's a bit closer, thanks in part I think to the lack of an AA filter on the sensor: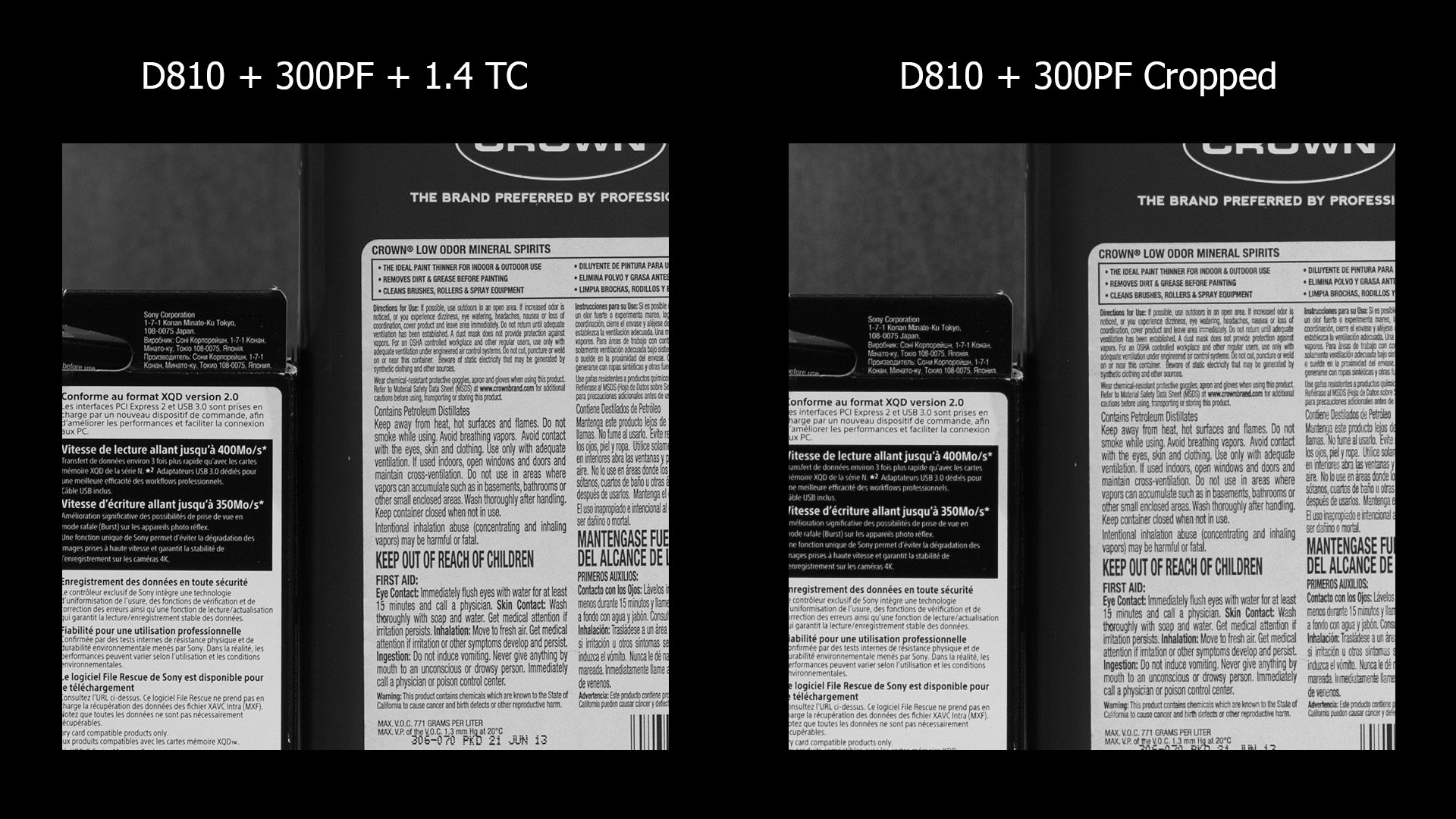 Finally, we have the D500, which is a crop camera to begin with. As you can see, similar results to what we saw with the D810.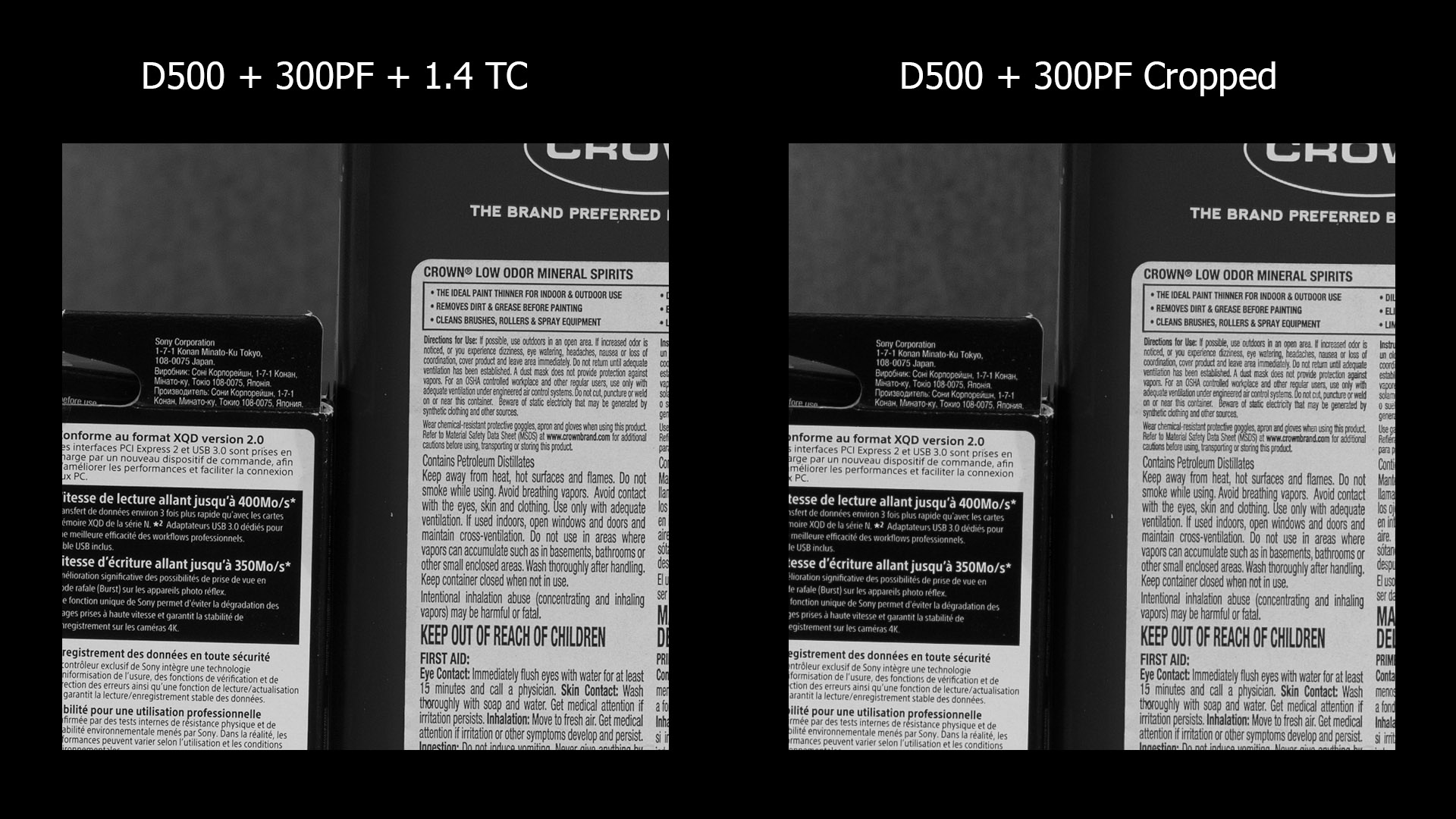 So, at least ostensibly, the bottom line here looks pretty simple when it comes to optical quality. When faced with a scenario where you have the choice of using a teleconverter or cropping, it would seem that your are generally better off using the teleconverter. In each and every test above, the overall amount of detail captured was greater with the teleconverter attached than not (to varying degrees). And in my experience this tends to hold true when dealing with good optics and teleconverters.
The grizzly shot below was with my 600mm and 1.4 teleconverter on a D4. I am very happy with the level of detail.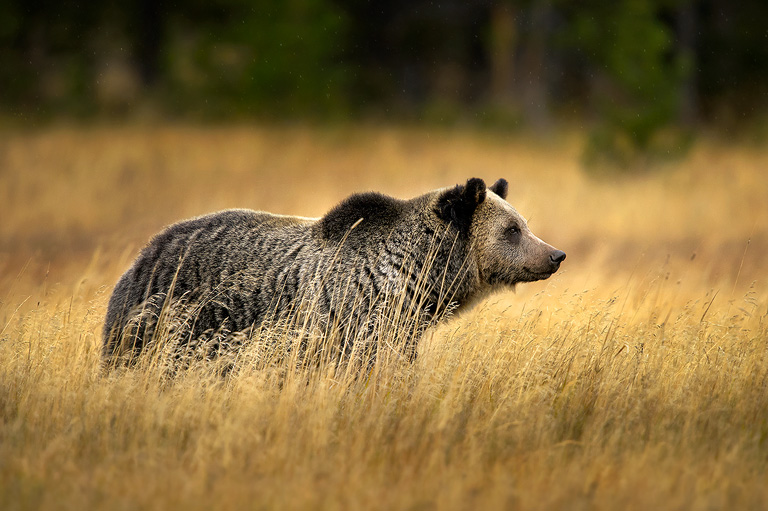 However…
Keep in mind that not all combinations are necessarily going to behave this way. There are a ton of variables at play here and there's really no way to account for every one of them.
For instance, the 300PF is perfectly happy with a teleconverter strapped on, but not all lenses swing that way. Some lenses are better at taking a teleconverter; others see quality diminished to such an extent that cropping can actually be the better option. (My 200-400 was like that, it never liked my 1.4TC, although others have reported better results with that combo).
Another variable is the teleconverter itself. I'm using the Nikon 1.4TC III – one of the best teleconverters on the market. So, using a lesser optic may tighten the gap.
So, this isn't as cut and dry as we'd like it to be.
However, I can give you this guideline. Over the years, I've found that big glass like the 200 F2, 300 2.8, 400 2.8, 500 F4, 600F4, etc can all take a teleconverter without too much complaining, especially those TCs of the 1.4 variety. When using those lenses, I generally tend to favor using the TC instead of cropping.
The image below was captured with the 300 PF and 1.4TC E III. Sharp as you'd ever want.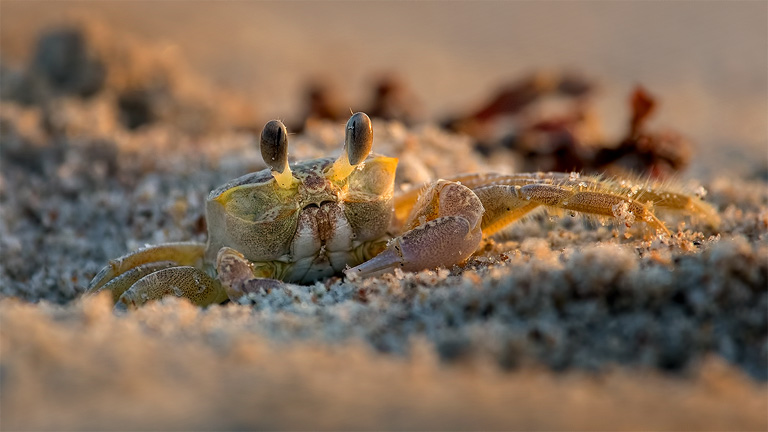 Zoom lenses, on the other hand, are a mixed bag. Some of them (like the 200-500) don't seem to mind a 1.4TC coming along for the ride; other lenses don't tolerate the TC it nearly as well. This is especially true when you mate a 3rd party converter with a slow F5.6 zoom. (There's a reason Nikon and Canon TCs only work with certain lenses.)
So, in the end, I recommend testing your own combinations (and make sure to AF fine tune your lens and TC combos – they always seem to need it – I use LensAlign)
Of course, that said, other limitations come into play when using a teleconverter that you really need to consider.
1. You lose your ISO advantage
The first and most obvious issue with a teleconverter is that it costs you anywhere from 1 -2 stops in ISO (1 stop in the case of a 1.4TC, 2 stops in the case of a 2X). So, it's a penalty that you'll need to consider, especially if the light is getting low.
If adding a teleconverter would drop your shutter speed too much (and you're not willing to go higher with ISO), it's possible you'd be better off just cropping. After all, I'd prefer a cropped image that was sharp to a full frame image that was not.
2. Your AF sensors don't work as well
Many shooters don't realize this, but the simple fact is your AF sensors won't work as well with a teleconverter attached. From an overall standpoint, the more light getting through your lens, the faster and more reliable those AF sensors are across the board. So, an F2.8 lens will have better AF performance than an F4 lens which is better than an F5.6, etc.
Besides, not all of your AF sensors are created equal. In many cameras, when you drop your maximum lens opening to something slower than F4, some or even all of your cross sensors revert to line sensors. This can make it harder to get an AF lock than without the teleconverter attached. Additionally, and again, depending on the camera and what effective F/Stop you end up with, some of your AF sensors may not work reliably at all.
For example, Nikon likes to boast about how their cameras can focus down to F8. However, that's not for all the AF sensors. In fact, on the D5 / D500, only 15 of the 153 AF sensors support focusing at F8.
So, if you add a teleconverter and find you just can't get an AF lock, then maybe cropping is the better option. (Hint – if you ever have a tough time getting an AF lock, try switching to the center AF point – it's always the most sensitive).
For the image below, I left the TC in my pocket. The light was starting to fall and I needed all the shutter speed I could get. In addition, trying to catch these guys as they pop out of the water requres everything you can milk from your AF system. So, I decided that cropping would be a better choice than a teleconverter this time:
3. Your images will have lower contrast
Finally, using a teleconverter will tend to lower the contrast in your images when compared to images taken without one. However, it goes deeper than just the final image. This reduced contrast can also affect your autofocus since your camera uses areas of contrast to achieve focus. I also find teleconverters seem to make the lens more sensitive to things like heat and atmospheric distortion than when I use just the naked lens.
So, there you go. Not completely cut and dry however I can tell you what I do. As I hinted above, if I'm in a situation that comes down to a cropping or using a teleconverter, the vast majority of the time I'll put on the teleconverter – with one exception. If I'm shooting full frame and happen to have my D500 (or another similar crop body) with me, I'll switch to that instead. It will give me better overall image quality assuming the full frame camera is close in resolution – and I don't have any of the teleconverter downsides mentioned above.
In fact, I did a video that examines the question of whether you're better off using a full frame camera with a teleconverter or a crop camera. Check it out at the link below:
Comparison Test – A Crop Camera vs A 1.4x Teleconverter On Full Frame
One final thought.
I find that many people like to think of a teleconverter as a way to pull really distant subjects into view – and then crop them heavily later on in post.
However, that tends to lead to disappointment since the lens with the teleconverter isn't as sharp as the lens without the TC attached. Plus, when you have an animal at the kind of distance that requires both a teleconverter and a heavy crop, the air itself can start to soften your image (heat haze, atmospheric distortion etc).
For me, I like to think of a teleconverter as a way to tighten up a crop on an animal that's already in decent range. I'm usually the happiest with the teleconverter shots if using the teleconverter makes it so I no longer need to crop at all, or if I do need to crop it's minimal. I'm never happy with a teleconverter shot that also requires a heavy crop. The image below is one of the favorites on this site and was taken with a teleconverter to help him fill the frame a little more: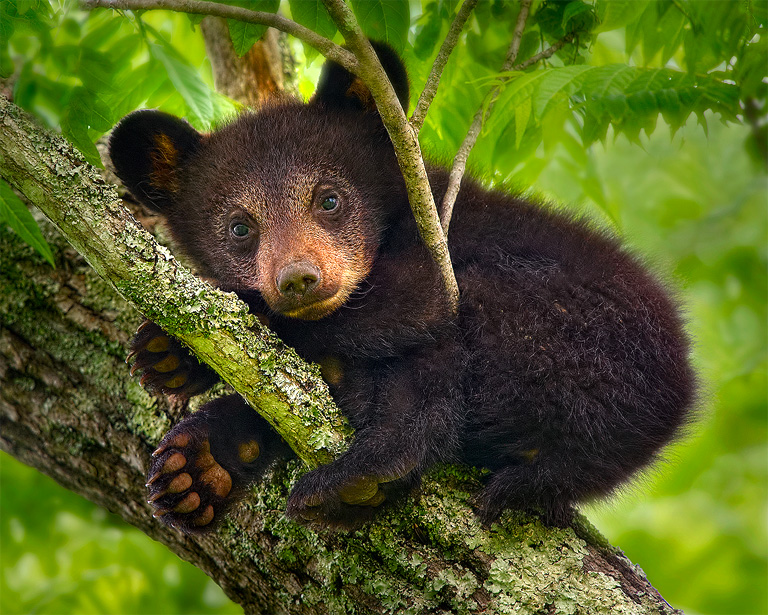 Oh, and what about that Reddish Egret at the beginning of this article? Was it a mistake to crop instead of using a teleconverter (since the TC image would have had more detail)? I don't think so. I had low light with rain falling and the egret was dashing all over the place. So, I needed both shutter speed and AF speed. In the end, there's never an easy answer – you have to keep a variety of techniques in mind and use what works best for the scene at hand.
So, there you have it. If you enjoyed this article, I think you'll REALLY like my e-books, Secrets To Stunning Wildlife Photography and Secrets To The Nikon Autofocus System. They're filled with hundreds of pages of information just like this. Check it out – click here (hey, it's free to look 🙂 )