I'm a sucker for a nice, clean background. In my opinion, nothing ruins a wildlife shot (or portrait shot, if you roll that way), faster than a busy, distracting background.
The thing is, it wasn't that long ago that if you wanted to do wildlife, fast glass and full frame cameras were the rule. However, with cameras like the D7500 and D500, we now have some serious DX options. In addition, good quality long lenses have never been more affordable – take the Nikon 200-500 for example.
However, this all comes at a cost. Shooting DX forces you to be further back than you would need with an FX camera, increasing Depth of Field and allowing busy backgrounds to show through. In addition, slower lenses – like what you have with the 200-500 at F/5.6 or third party lens at F/6.3 exacerbate the "busy background" problem with those smaller apertures.
Thankfully, there's an easy way to smooth out those busy backgrounds in Photoshop – and that's the topic if the video in this post. So, if you're not quite ready to drop $18,000 in gear to get those creamy smooth backgrounds, try simulating it with the technique below.
(Note – I've set this article to publish itself while I'm doing workshops in Costa Rica. As such, answers to comments may be delayed – but I still appreciate your feedback 🙂 )
Here's a better look at those sample images at the beginning of the video (click to enlarge on a new tab, and note you may have to click one more time to see full size). As mentioned, I only do this in a very subtle way, but I still think it's effective. Of course, you can be more aggressive if you think your image can handle it 🙂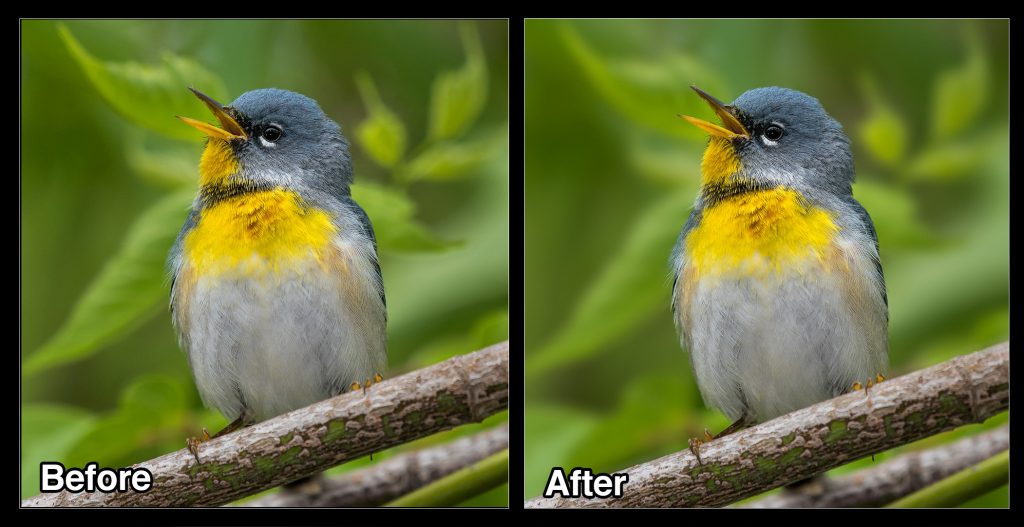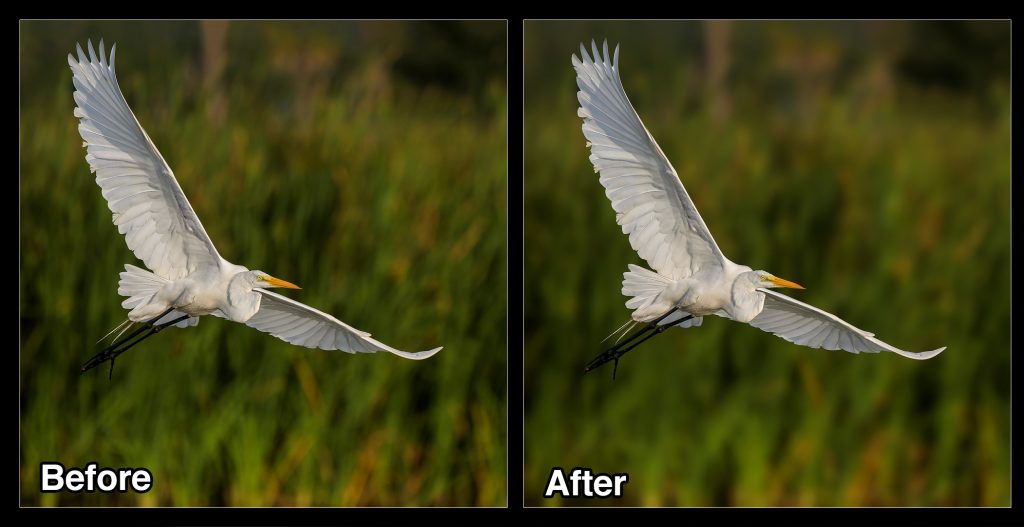 ~Steve
PS…
If you enjoyed this post, I think you'll REALLY like my e-books, Secrets To Stunning Wildlife Photography and Secrets To The Nikon Autofocus System. They're filled with hundreds of pages of information just like this. Check it out – click here (hey, it's free to look 🙂 )