(Note – if you already have my Secrets ToThe Nikon Autofocus System e-book, you don't need this book – you already have all the info 🙂 )
Have you ever wondered how back button autofocus works?
Have you ever wondered how to set up Back Button AF (BBAF) for your Nikon?
Well, you're not alone! My inbox overflows with questions about Back Button AF all day long, so I decided to go ahead and put a free guide together.
This 30-page guide will explain everything you ever wanted to know about Back Button AF for Nikon, from why the heck you'd want to use it in the first place, to how to set it up, to actual usage, and it will answer lots of common questions.
Plus, best of all, The Back Button Autofocus Guide For Nikon Cameras is 100% free! Just download and enjoy!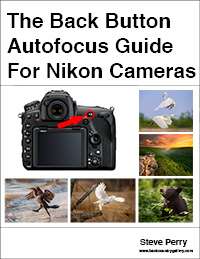 It covers Back Button AF setup for the following cameras:
Nikon D5, D4, D4s
Nikon D850, D800, D810,
Nikon D750
Nikon D600, D610
Nikon D500
Nikon D7500, D7200, D7100
Nikon D5xxx series, D3xxx series
Also, note that this publication is only a (very) small adaptation from my Secrets To The Nikon Autofocus System book. The bulk of this guide actually comes from a single chapter that includes not only Back Button AF, but also several other alternative focusing methods.
Of course, the full Nikon AF book is 494 pages long so this is only the very slightest taste of what's in that publication (about 6% of the information, to be exact). So, if you like what's included here, you'll really enjoy the full book. Head to the page and give it a peek – I promise, you'll like what you see. And don't just take it from me, check out the testimonials page too.
You can download it at the link below (for download help, see this page).
All I ask in return is that you tell your friends about it. Thanks!!
Free Download – The Back Button Autofocus Guide For Nikon Cameras – Click here
For visual learners, I have a video that covers the topic as well that uses animation to show the benefits of Back Button AF.