(NOTE – when I refer to "fast glass" in this article, I'm referring to the maximum opening, not AF speed.)
Do we really need fast glass anymore?
After all, with all that fantastic high ISO performance we find in modern cameras, should we all just agree to relegate fast glass to the Jurassic section of the Camera History Museum? Is it time to stop spending crazy amounts of money on F/2.8 and F/4 glass and utilize less expensive F/5.6 optics instead?
Based on the frequency that I see a comment like the above or similar, I think there are more than a few photographers who think so.
As you might guess, I don't agree.
Sure, I won't deny that we can do things with our digital camera and those stratospheric ISOs that film photographers – or heck, even digital photographers of just a dozen years ago – would never even dare to dream about. However, high ISO isn't exactly the rainbow-laden paradise you may think it is.
The Reality Of ISO
Let's start with a look at what ISO really is – and no, it doesn't make your camera's sensor more sensitive to light (although nearly every article on exposure will make that claim). While we do sort of use it as a sensitivity adjustment, it's actually signal amplification – that "signal" being light.
In 99% of the cases, your sensor only has one sensitivity – and that's base ISO. That means even if you crank up your ISO to 6400, 12800, or beyond, the sensor is still capturing the same amount of light as if you were shooting ISO 100 at your current shutter speed and F/stop. When you increase your ISO, the camera is just amplifying the electrical signal (from the captured light) to increase the image brightness – the sensor is not becoming more "sensitive" to light.
In short, ISO works like a volume knob for brightness.
For example, imagine you're at the edge of town jamming to an old Journey song and the signal starts to fade. If you turn up the volume, the signal doesn't get stronger, does it? You only amplify what's already there – and as you make the music louder, the static (noise) goes up right along with it.
However, what happens if you install a more powerful antenna? That's right, you can "collect" more of the signal and you get music with less static. That's what fast glass does with light. It allows you to "collect" a stronger signal so you need less ISO amplification – and you end up with more information coming to the sensor.
(A couple of notes. First, my upcoming exposure book will go over this in much greater detail than we have space for here. Second, and technically, ISO amplification is more analogous with gain and not volume since gain is an input amplification and volume is output amplification. However, I think volume is easier to relate to and works for our general purpose here.)
So, with ISO outed as not being a "real" exposure control, that leaves us with just two ways of feeding our sensor more light – we can either open our lens to a wider aperture or employ a slower shutter speed.
Depending on your subject, a slower lens with a slower shutter speed might be all you need. When I do landscape work, I routinely shoot at F/11, ISO 100, and simply live with longer shutter speeds. Heck, sometimes I need those longer speeds to create the effect I want (like with silky waterfalls for instance). In cases like that, the maximum opening of the lens is of little consequence to me.
In the photo below, I wanted a slow shutter speed to give the water a "silky" look, so my maximum lens opening didn't really come into play.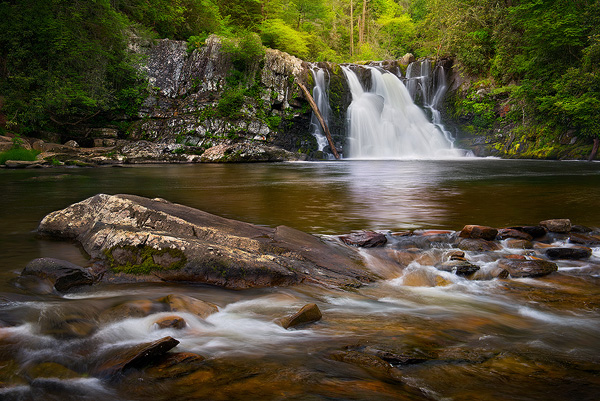 Sadly, the same doesn't apply to action photography. For shooters who need to maintain fast, action-stopping shutter speeds, the practical upshot of all this is that you only have ONE choice to get more light to your sensor – use faster glass. Like horsepower in cars, there's simply no substitute.
Of course, knowing the truth about ISO may not be enough to sway you over to the fast glass camp. After all, if you can live with ISO 6400 on your camera, the ability to shoot a stop or two less ISO still may not seem worth the extra financial penalty that faster glass exacts on your checking account.
The thing is, as ISO increases, it's not just about the extra noise.
As your ISO climbs, your dynamic range drops like an angry hammer on a nail. Roughly speaking, for every stop of ISO you add, you sacrifice a stop of dynamic range. This directly impacts your ability to recover highlights and shadows in your images.
For example, say you and I were sitting side by side photographing an elk at dusk. You have a 400mm F/2.8 and I'm using my 300mm PF + 1.4TC, so I'm shooting F/5.6. You have a two stop advantage. I'm at ISO 6400, and you're at ISO 1600.
At first, our images appear similar; mine simply exhibits more noise. However, that's before we try making some adjustments in Lightroom.
We'll say that maybe the shadow area of the elk is a little too dark (as it's apt to be much of the time with elk). At ISO 1600, you have roughly two more stops of dynamic range than I did at ISO 6400 and when you try to pull your shadows up, it works. When I try, my shadow areas turn into a gritty, detailless soup – I just don't have the dynamic range I need in those shadows anymore.
The thing is, when you pull up shadow areas, you are effectively increasing the ISO in that local area. If you shoot an image at ISO 6400 but need to pull up the shadow areas by a couple of stops, those shadow areas are going to look like they were shot at ISO 25,600! When you try that same trick at ISO 1600, they look like they were shot at 6400. Sure, not ideal, but way better than 25,600!! (It doesn't always work exactly like that, depending on how the camera's A/D converter is set up, but it's close enough for the example.)
Although this one didn't need two stops of shadow pulling, I was still happy I was able to shoot at F/4 and get my ISO down to 1600 for this shot. I did have to pull the shadows a bit and it held together really well.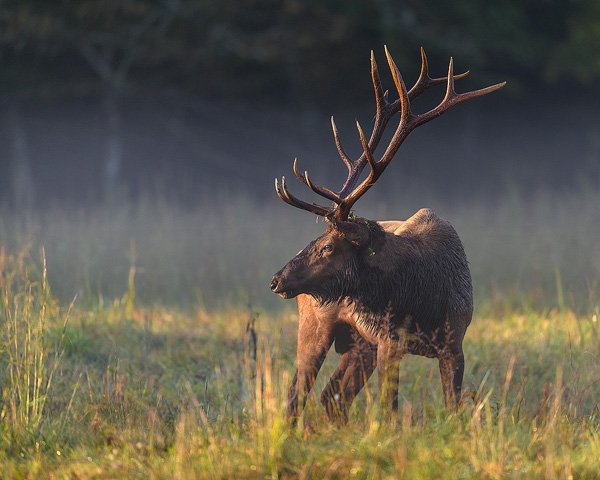 The same applies to highlight clipping as well. Lower ISOs give you a much better chance at retaining detail in bright highlights than higher ISOs do. Saving highlights can be especially critical when you're trying to salvage white feather detail (all of my fellow white egret photographers understand this dilemma).
In fact, for much of my nature photography work, I'm actually more concerned about total dynamic range than noise, so this is not something to take lightly.
And it doesn't end there either!
As ISO increases, color fidelity also drops. Some cameras are better at retaining color at higher ISOs than others, but it's still a concern no matter what you shoot.
So the bottom line is simply this – the less ISO you need (i.e. the less you need to amplify the signal), the better the overall quality of the image. There are real, tangible benefits that go above and beyond just having "less noise" in your images when shooting faster glass.
Other Benefits
Of course, it's not all about dropping ISO either – there are other advantages with faster glass as well. We'll go over a partial list here.
1. Better Subject Isolation
The first and probably most obvious benefit to strapping on faster glass is better subject isolation. One glance at my wildlife gallery and you'll see I'm a raving fan. I love shooting my 600mm F/4 wide open and do so whenever I can. I use subject isolation as a key component in my photos. Sure, I also have Photoshop techniques that can help, but there's no substitute for getting it right in-camera with a fast lens. The three images below are all shot up-close and wide open at F/4 – and I love the way the background renders.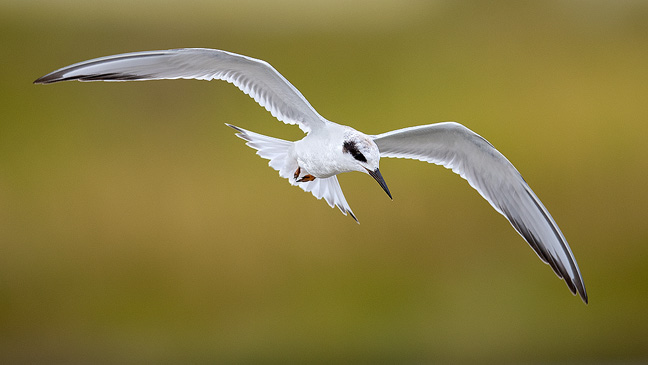 In fact, one of the primary reasons I spend so much time daydreaming about a 400mm F/2.8 is not as much about that extra stop of ISO or shutter speed gained over my F/4 glass – it's all about shooting at F/2.8 and isolating my subjects against backgrounds creamy enough to make the latte baristas over at Starbucks jealous.
2. Better Build Quality
The other factor that, in my opinion, is too easily dismissed by fast glass naysayers is that faster lenses are generally better built than their slower counterparts. Just compare one of Nikon's or Canon's big primes or F/2.8 zooms to their F/5.6 equivalents. The F/5.6 lenses are of good quality, but the faster optics really do take it up a notch or two.
In many cases, the F/4 and F/2.8 lenses have faster AF motors, add more features, and employ more robust weather sealing than their less expensive F/5.6 siblings. Again, this may seem only a minor advantage, but every single one of the benefits I listed comes into play on a regular basis for me.
3. Better Autofocus Performance
Not only do the faster lenses tend to feature super-fast AF motors, but a faster lens is also easier for the camera to focus in low contrast, dim light. You know, the kind of conditions wildlife photographers confront on a daily basis. I certainly have more misses in those conditions when I'm using an F/5.6 or F/8 lens (F/8 coming from a TC + F/5.6 lens combo) than when my maximum opening is at F/4 or F/2.8.
4. Better Teleconverter Performance
Another enormous plus for a fast lens is that it will typically take teleconverters better than a slower counterpart would – in fact, there are a couple of facets to this.
The first is that I'm generally more willing to give up some light to a teleconverter if the lens I'm using is already starting at F/4 or F/2.8. However, when the lens starts at F/5.6, adding a 1.4TC drops the F/stop to F/8. For me, that's taking it too far. I'm often in dim light and I struggle enough when using F/5.6, so F/8 would seldom work well for me.
For this grizzly photo, a teleconverter kept me at a safe distance and since it only dropped me to F/5.6 I still had enough shutter speed to get the shot.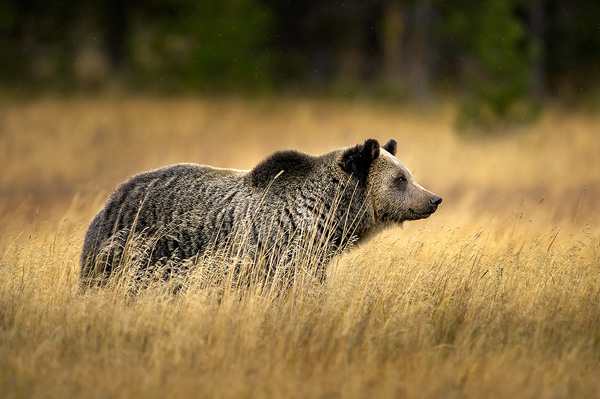 The second facet is that AF speed and performance suffers far less if the TC only drops you to F/4 or F/5.6. When you drop to F/8 due to a TC, your outer AF sensors become far less reliable. At the same time, anytime you add a TC, your AF speed drops. When AF speed is already fast (as is the case with many F/2.8 and F/4 lenses), this isn't a big hit, but if the AF speed starts at something that's better categorized as "moderate" (like with the 200-500mm), adding a TC can make it unusable for many situations.
5. Better Viewfinder Visibility
Viewfinder visibility is another often overlooked benefit of faster glass. When you look through an F/2.8 or F/4 optic, you'll discover your viewfinder is noticeably brighter than when using a lens featuring an F/5.6 or slower F/stop. The faster glass lets in more light, making it far easier in dim situations to gauge everything unfolding in the viewfinder.
In fact, one of the most significant benefits is that – at least for me – it's far easier for me to visually confirm if the camera is nailing focus or not when I'm using faster glass – and that brighter viewfinder is directly responsible. With slower glass, it's more difficult for me to tell. Sure, there's the focus confirmation dot, but I want to make sure the camera isn't just achieving proper focus, but achieving proper focus exactly where I want it on the subject. Faster glass makes it easier for me to verify I have what I want.
6. Better Wide-Open Shooting
The last point I'll make is simply this. Quite ironically, it turns out we often find that faster glass performs better wide open than slower glass. The thing is, when a manufacturer produces a fast optic, they realize that the reason people risk divorce over the purchase is that they want to shoot it wide open. So, most manufacturers optimize fast glass for wide-open performance. Sure, sometimes these optics improve a little when stopped down, but they often start off better than many slower lenses.
On the other hand, slower glass is usually best when stopped down a bit, depending on the optic. So, if you have a lens that's F/5.6 wide open, but you have to stop down to F/8 to really get the most from it, that's a pretty hefty price to pay in my opinion. (Note – this doesn't apply to all lenses – for example, my 200-500mm is perfectly sharp wide open.)
I'm Not Trying To Make You Feel Bad Or Angry!
Now, all that said, I did NOT write this article to make everyone out there shooting F/5.6 glass feel bad about their purchase or incite anger in my readership. (You don't come here for the sugar-coating, do you?) I've seen countless shots all over the web that I'd love to have on my website that were done with the 80-400mm or the 200-500mm, so don't feel like you can't get incredible imagery.
In fact, here are a couple I like that came out of my 80-400: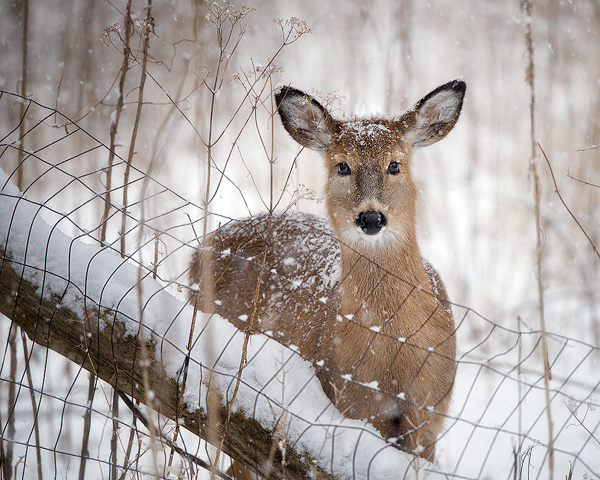 The reason for this article is simply to dispel the idea that fast glass is useless now due to ever-improving ISO performance with our modern cameras. I wanted to make the point that it still has a place and should not be easily dismissed if it's an option for you.
~Steve
PS…
If you enjoyed this post, I think you'll REALLY like my e-books, Secrets To Stunning Wildlife Photography and Secrets To The Nikon Autofocus System. They're filled with hundreds of pages of information just like this. Check 'em out – click here (hey, it's free to look 🙂 )