First, let's get one thing out in the open – I'm not a fan of cropping and I normally tend to avoid it as much as possible. So please don't take the remainder of this article as some kind of an endorsement for reckless pixel pruning, it's really not.
Don't get me wrong, I hack away at pixels like I'm the villain in a horror movie when necessary, but for the record, it's always better if you don't. In fact, we'll talk all about that topic in an upcoming article. Still, sometimes turning a photographic flop into a successful image depends on some well calculated cropping, but just how should you do it?
At first glance the answer may appear obvious, "You crop using a computer, duh!"
Well, not so fast.
As it turns out, many cameras feature one or more built-in crop modes. For example, my D850 allows me to use the entire frame, a 4:5 ratio, a 1.2X crop mode, a square crop, and a 1.5X crop mode (my favorites are the 1.2X and 1.5X modes). Some cameras may give you even more than that, some don't give you any choices at all. However, it's certainly worth exploring your instruction manual to see if the option is there. We'll look at some specific Nikon setup instructions at the end of this article.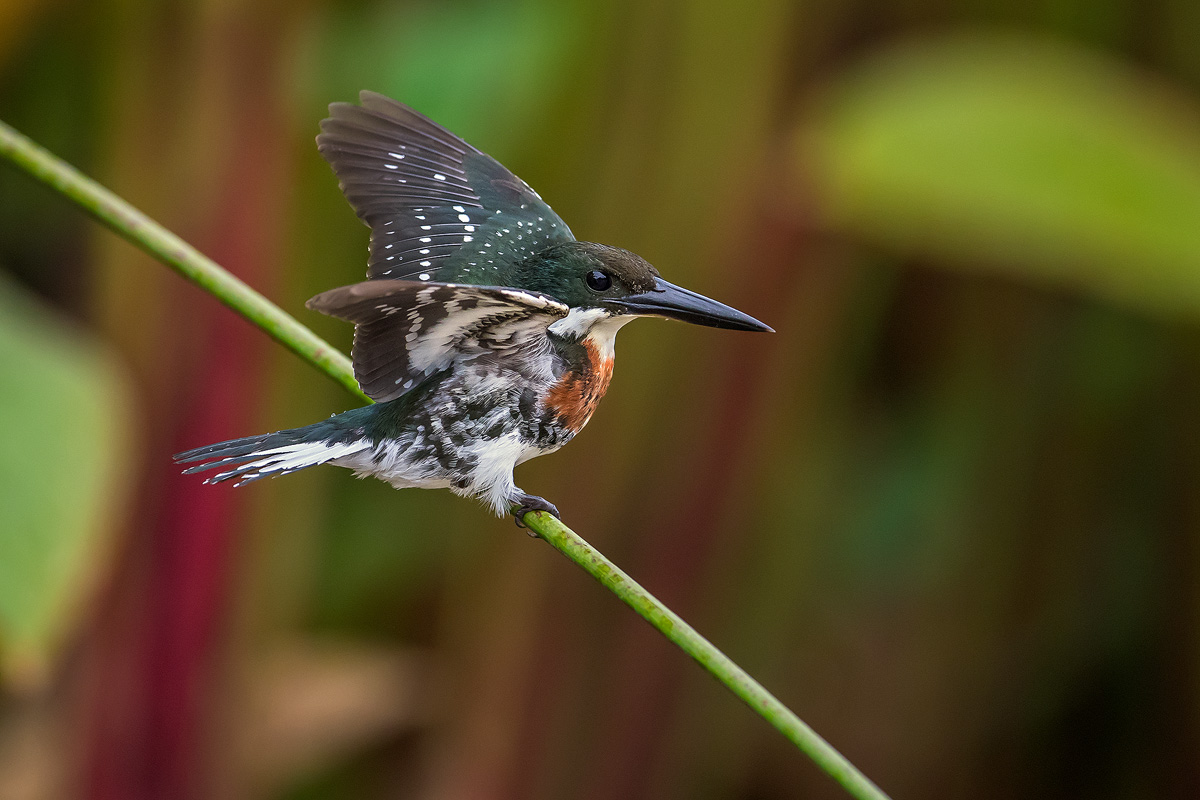 So, let's examine some aspects of cropping in camera vs. cropping back home.
Image Quality
The #1 question I get about crop modes is regarding image quality. Basically, do you get superior quality using the camera's crop mode(s) or will using the crop tool back home on the computer yield better results?
As it turns out, it makes no difference at all.
The camera's crop mode will give you the exact same results as if you had sliced those pixels off from your desk chair. There is absolutely no difference in quality. The camera is merely doing what you're doing – slashing off extra pixels. McDonald's didn't make your camera, so there is no special sauce added to the equation.
Additionally, keep in mind that when you crop-in camera (or at home), you are also sacrificing resolution. So, if you switch your 46MP D850 into DX crop mode, you're only capturing 19.4MP of information, not 46MP in a smaller area.
For those who would demand proof, here's an example. I shot the test target using the D850 from the same position, same focus, same exposure – the only difference was I switched to DX crop mode for the shot on the right and cropped the shot on the left using the computer.

Here's a 100% crop from the center. Click to enlarge in a new tab (note, you may have to click again once you're in the new tab for the full size image)
See the difference? Yup, neither does anyone else. 🙂
Of course, this begs the question – if there's no difference in quality, is there any point to using the camera's built-in crop modes?
Absolutely!
Top Four Reasons To Use Crop Mode
1. Frame Rate – In some bodies with certain crop modes engaged, you may see a boost in frame rate. For instance, with a D810 and D7200, switching to one of the crop modes will net you an extra frame for each second your finger is on the shutter release.
A single frame per second may not sound like much, but if you're an action shooter I don't need to tell you that sometimes it all comes down to just a single image in a series, so this is a nice bonus. Again, not all cameras will give you that FPS bump (I'm looking at you, D850), but if yours does, that's a huge bonus.
2. Storage – The next handy side effect you'll notice when using a crop mode is that your camera can cram more files onto your memory cards. I remember not too long ago I was photographing a mother bear in the Smoky Mountains. She had just opened her eyes after a nice nap and was striking poses like a furry supermodel at her first photo shoot (much to the delight of everyone in attendance).
So, of course, I was firing away like I was getting paid by the click and, before I knew it, my first memory card was full of bear pixels with no room to spare. The show wasn't over and I knew I didn't have a ton of space on my overflow card. Since I could clearly see I would need to do some cropping at the computer anyway, I decided to put the camera into crop mode and save some space on the card.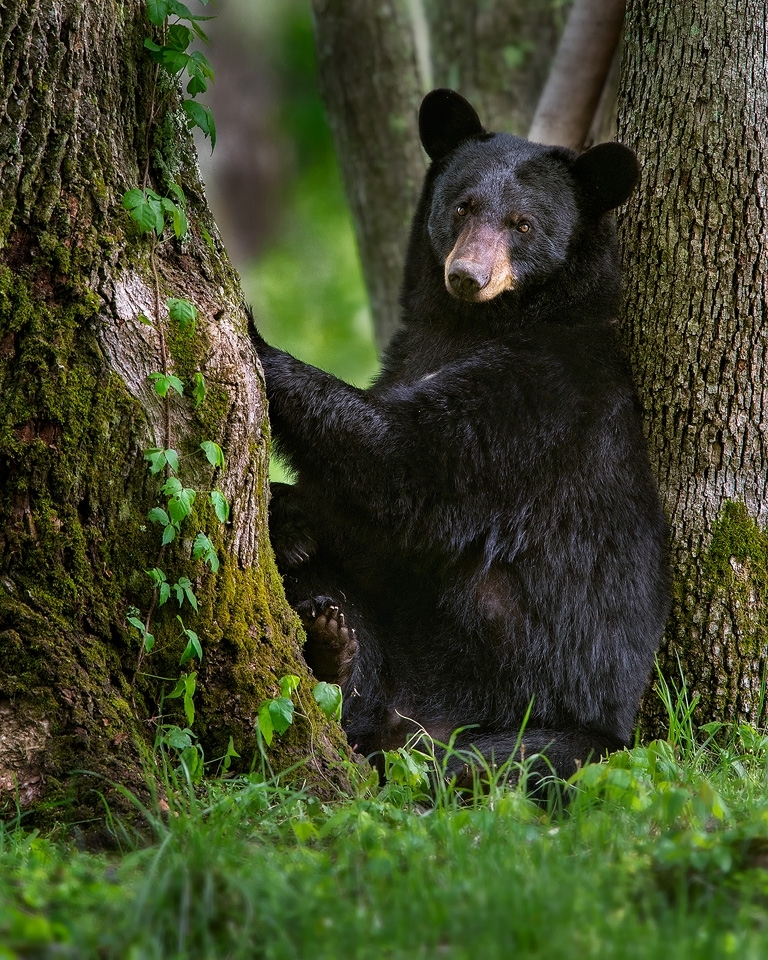 As it turned out, the performance did go on for quite a bit longer, but thanks to my timely switch to DX crop mode, I was able to keep knocking off shots until she strolled away. (I almost ran out of space on the second card, so I am confident in saying I would have missed shots had I not resorted to crop mode when I did.)
3. Buffer Depth – Another practical side effect of shooting in crop mode is you'll naturally see an increase in your buffer capacity since you're feeding it smaller files (In crop mode, most DSLRs only capture the area of the image inside the crop, they don't save the entire image and crop later).
So, if your camera is saddled with a limited buffer and you know you're going to need to crop once you get back home on your computer, why not switch to crop mode in the field? The extra headroom in the buffer may help save the day if you get into an extended sequence.
4.Aspect Ratio – The final benefit of using a crop mode is if you require a certain aspect ratio for your final image. For example, if you specifically want an 8×10 or square print, it's often easier to just switch to that crop mode in the field. That way, there's no guesswork and no compositional surprises when you get back home. Since you could see the crop in the field, you can compose the final image properly right on the spot. If I were still shooting portraits, I'd probably use 8×10 crop mode all day long!
Downsides To Using Crop Modes
Of course, there's no free lunch and there is a downside to cropping in the field – you may end up wishing you still had those lost pixels once you're back home. In some cases, if you didn't quite get the composition perfect, you may want a different crop.
For example, what if the subject is just too close to one edge of the frame? In those cases, had you shot with the full image area instead of crop mode, you would've had plenty of pixels to carve into a beautiful composition back at your desk. Now, you'll need to trash the photo or attempt a little photoshop magic to save the image.
For the photo below, I was in Costa Rica, in a Land Cruiser, shooting over the driver. The truth is, I could have used 1.2X crop mode, but I was in such an awkward position that I could barely see inside the viewfinder. I decided to just pop off the shot and figure out the crop and final composition when I got home!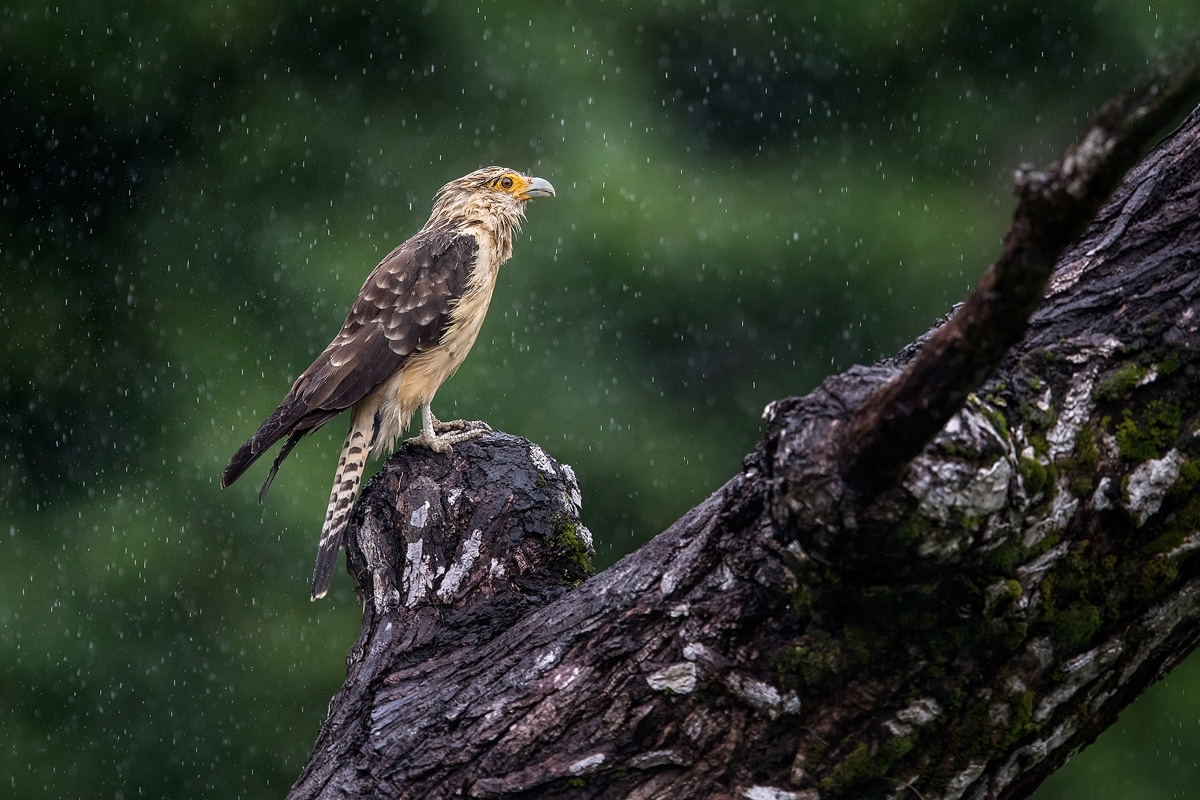 My advice on this is that if you have a static or slowly moving subject, feel free to use crop modes as necessary. However, for faster action where composition might be compromised, stick with the entire image and take an ax to the pixels from behind your mouse.
Finally, remember that you should ONLY use one of the camera's crop modes IF you would have had to crop anyway once you came back home to your computer. (I don't want someone reading this and then switching permanently to crop mode).
Special Notes For Nikon Shooters
If you're a Nikon shooter, I have a few setup guidelines that can help you get started using crop modes. First, let's look at how to get to your crop modes via your menu system. Note that not every Nikon has crop modes (I don't think the D3xxx or D5xxx series supports them), however every full-frame Nikon supports at least DX crop mode.
Menu Access
To switch crop modes, press your Menu button and head to the Photo Shooting Menu. Look for an option called Image area as shown below.
Give that a press and then select Choose image area from the resulting screen.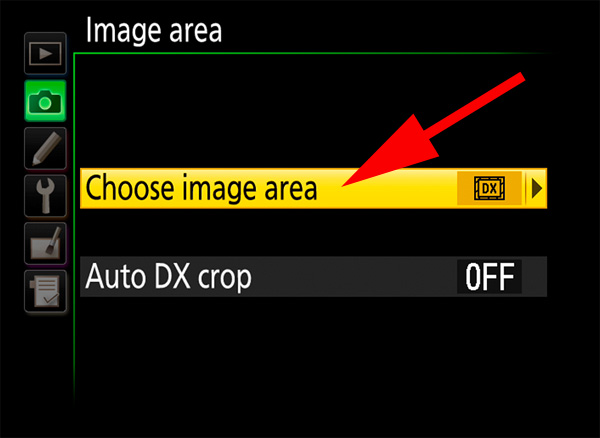 The next screen will show the options for your camera. The screen below is from the D810 and shows quite a few options, but the number of options varies by camera. Just pick the one you want and hit OK.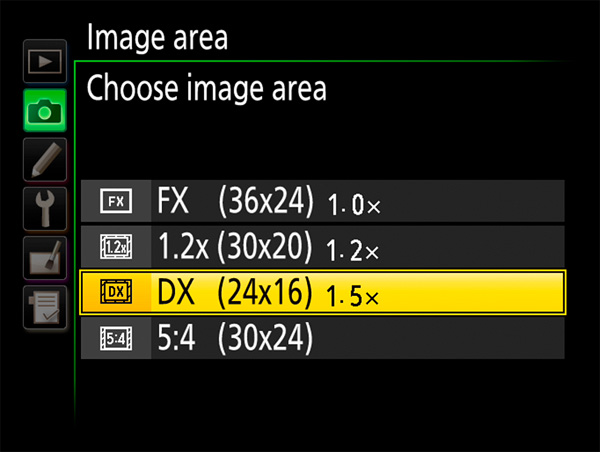 Button Access
If you think you'll be using crop modes on a regular basis, you may want to assign them to one of your programmable buttons. For this example, we'll program the Preview (Pv) button for switching crop modes, but you can assign most programmable buttons to the task (Fn buttons, AE/AF-L button etc).
Once you have this set, you'll be able to press your assigned button while spinning the command dial to switch crop modes without resorting to menu diving. This is incredibly handy (and quick) if you're a frequent user of crop modes.
First, for modern cameras like the D850, D5, D500, and D7500:
Start by heading to the Custom Setting menu, Controls.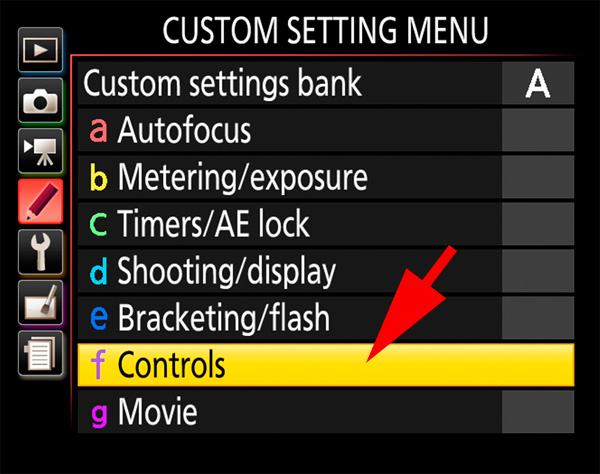 Select Custom control assignment as shown.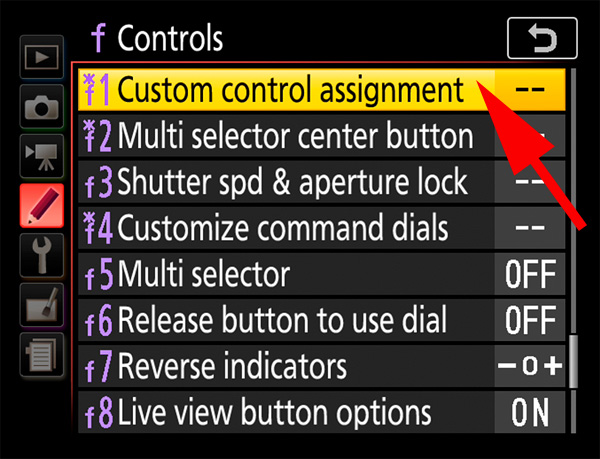 Since this is used in conjunction with the command dial, you'll need to select the right-hand column option for your chosen button. In this case, we'll do the Pv button, but again, please note that you can use most assignable buttons for this. Also note that if you have something assigned to a button press, this will replace that setting.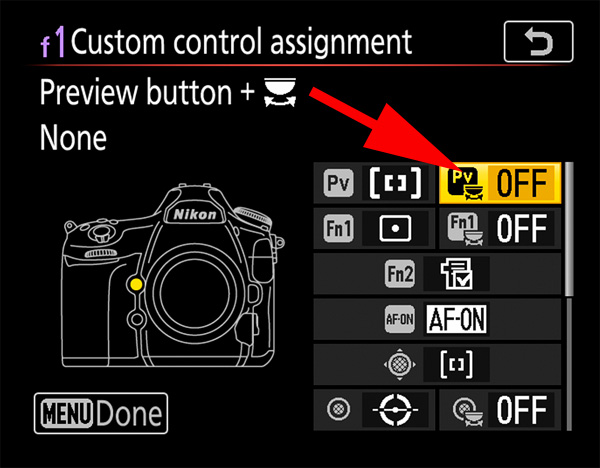 On the next screen, scroll to the option for Choose image area. If you have a DX camera, you'll simply hit OK and you're done. For (most) FX cameras, head to the next step.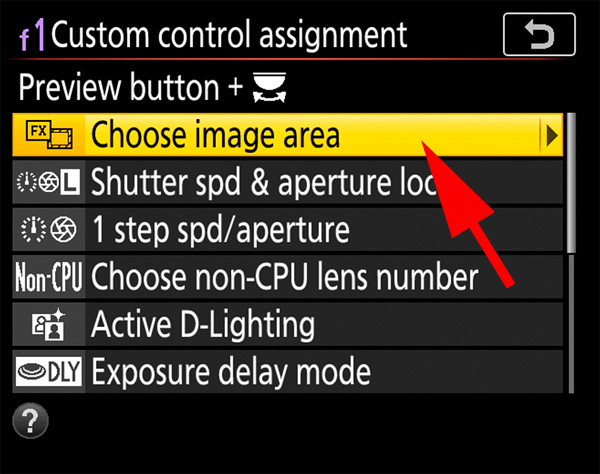 For most FX users, the next screen will allow you to select or de-select any areas you don't want the camera to use, making the camera skip the crop areas you never use and only scrolling through the ones you do.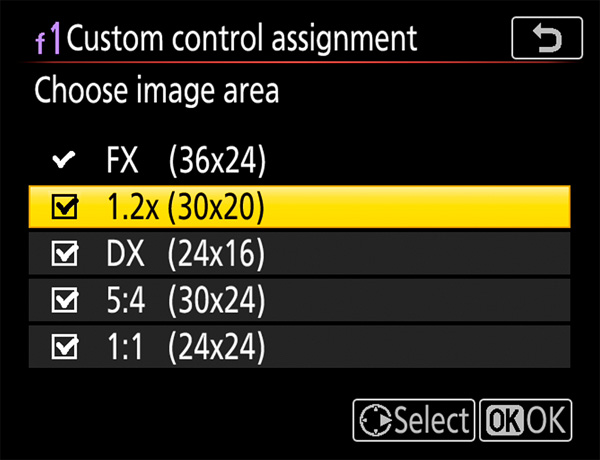 Now for older cameras like the D810 or D7200 etc.:
First, head to the Custom Setting menu and select the Controls section.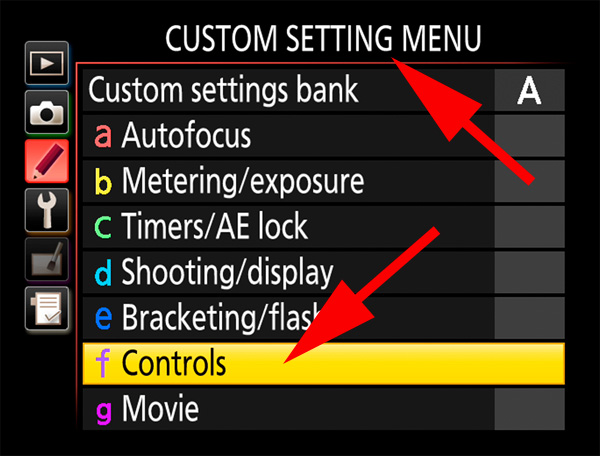 Now, find the button you want to assign for switching crop modes on the resulting screen. In this case I'm using the Preview (Pv) button, but most assignable buttons allow for this feature so choose the one that's most convenient for you.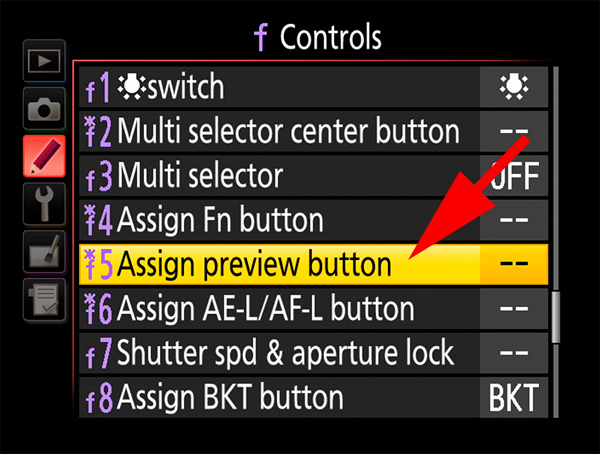 Next, you'll want to select the option for Press + Command Dials. Note that if you have an option set in for just the "Press" option, doing this will override it.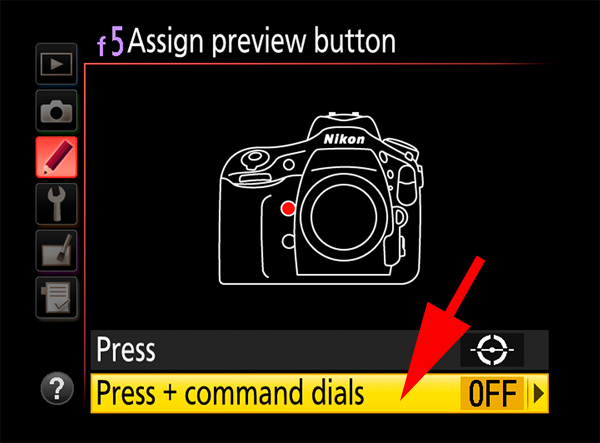 On the next screen, scroll to the option for Choose image area. If you have a DX camera, you'll simply hit OK and you're done. For most FX cameras, head to the next step.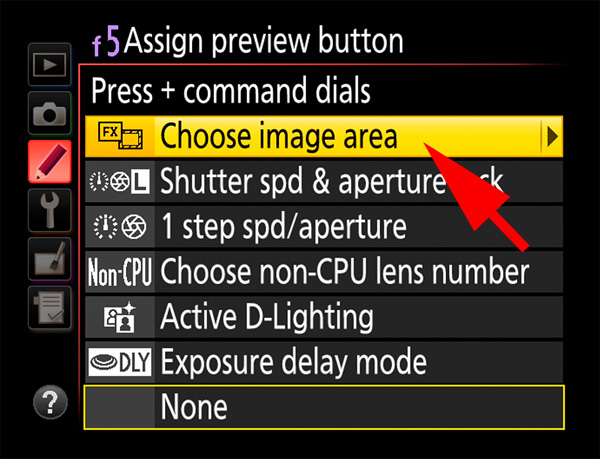 For most FX users, the next screen will allow you to select or de-select any areas you don't want the camera to use, making the camera skip the crop areas you never use and only scrolling through the ones you do.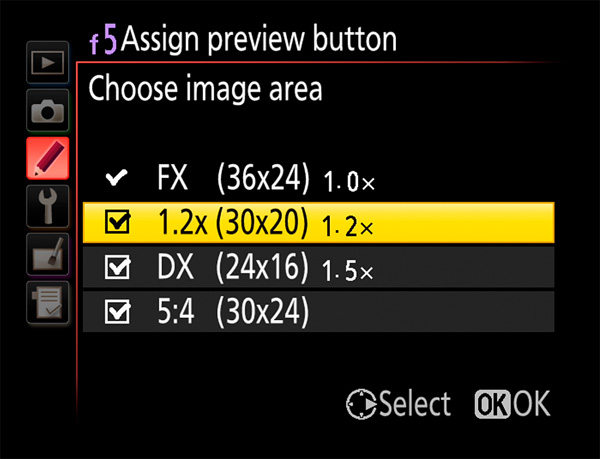 The Ultimate Crop Mode Trick – Masking
One of the biggest complaints I hear about using crop mode instead of the entire frame is that it's too hard to pay attention to the little outline that is displayed in the viewfinder, making it far too easy to clip off an antler or a wing inadvertently.
Here's how the crop line looks – kind of busy, right?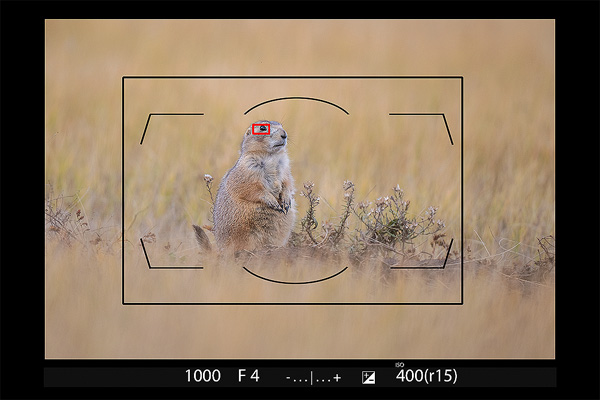 Well, what if I told you that you can also have a "mask" overlay like this?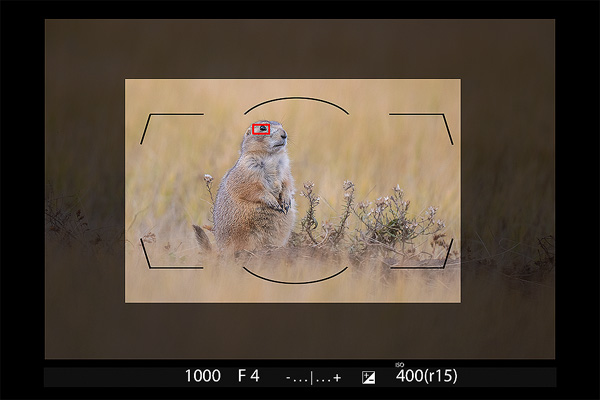 Cool huh?
Sadly, not every camera supports this trick. I know the D800, D810, D850, D6xx, D4, and D5 are all supported. The D7xxx series, D750, and D500 do NOT support masked overlay. Not sure on the rest, if you find one I'm missing, let me know in the comments and I'll add it.
So, how do you turn on masking in supported cameras? Depends on the camera of course. The pro bodies seem to have this as the only option, so D4 and D5 shooters should be good to go out of the gate. For the D850, things are really different (but better), so head past this next little section for the D850 setup.
For most cameras, you need to disable AF illumination in your custom functions menu (not sure why Nikon does it like this, don't shoot the messenger). When you do so, you'll no longer see the outline and instead the non-used area will simply turn into a semi-opaque mask. If you disable it and still see just an outline, then your camera doesn't support masked crop modes. Here's the setup, blow by blow…
Head to your Custom Setting menu and jump into the Autofocus area.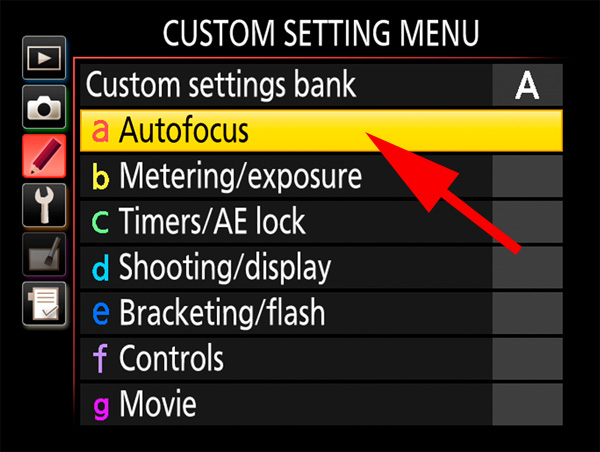 Next, look for an option for Focus Point Illumination and click that. (Note that some cameras have this option in another area – Focus Point Display or Focus Point Options – but don't support the masking feature anyway.)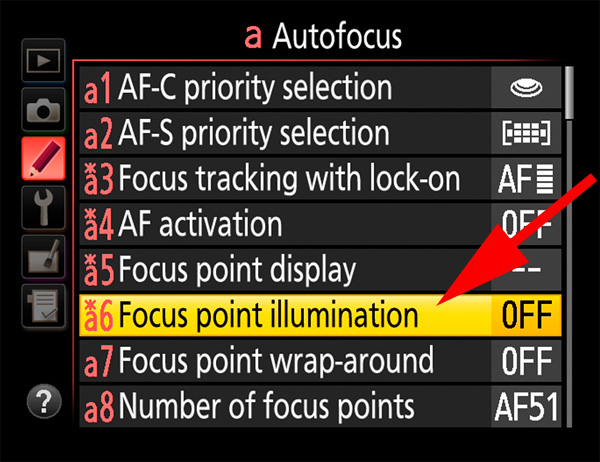 Finally, just shut it off. If your camera supports masked display in crop mode, it should be working now. Again, if not, then your camera is not supported.
If you have a D850, things are a little different. Head to the Photo Shooting Menu and to the Image area option.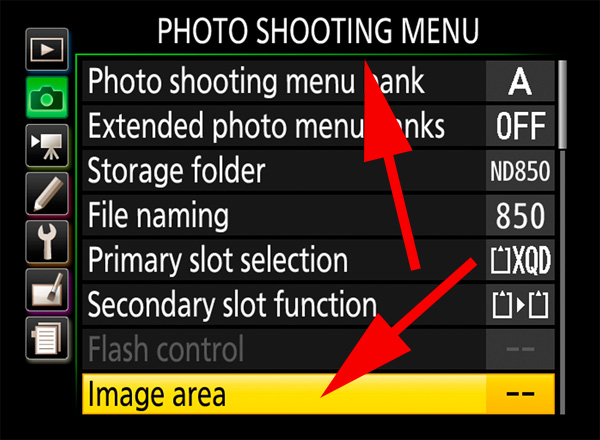 Look for an option called Viewfinder Mask Display and click it.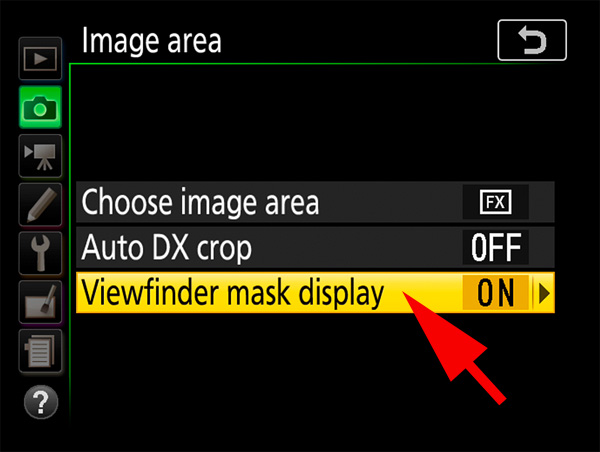 Now, just turn it on.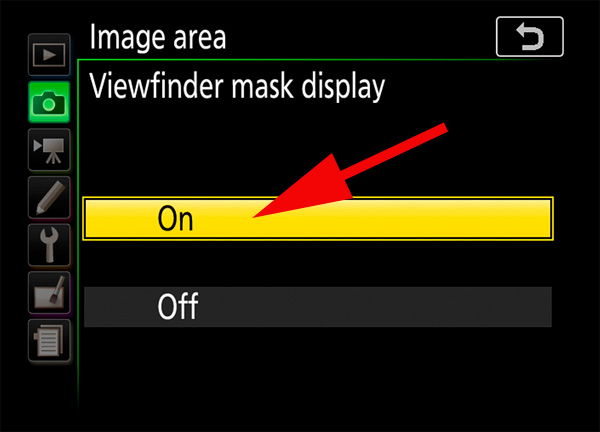 That's it!
So, the bottom line with all of this is that cropping modes, while they don't have any image quality advantage over cropping back home at the computer, can certainly help in other ways when you're knocking out those wall-hangers in the field.
~Steve
PS – If you enjoyed this post, I think you'll REALLY like my e-books, Secrets To Stunning Wildlife Photography, Secrets To Exposure And Metering For Nikon, and Secrets To The Nikon Autofocus System – as well as my Noise Reduction video workshop. They're filled with hundreds of tips, techniques and information just like this. Check 'em out – click here (hey, it's free to look 🙂 )