So, here's the thing, I travel quite a bit. If you're a regular here, you know this isn't exactly the kind of news that would cause any concern over at the USGS earthquake monitoring center. Since I do get around, the images on the site and in my articles tend to reflect those adventures – almost to the point where one could conclude that doing serious wildlife photography requires packing the bags and hitting the road.
In fact, one of the most frequent comments I see both here on the site and over on YouTube boils down to one idea – that it seems difficult to be a wildlife photographer without constantly globe-trotting to exotic locations.
Although I am fortunate enough to travel on a regular basis for my wildlife photography, I'm going to prove that you can get excellent wildlife images even if you live in a seemingly "lousy" location.
Why am I so confident about this?
Easy – let me tell you where I call home.
Northwest Ohio.
Read that again; it's not a typo…
Northwest
O…H….I….O
That little bit of text play above it about as exciting as it gets in these parts. (I live here for various family reasons I won't elaborate on right now.)
I mean, let's face it, when it comes to terrible locations for wildlife photography, NW Ohio has to rank pretty high on the list. Places like Yellowstone, Grand Teton, Africa, Costa Rica, Churchill, and most of Florida's coast certainly aren't losing sleep over the idea that NW Ohio could overtake them as the next wildlife hotspot.
So, if you live in a place that's something less than a wildlife mecca, I feel ya.
Surprisingly, despite my rather unimpressive location, I can still go out and find critters to photograph. In fact, not only can I dig up subjects, but I've had many of those images featured in magazines, calendars, and other publications. In fact, the image below was published in Outdoor Photographer magazine back in 2011. This image was captured the moment he asked for yet another new lens…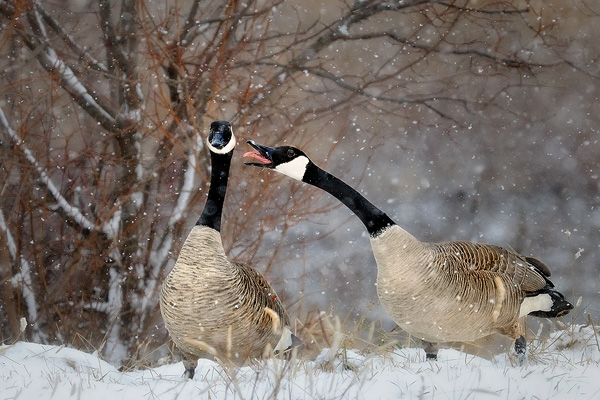 Yelling Geese, Nikon D3x, Nikon 500mm + 1.4TC, F/8, ISO 640
Also, all the images in this article were captured within an hour's drive of my home.
And, again, just to be clear, we're talking about NW Ohio; the place where wildlife photography dreams go to die. So, if I can do it here, you can probably do it where you live too.
Part of the trick to photographing wildlife in a less-than-ideal location is knowing a few techniques to help get the job done. That's where the rest of this article comes in.
So, let's take a look at my top ten tips for photographing wildlife when your home isn't on the edge of a place like Yellowstone National Park.
1. Really Explore Your Local Parks
My first bit of advice is to really get to know your local parks, wildlife areas, refuges, and pretty much any public land where you might find wildlife. Hike the trails, drive the area, whatever it takes. I know that sounds potentially boring and tedious (and sometimes is), but now and then you'll strike gold.
For instance, one of my favorite places to shoot is a local Metropark located along a river. The area is hemmed in by a suburban jungle of two-story homes, swing sets, and white picket fences. Plus, it's not overly large (like a couple of hundred acres), so you can spot signs of suburbia from half the vantage points on the main trail. In fact, due to its suburban-locked location, it was years before I ever gave it an ounce of attention. Based on its size and location, I just didn't think it was worthwhile.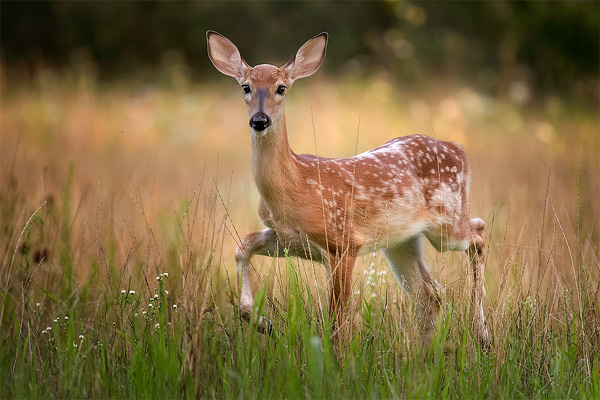 Marching Fawn, Nikon D500, Nikon 300PF, 1/1000th, F4, ISO 1800
Then, while talking with a friend about one of the other local parks, this one was mentioned. Promises were made and assurances given that it held ample opportunities for wildlife photography.
Skeptical, but with a tripod and lens slung over my shoulder nonetheless, I went for a hike one early morning.
And that park is now my #1, at-home, go-to location for wildlife.
While it's no Yellowstone, I still manage at least a couple of good shots on just about every outing. In fact, I should probably go there tomorrow morning.
So, unless you give a location a few tries (or at least one), never assume it's a dud – that was a HUGE mistake on my part and one that I'm glad to have corrected. Also, keep in mind locations that are completely devoid of wildlife at one time of the year might teem with opportunities at other times of the year (several places around here are like that).
Tip – By the way, I find that parks with easy access to rivers, lakes, and ponds seem to be the best for wildlife.
2. Talk To Locals
Yeah, I know you're a local too, but try to talk to other people as you hike through the various parks and wild areas near your home. (Just don't be weird about it, or if you must be weird, don't tell them where you got the idea to strike up random conversations with strangers in the woods).
Too shy to strike up a conversation? No worries, most of the time just having a camera along is enough to elicit unsolicited comments from passers-by.
I can't tell you the number of times I've been hiking along a trail and had someone stop and inform me they just saw a nice buck, fox, raccoon, etc. just a few moments ago in such-and-such a place. Or tell me about the locations for other wildlife in other parks in the area.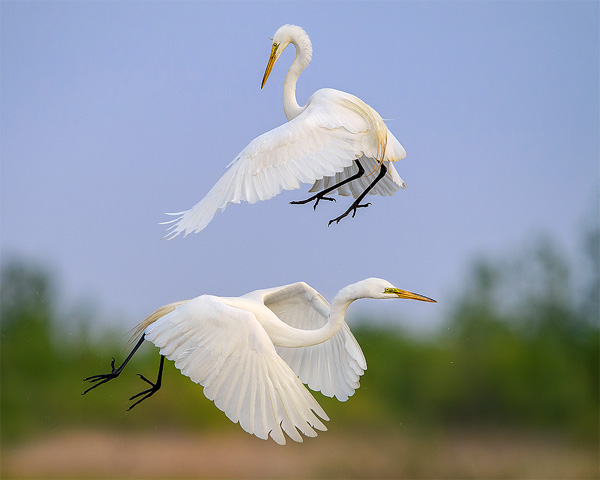 Coming Through! Nikon D5, Nikon 600mm, 1/4000th, F/6.3, ISO 2500
Of course, I have equal numbers stop and ask me (with my camera and large lens out) if I'm taking pictures…
Sigh…
And of course, if someone seems knowledgeable, you can always ask if they know better spots than where you currently are. You'd be surprised just how helpful people are and how much you can locate with their assistance.
So, make sure you are open to friendly conversation – it's been a boon for my local wildlife photography and probably the #1 way I know of to find cool critters in your local area.
3. Don't Fear Busy Parks
When trying to photograph wildlife, a frequent mistake is to think an isolated location is required to get good shots – when the opposite is usually the case.
One of the reasons why I get nose-to-beak or nose-to-snout with so many animals is because I frequent areas where the wildlife has become acclimated to a human presence. Critters that are accustomed to people just aren't as quick to freak out and dart away at the first sign of footsteps.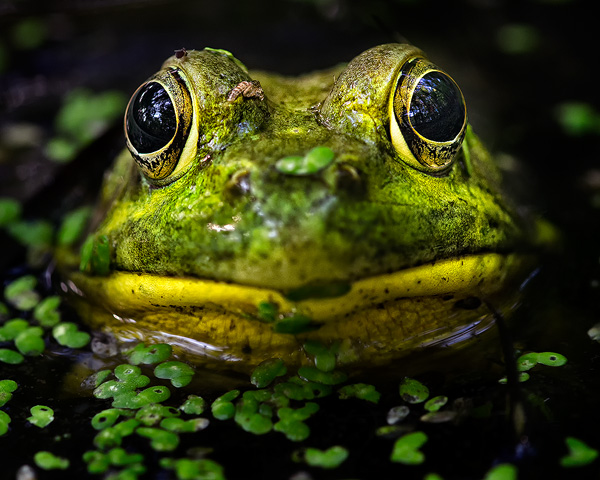 Eye To Eye With A Frog, Nikon D7200, Nikon 200mm macro, 1/6th, F/9, ISO 800
(Published in Digital Photo Magazine)
On the other hand, the wildlife found in isolated locations tends to be far more wary of human contact since they get so little of it. And in some cases, what infrequent encounters they do have with humans often involves the business end of a rifle. (BTW – Areas that are off-limits to hunting are typically a better bet for wildlife photography)
So, even if a local park seems busy, don't discount it as a possible location. In fact, that local park I mentioned just a bit ago is super-busy. I think that's why the wildlife doesn't flip out at every little snap of a twig.
4. Go Early And During The Week
In my experience, the crack of dawn is your best friend when it comes to local wildlife photography. Going early sets you up for success in several ways.
The first is obvious – animals are more active at the edges of day, so getting out as the sun rises increases your chances of success.
The second reason is light – there's nothing like that first hour of slanty golden sunlight illuminating your wildlife subjects.
However, the third reason is arguably the most important. That reason? Fewer people.
The thing is, it's usually easier to get close to wildlife that's accustomed to people, and heavily trafficked parks are a catalyst for that. However, at the same time, the longer people are out in the park, the deeper into the woods even the most tolerant of animals will dive.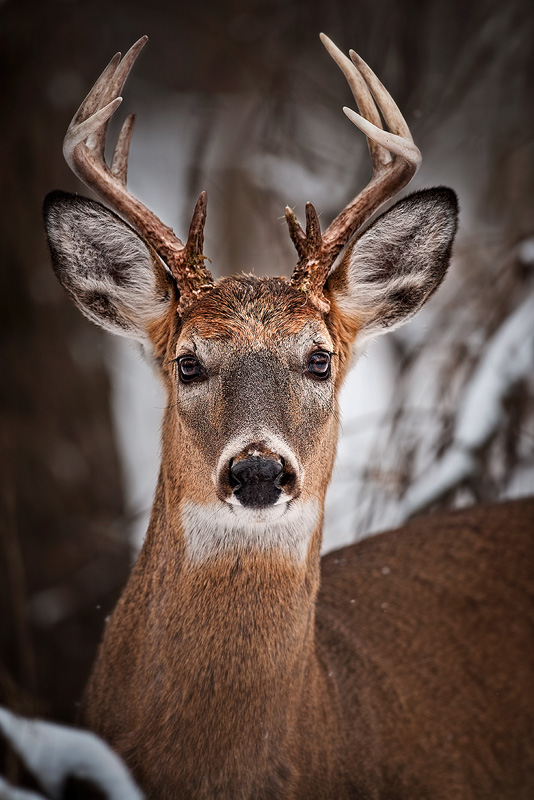 Winter Buck, Nikon D3x, Nikon 500mm, 1/500th, F/4.5, ISO 640
Besides, photographers attract attention. In fact, it seems like a photographer with gear pointed at a subject draws people about the same way a bright light attracts mosquitoes on a warm summer night at the swamp. Early morning photographers aren't immune to this, but there is unquestionably less buzzing about by other hikers.
Finally, try to go during the week instead of the weekends – the foot traffic on the trail is always lighter.
5. Watch For Migrations
It seems that just about everywhere in the world, animals migrate – and some of those critters might just be passing through your region.
I'm ashamed to admit that I sort of ignored this in my area until recently. As it turns out, there's a migration stopover for warblers that's only about an hour from my home. It just so happens that each May, the Magee Marsh Wildlife Area hosts what is considered to be two of the best weeks of birding in the world!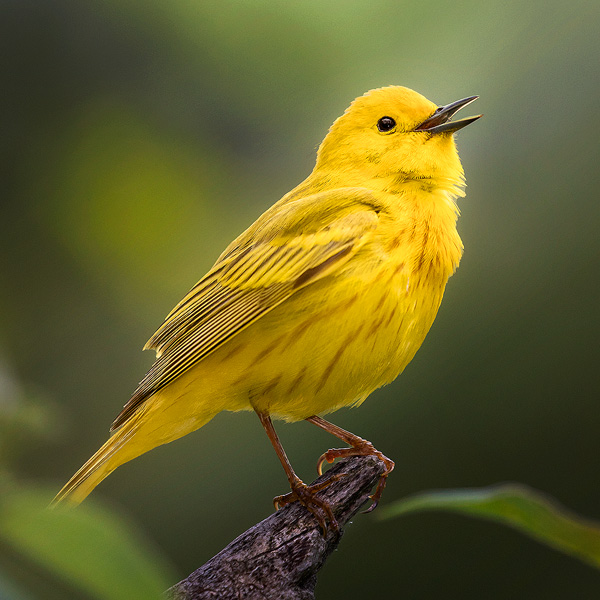 Yellow Warbler, Taken while trying a Canon 5DIV, 100-400, 1/2500th, F/5.6, ISO 1250 (fill flash used)
Who knew, right?
Dozens of different warbler species, accounting for thousands of birds, use it as a stopover before continuing their flight over Lake Erie into Canada. Plus, they are super-easy to approach (a fast grab and you'd have a pet warbler…kidding). It only happens for a few weeks, but until recently, I never bothered. Now, if I'm home in May, you can bet I'm heading to the marsh!
Northern Parula, Nikon D500, Nikon 200-500, 1/640th, F/5.6, ISO 800 (fill flash used)
Side Note – this is an excellent example of a location that is slow for much of the year but can really boom at certain times.
So, it's definitely worth keeping an eye out for species that might come through your area during migration. Heck, we even had a Snowy Owl or two in the vicinity this winter. It pays to watch those migrations!
6. Don't Take Things For Granted
One potential trap local wildlife photographers tend to fall into is the "taking things for granted" snare. As a lifetime member of the slow learners club, it happens to me all the time.
In fact, the warbler migration I just mentioned above is certainly no secret, and I've known about it for YEARS. When the annual news stories about it appeared, I always thought, "Oh gee, that's interesting, maybe I should take a look."
However, because I live here, it wasn't a priority for me. There's always next year, right? So, in short, don't take the opportunities in your area for granted – there might be some cool stuff you're missing. In fact, not only did I get some nice warblers last year, but I found this pretty lady as well: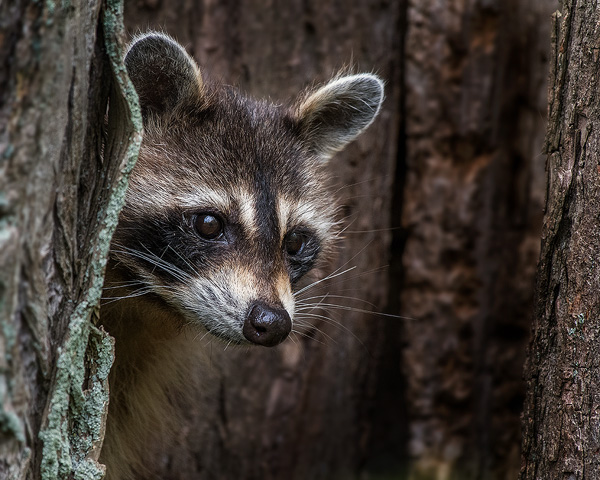 Raccoon, Nikon D500, Nikon 200-500, 1/320th, F/5.6, ISO 1600
7. Patience, Grasshopper
Hand-in-hand with the last tip is not skipping past common subjects or species. I know it's easy to take local wildlife for granted – especially when they aren't immediately cooperating. I mean, you can always come back tomorrow, right?
However, you should treat each opportunity as something that you may not get again and take the same care locally as you would if you were at some exotic location with a more interesting animal. Sure, if the shot isn't going to happen go ahead and move on, but you'd be surprised how often patient persistence can yield good results.
Nikon D7200, Nikon 300PF, 1/200th, F/4, ISO 1600
As a side note, I find that when I'm in a promising situation, that just sort of "hanging out" with the wildlife can help put them at ease (especially if they are accustomed to people). In fact, while in the process of trying to win my subjects over, I avoid pointing the camera their way and usually try some "looking distracted" tactics. Don't try hiding, crouching, or anything that would make it appear you're wondering how they would taste in a stew. Instead, display unwavering interest in the various grasses, trees, rocks, etc. that are in your immediate area.
Once they have accepted you into the tribe (don't worry, initiation isn't usually too weird – it's not like a frat house or anything), that's when you can crouch lower if needed and start pointing cameras their way.
In addition, your technique should be just as careful and considered for the local deer as it would be for a leopard in Africa. The fact that an animal is common doesn't excuse lazy technique. I'm just as particular about my photographic process with a local chipmunk as I am a grizzly in Yellowstone.
Nikon D850, Nikon 600mm + 1.4TC, 1/800th, F/5.6, ISO 6400
8. Watch The Web
Another trick is to join any Facebook groups for wildlife/birding enthusiasts in your area. Many parks and wild areas have their own Facebook page, Facebook group, or set of Facebook groups and these are often excellent sources of information. In fact, many of my local successes started by seeing a post about this or that species in the area.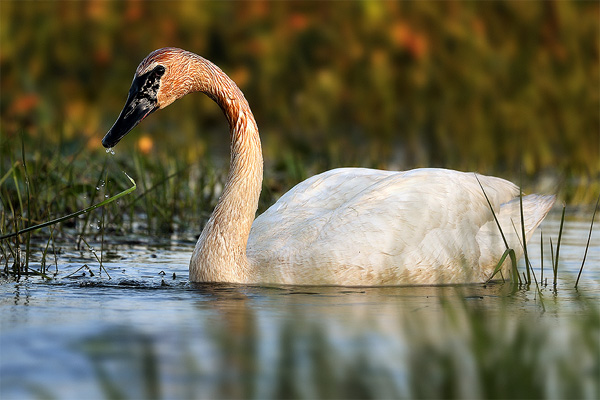 Swan, Nikon D7500, Nikon 300 PF, 1/1600th, F/4, ISO 280
Plus, it's another good way to start conversations and find new places to explore.
In any event, just do a quick google search for your local park/wild areas + Facebook to see if they have a page.
You can also search your area parks using Instagram and watch for new posts from other local photographers. I use this technique to keep an eye on not just my local area, but my favorites across the country.
9. Watch The Weather
Picking your days is a HUGE advantage for a local photographer and one you should absolutely avail yourself of. Since I'm local, I don't have to rush out and shoot if the conditions are poor. I can pick and choose the best and most interesting weather for my shots.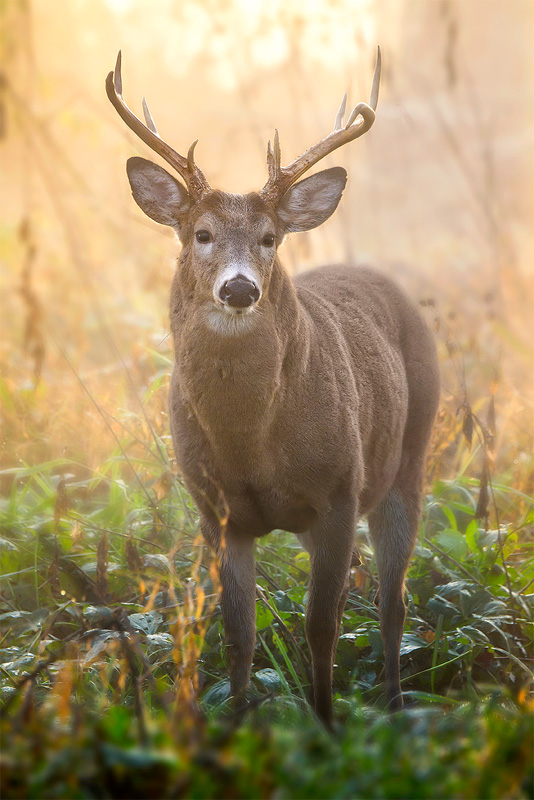 Buck In The Fog At Sunrise, Nikon D7200, Nikon 80-400, 1/350th, F/5.6, ISO 560
So, if I wake up to a cloudy, dull sky, maybe I skip that day and go the next day when the sky is predicted to be clear.
In the winter, I tend to watch for when it's going to snow, and if there's an overnight storm predicted, I'll be out in the park the next morning looking for snow-covered subjects.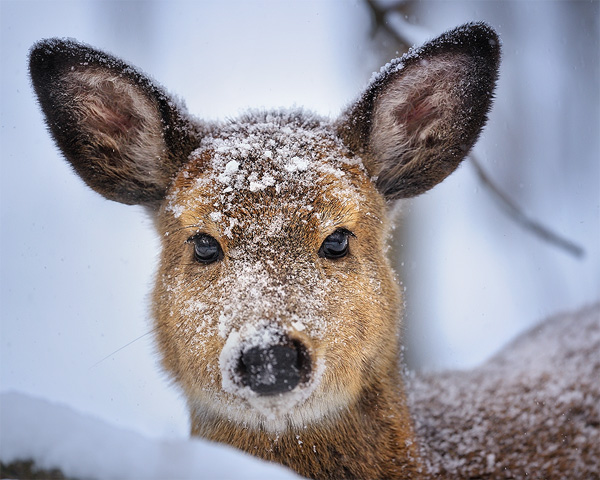 Doe's First Winter, Nikon D3x, Nikon 500mm, 1/640th, F/4, ISO 800
(Published in Digital Photo Mag + local claendar)
So take advantage of the local weather, picking and choosing the best possible conditions for your subjects. You live there, why settle for less?
10. Stay Realistic
The other key here is to stay realistic. I mean, I love shooting monkey photos, but I'm well aware that my chances of getting that kind of shot locally are about the same as catching a trout in a driveway puddle. When a species doesn't live in your area, there's just not much you can do about it.
The brutal truth is that sometimes you DO have to travel to get the animals you want. The bottom line is that no matter how much you want it to, this article won't cure that situation.
The key is to focus on and learn to love the wildlife that IS in your area. Sure, I have more deer photos than the FDA recommended lifetime allowance, but hey, that's cool. They're fun, and I don't mind adding to my collection.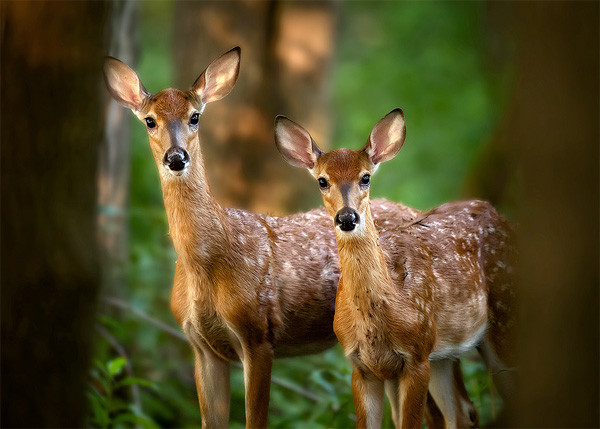 Fawns, Nikon D4, Nikon 500mm, 1/350th, F4, ISO 6400
Plus, when you only have a limited number of species in your area, it can force you to set the bar higher. I'm always trying to find new and better ways to capture images of the animals in my area – I'm continually trying to take my photos of the locals to the next level (we're still talking animals here).
So, don't just accept "OK" images of your local critters – leverage the fact that you're a local and can work long term and create something extraordinary.
Final thoughts
So, there you have it. When it comes to wildlife photography, NW Ohio is about as pathetic a destination as you can imagine. However, by putting some effort in, it's still possible to harvest good shots.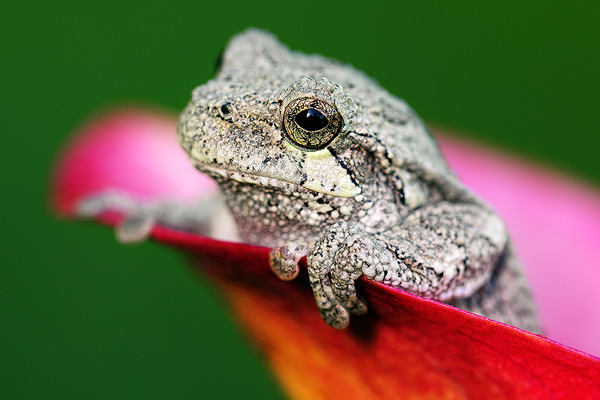 Gray Tree Frog In A Flower (backyard shot), Nikon D3x, Nikon 200mm Macro, 1/60th, F/4.7, ISO 200
So, don't despair.
Even if you live in a location that seems devoid of wildlife opportunities, give it another, closer look. You might just come away with some surprises.
For even more wildlife photography advice, you gotta check out my e-book, Secrets To Stunning Wildlife Photography! Nearly 300 pages of in-depth tips, tricks, and information!
As always, feel free to share this article with your friends – and thanks!
~Steve
PS…
If you enjoyed this post, I think you'll REALLY like my e-books, Secrets To Stunning Wildlife Photography and Secrets To The Nikon Autofocus System. They're filled with hundreds of pages of information just like this. Check it out – click here (hey, it's free to look 🙂 )