Have you ever wanted to try Nikon's Focus Shift Shooting and just weren't sure where to start?
Have you ever wondered…
What is Focus Shift Shooting? How do I use it? How do I set the menu? How do I set the camera? How do I know what to do in the field? How do I know if I got it right?​​​​​​​ How do I use stacking software? How do I retouch the stacked images?
Well, your not alone!

I get a TON of questions about Focus Shift Shooting and image stacking on my workshops and in my mailbox. So, I decided to create a comprehensive video course that shows you EVERYTHING you need, from start to finish!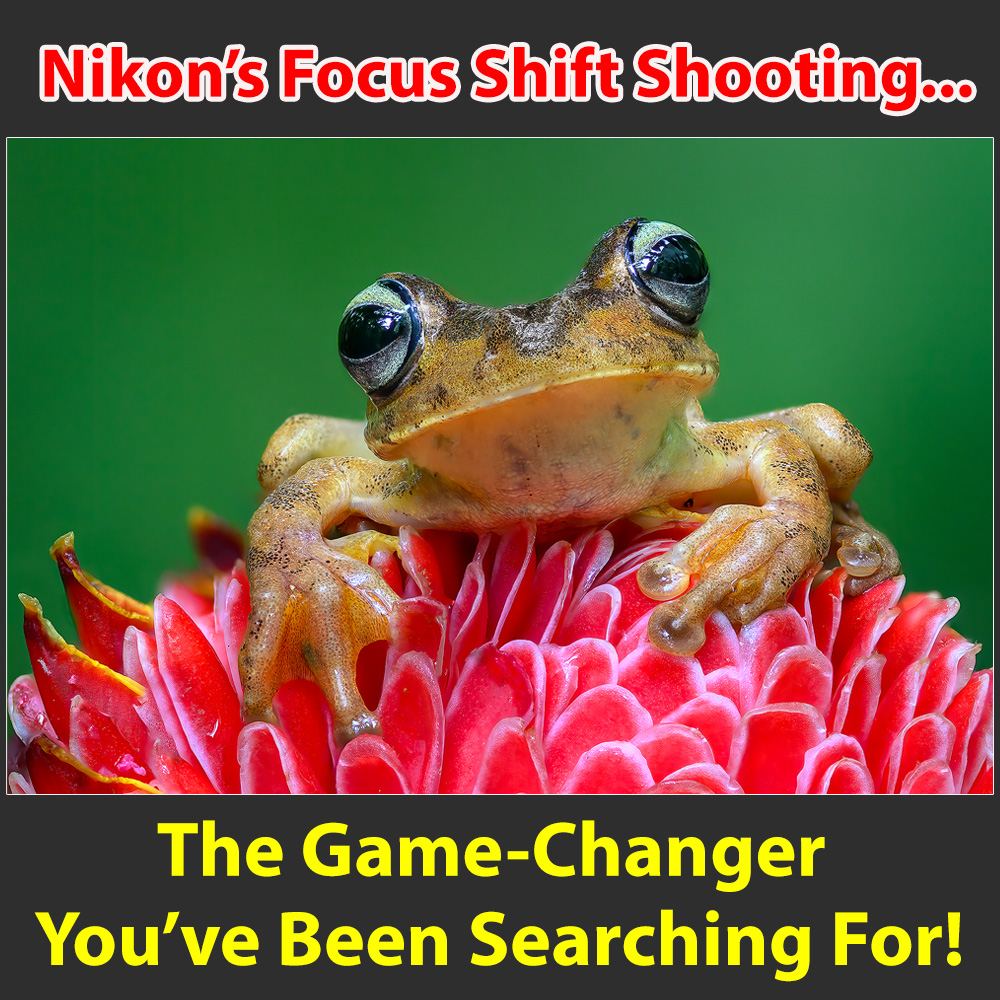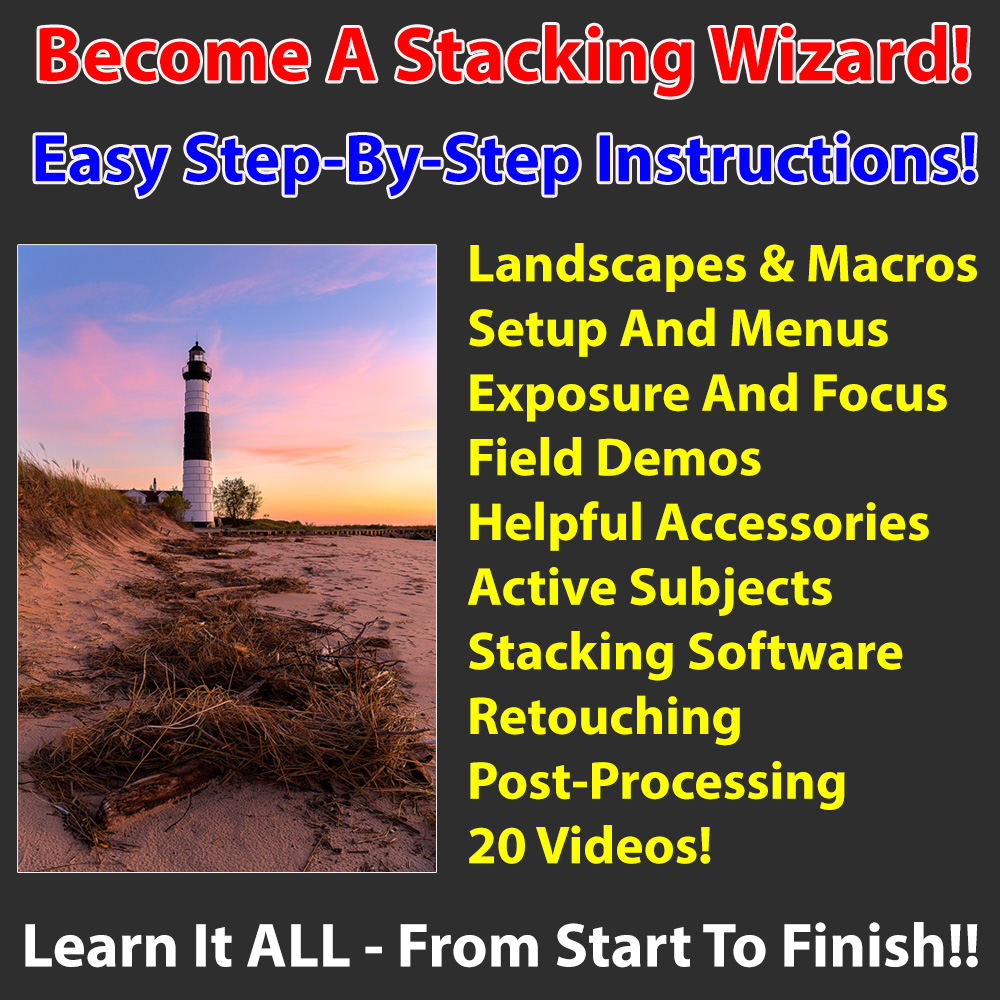 Nikon's Focus Shift Shooting is probably one of the biggest game-changers in all of photography, but the truth is, it's often a source of confusion and in turn, many people are hesitant to use it. However, once you unlock its full potential, you'll start producing unique, jaw-dropping focus-stacked images that will, quite frankly, blow your viewers away! During our Costa Rica workshops, the stacked shots (using Focus Shift Shooting) always get the most stunned "oohs" and "ahhhs"!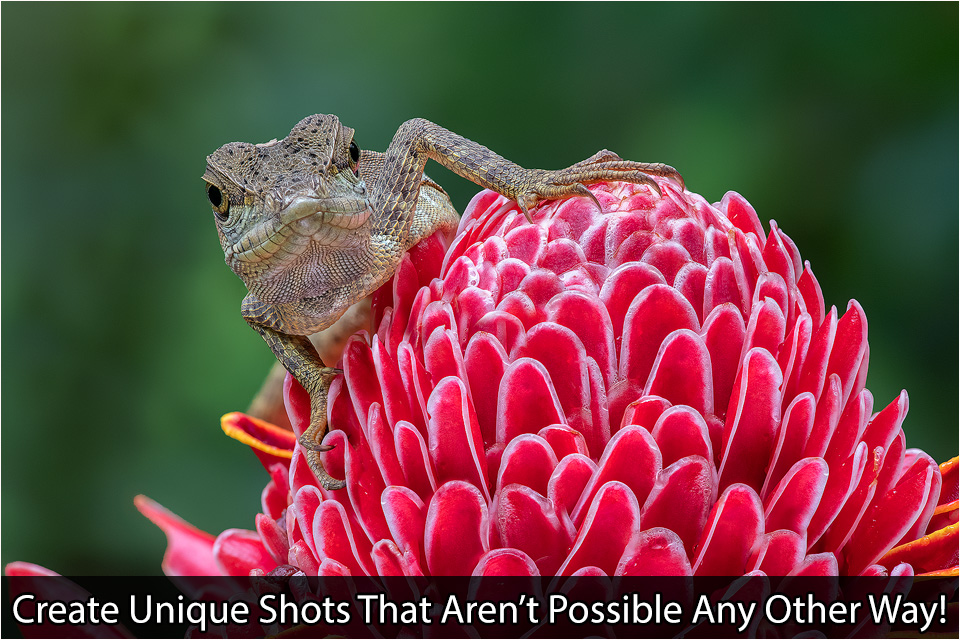 The thing is, most people want to use Focus Shift Shooting but know very little about it – and Nikon's instructions don't make it any easier. Plus, even if you know what the menu options do, that's just the tip of the iceberg – the BULK of what you need to know is field technique and post-processing. Worse, all of this is very specialized for this type of photography so it's easy to blow once-in-a-lifetime shots.
Wanna see the difference between a stacked and a normal shot? Check it out below! One was at F/13, the other a stack for the head / front legs area.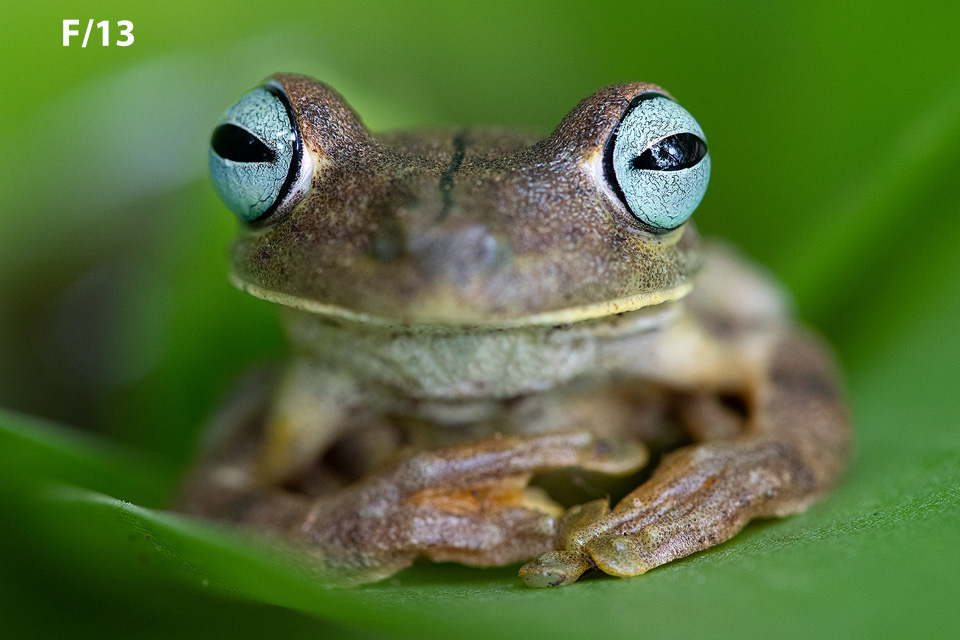 To get the most from Focus Shift Shooting, you need to know:
How the Focus Shift Shooting menu options work.
How to choose the right shutter speed, F/stop, and ISO.
What field techniques to employ for the best results.
How to prep your images for stacking.
How to use stacking software.
How to finish / retouch a photo once it's stacked.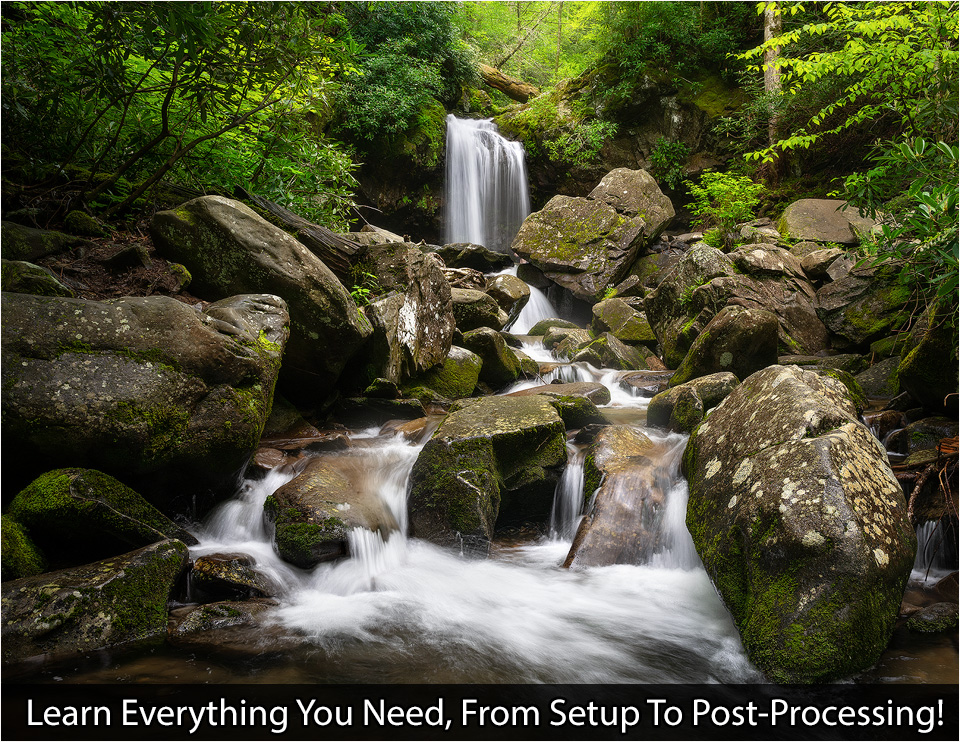 In short, 90% of what you need to know is NOT in the instruction manual – but it's ALL in this video workshop (and more)! In fact, let's take a look.
This course is in two sections and ten topics. There are a total of 20 videos, some long, some short, but broken up by topic so it's easy to find or rewatch the info you need. In total, you're getting nearly six hours of information-dense, field-tested content in this video workshop!
The course itself is online (with the option to download the videos) and designed to be incredibly easy to follow. You can mark your lessons complete once you finish so you'll always know where you left off. Plus you can stream the videos with ANY device anywhere with an internet connection! Watch on a tablet or phone as you create your own stacks in the field and even do the same as you stack on your computer at home!
Master The Fundamentals Of Focus Shift Shooting
In this section, we'll cover everything you need to know to create amazing focus stacks using Focus Shift Shooting. You'll discover what focus stacking is, how it allows far sharper images with deeper depth than just stopping down, and how to recognize situations where you should – and should not – use it. Oh, and this covers BOTH landscape and macro use!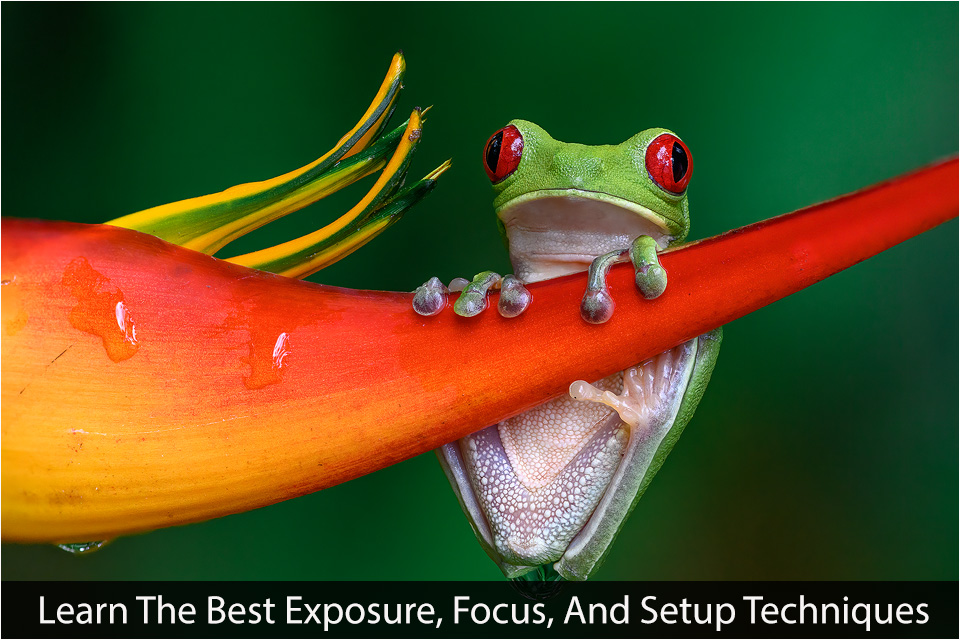 Next, we'll cover what exposure modes work best and which to avoid at all costs. You'll learn how to choose the ideal F/stop in any stacking situation. We'll discuss why sometimes you want to use the sharpest F/stop on the lens and why sometimes that's a terrible idea. You'll uncover the best way to choose the best shutter speeds based on the scenario in the viewfinder. You'll even find out when you should use a low ISO and when it's OK – and even smart – to go higher.
We'll also discuss tripods, windy days, lens types (what works, what doesn't), VR (yes or no), composition problems, image alignment, keeping part of the image from getting hacked off, and so much more. Oh, and if you're a macro shooter, I'll share the secret of getting amazingly clean backgrounds that are the envy of any "regular" shooter!
(The background in the stacked image below was NOT altered – it's just the difference between a stacked shot and an F/22 shot.)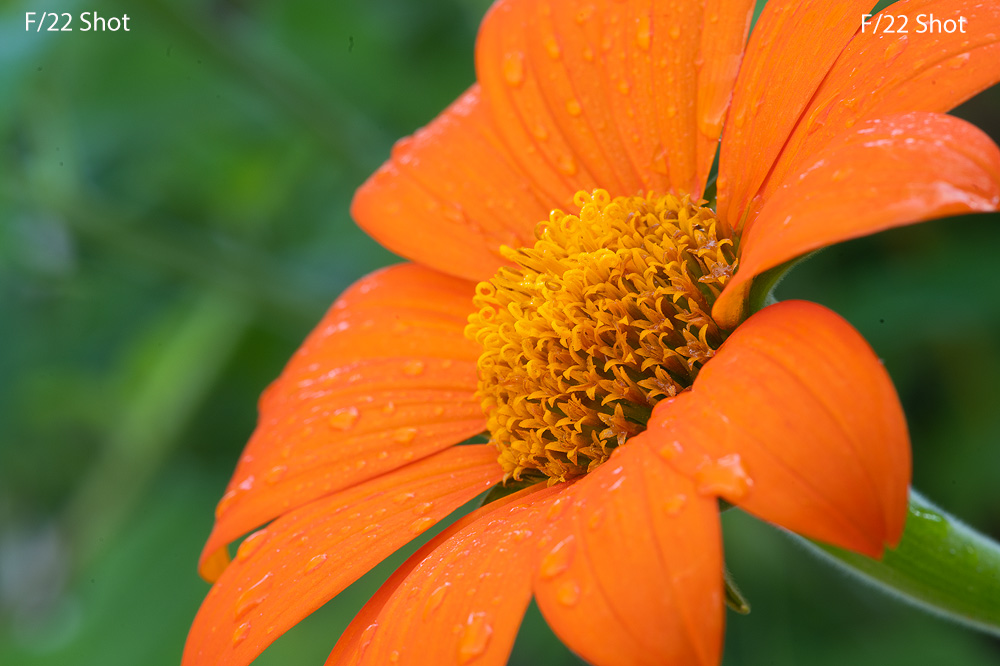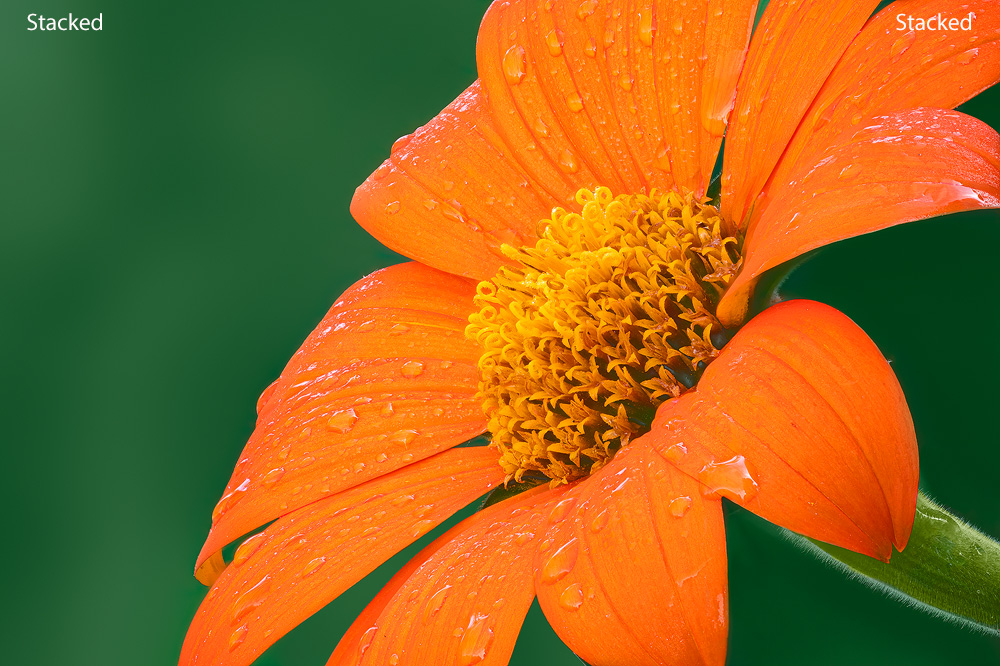 Focus Shift Shooting also allows us to stack faster than ever before. We'll talk about the advantages in both landscape and macro work and how to use our exposure settings to "supercharge" the engine – getting the stack on your card even faster!
Finally, you'll learn how to master the Focus Shift Shooting menus. We'll cover EVERY setting – and not just what it does, but why and how to set it for different scenarios. You'll learn truckloads of tips and tricks along the way that will help you every time you're out shooting. Let's face it – the menu options for Focus Shift Shooting are intimidating, However, in less than 12 minutes you'll know EXACTLY how to set and leverage every one of them to your advantage!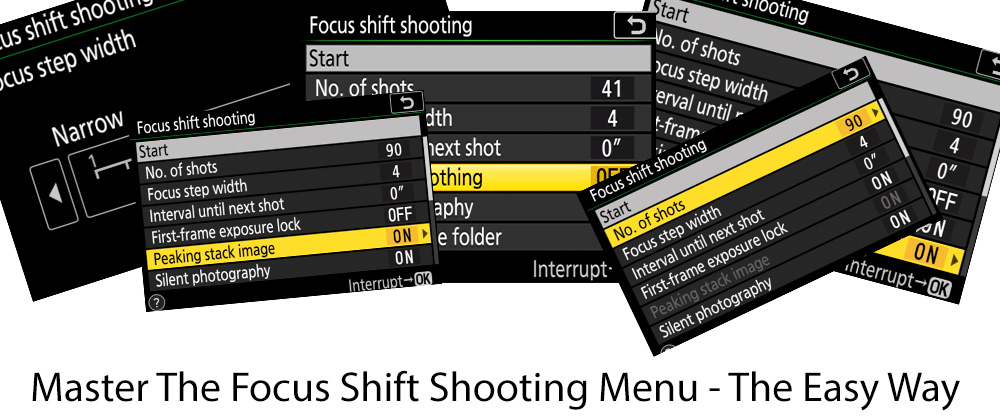 The truth is, if you don't fully understand these fundamentals, you're heading towards a lot of focus stacking frustration! I've watched people miss incredible photos simply because they didn't have the proper knowledge.
Field Techniques And Demos
This course also includes field demos! One demo is for a typical landscape and two are for different macro scenarios!
In the videos, you'll see EXACTLY how to work in the field to consistently create amazing focus stacks. I'll take you through every step and explain everything I do and why. I've recorded the back LCD of the camera the entire time (direct record, HD) so you'll see what I see. It's like we're both on location and I'm taking you step by step through the entire process!

I'll show you how I set up beforehand, why I choose the setup I do, how I configure the camera and lens, the critical accessories I use, how I manage wind, and more.
You'll discover how to balance F/stop, shutter speed, and ISO – and most importantly – why and when you should make those choices. You'll see how to use the live histograms for perfect exposures. You'll discover the best way to focus (there are more than a few tricks to it), the critical thing you MUST do as the camera is shooting, and the easiest way to verify you have it right. You'll even learn what to do if you didn't have the camera take the right amount of images (hint – you don't have to start over)!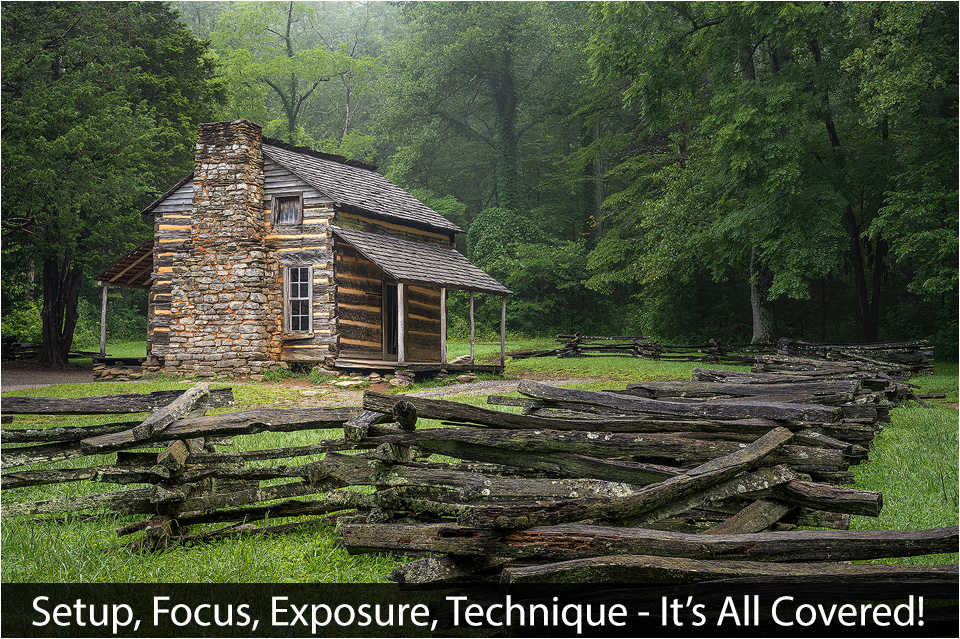 There are a TON of things you need to do properly in the field for the best results and I take you through all the fundamentals, step by step.
Stacking And Post-Processing
Finally, we'll talk post-processing – you know, the part of focus stacking that keeps most people from ever trying it!
These videos are extensive and provide all the fundamentals you'll need to create images that drop jaws every time you show them. I'll take you through everything you need to know, step by step. We'll cover each option and feature, why and when to use it, and all of it is described with complete, easy to understand clarity.
Basically, you'll have the tutorial I wish I had when I first started stacking!
You'll discover, step by step, how to prep images in Lightroom (the general techniques apply to any RAW software though, Lightroom is not required) and export them for stacking.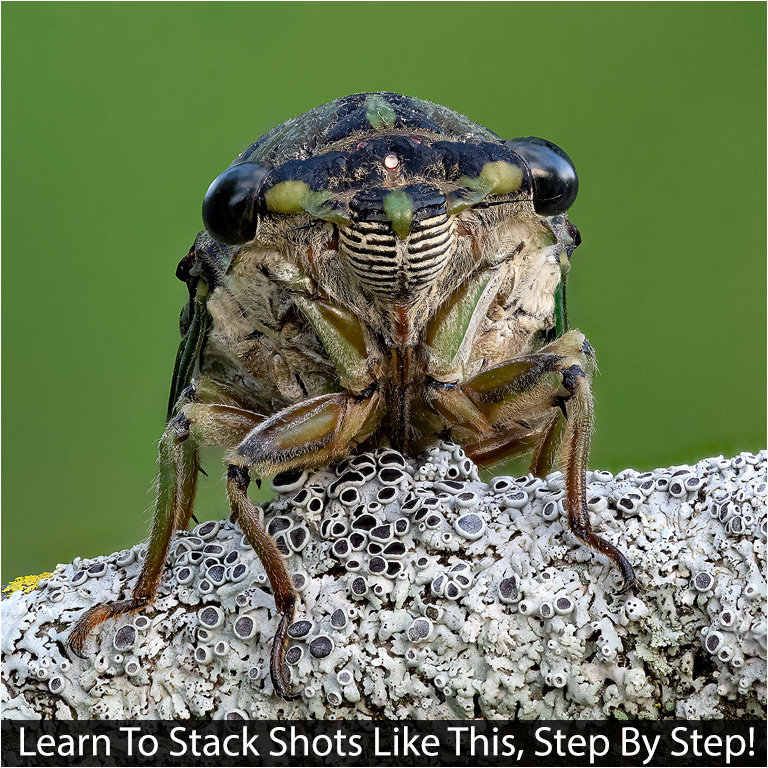 From there, you'll see, (again, step by step) how to stack using Photoshop, Helicon Focus, and Zerene Stacker (each image uses a different program).
In Photoshop, you'll learn how to stack and we'll talk about why it's critical to follow every step to the letter for the best results. From there, I'll demonstrate some basic retouching techniques to make your images complete.
In Zerene Stacker, I'll show you how to stack, we'll talk about the differences between the PMax and DMap stacking methods, and what types of images they work best with. We'll also cover retouching fundamentals using Zerene Stacker's built-in retouching brush as well. We'll look at all the various options, how to choose the best source images for retouching, and I'll demonstrate how to use both source and pre-stacked images for retouching.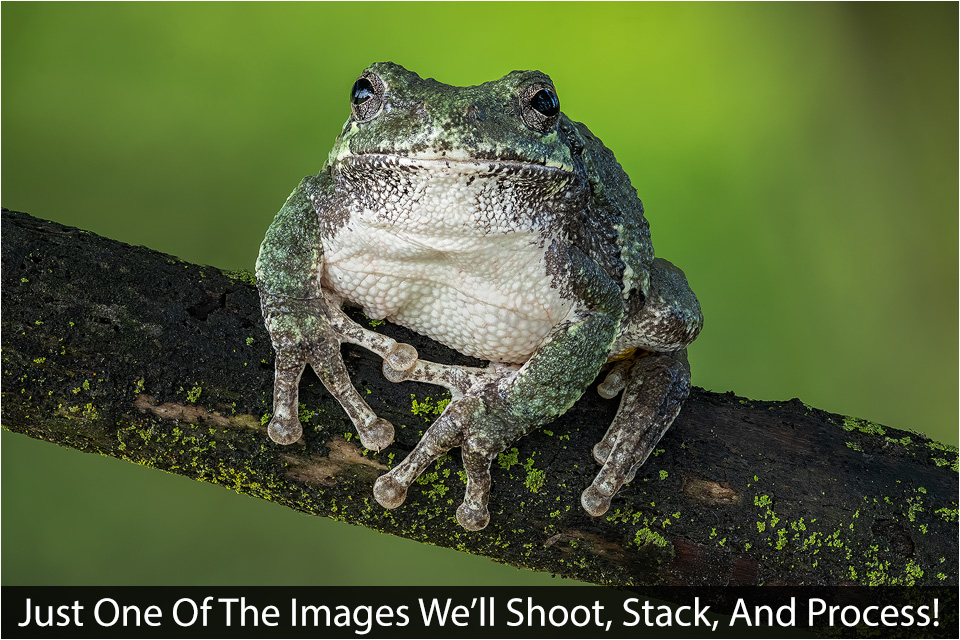 In Helicon Focus, you'll discover how to stack, the differences between each stacking method (weighted average, Depth Map, and Pyramid), how to compare different stacks and identify issues that can cause potential editing problems later. We'll also cover the fundamentals of using Helicon's retouching brush to optimize and get the maximum detail from your stacked images – and how to set the brush options as well. We'll look at multiple ways to get the results you want and we'll cover a ton of scenarios and methods, including using source and stacked images for retouching!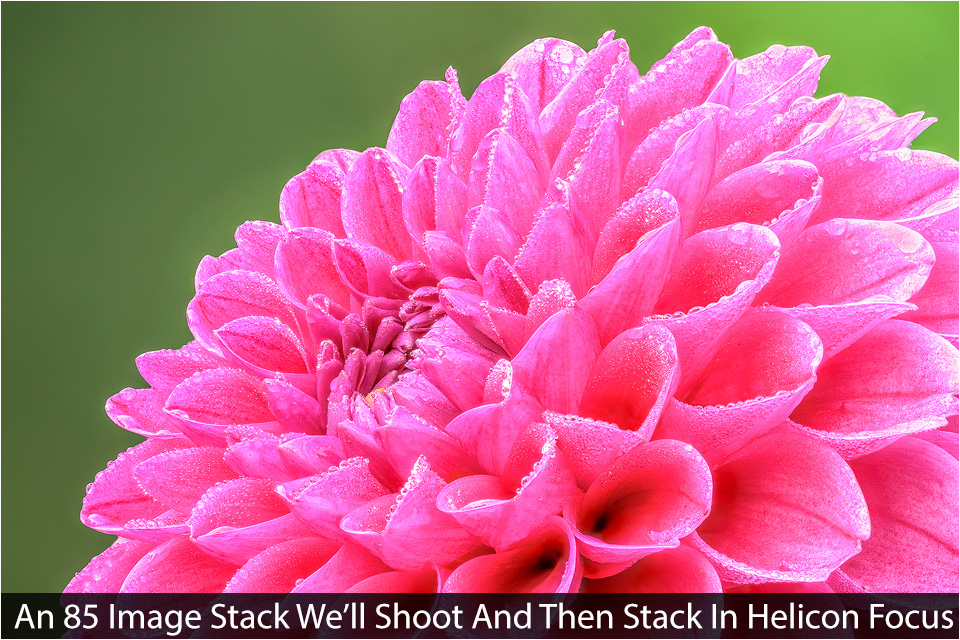 In short, no matter which of the three software programs you use, you'll come away with everything you need to know to create jaw-dropping image stacks!
Bonus! Post-Processing Videos!
As if all the content above wasn't enough, you'll also receive 90 minutes of bonus video demonstrating how I take each of our stacked demo images and finish them off in Lightroom and Photoshop – although many of the techniques will also apply to other processing software as well.
Finally, if you're still on the fence, think of it this way…
So many times we spend countless hundreds or even thousands of dollars purchasing gear that we hope will help us create more powerful images.
The truth is, gear is only a small part of the equation. Amazing imagery comes from YOU – the person standing a few inches behind the viewfinder. Once captured, it's then time to take what the camera puts out, stack the image, and make it match your vision.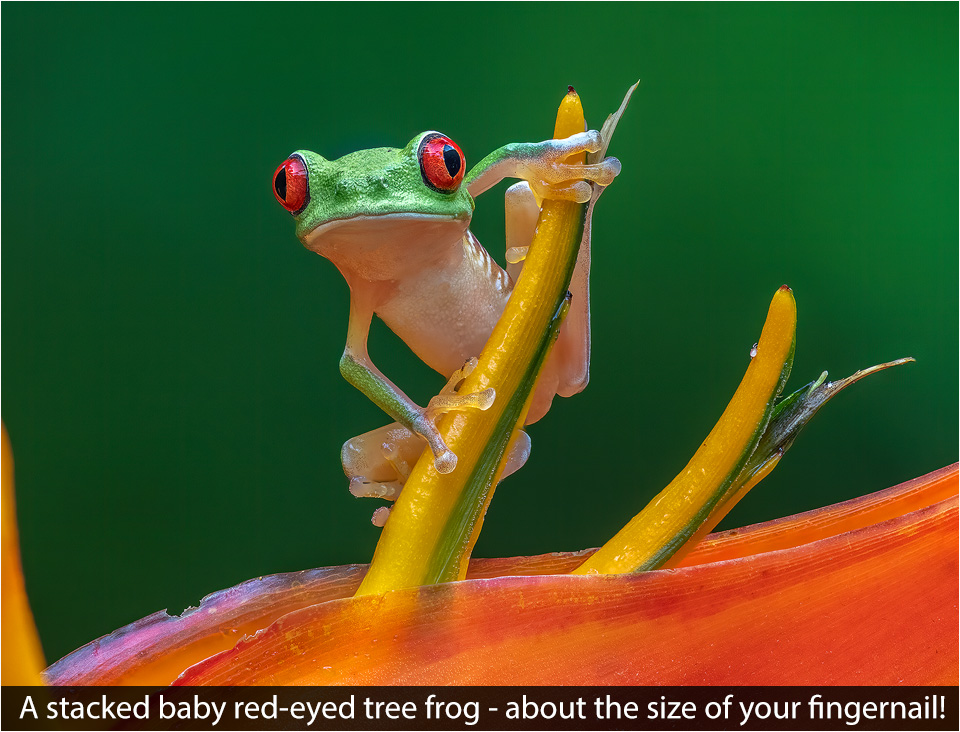 However, when offered an opportunity to improve their photographs in a way that could make an incredible impact, people often hesitate. I know for a fact that my best images were due to hundreds, even thousands of hours spent studying educational materials – materials that only cost a small fraction of what my gear does!
So, that brings us to price. I've tried to make this completely affordable for any photographer – just $18.97 and you'll have instant access!
That's basically less than lunch money for a product that could improve your photographs exponentially. Heck, even if you only discover ONE new noise reduction trick or technique that helps you output an amazing image, wouldn't it be worth it?
Check it out, you could be enjoying this new video series in just a few minutes.