The earth shook for Nikon enthusiasts on August 24th, 2017 with the launch of the new Nikon D850. For weeks and months prior, rumors had been running rampant to such an extent that this body could easily win the award for "Most Leaked Camera In History." Still, it's good to have final confirmation from Nikon.
I've been getting a lot of e-mail asking what I think about the new addition to the Nikon family, so I thought I'd post this article to share those thoughts and impressions with you.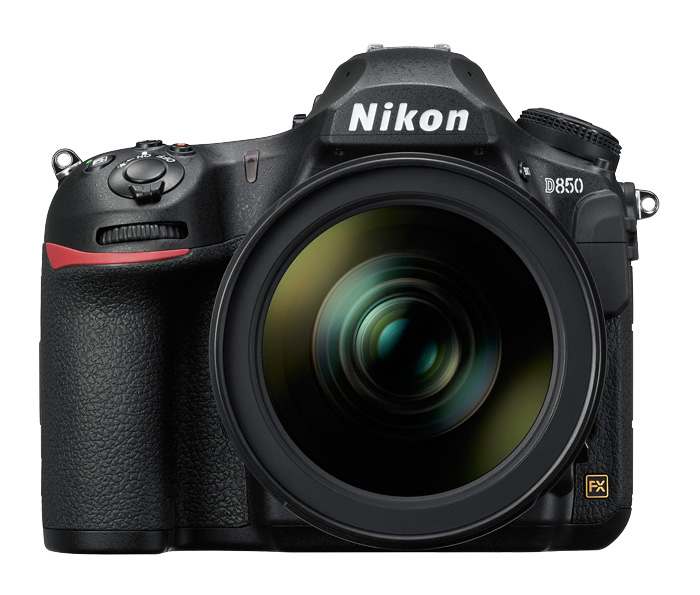 First, let's take a quick look at the primary specifications. Just a casual glance down the list is enough to give any Nikon user a few excited heart palpitations as they reach for their credit card. In fact, I think this list is impressive enough to make quite a few shooters, who currently aren't using Nikon, consider making the switch.
45.7MP Nikon-Designed Backside Illuminated Full Frame FX Sensor
Expeed 5 Image Processor
Newly designed shutter mechanism (less vibration) Tested to 200,000 shots
RAW, Jpeg, and TIFF support – three sizes of RAW files (45, 25, & 11 MP)
XQD and SD (UHS I and II) – Buffer clears in 7 seconds with XQD
0.75X Magnification 100% viewfinder with diopter
30 seconds to 1/8000th of a second shutter, flash sync 1/250th (Auto FP supported)
7 FPS, 9 FPS with grip + EN-EL18b battery inserted. No speed increase in crop modes
51 frame buffer 14 bit RAW (170 frames in 12 Bit RAW)
180K RBG pixel sensor (improved AF, face detection, metering over D810)
Native ISO range of 64 – 25,600
Multi-Cam 20K AF system (153 point AF system) – same as the D5/D500
AF sensitive -4EV to +20 EV
Single, Group, Dynamic (D9, D25, D72, D153), 3D and Auto AF areas
Live View touch to focus AF
Up to 4K 30FPS movie recording (full frame!) with focus peaking and zebra stripes (finally!)
29 minutes, 59-second consecutive movie recording
3.2-inch tilting touch screen, 2.3 million dots with 170-degree viewing angle
1840 shots per battery charge with En-EL 15a battery
32.3 oz (915g) body only
I don't want to drone on about every specification, but there are a few that caught my eye and that I think would interest my fellow nature photographers.
Sensor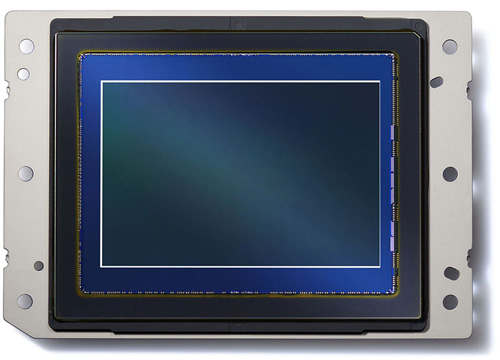 The overall resolution goes from 36MP in the D810 to 45.7MP in the new D850. It's a nice leap but not extraordinary. If you print at 240 PPI, it's the difference between making a 30.6-inch print with the D810 vs. a 34.4 inch print with the D850. Still, it's a nice bump in resolution without going overboard.
Nikon is also using a backside illuminated sensor, making for easier and more efficient capturing of all those little photons – and more importantly, increasing readout speed (Nikon says the latter was the primary reason for going with a BSI sensor). Also, like the D810, this sensor lacks a low pass filter, so you won't sacrifice any sharpness on the altar of moiré prevention. (Moiré isn't really a problem at this pixel density, so don't lose any sleep over the missing AA filter.)
As for performance, let's examine dynamic range first since that's one of the hallmarks of the D8xx series. The good news is that despite the increase in resolution, early tests seem to indicate that dynamic range is at least as good as the D810. However, at lower ISOs, it looks like the D750 is still in the lead and the D5 still holds the crown for higher ISO dynamic range. Still, it's an estimated chart, so things may change once more data is accessible. (Only a few data points were available at the time of this article, but the gentleman who creates the charts is usually spot-on about such things).
(chart courtesy of Bill Claff, photonstophotos.net )
Nikon claims an increase of up to a one stop in ISO performance over the D810, but that almost seems too good to be true (although I have seen a few jpeg samples online that seem to corroborate Nikon's statement – but the RAWs will tell the tale). Once I get my D850 in hand, I'll be doing some ISO tests to compare. I have a feeling that the one stop advantage is for Jpegs only (where Nikon has quite the secret sauce for noise reduction), but if it holds true for RAW files that would put it solidly into D5 territory.
Autofocus, Live View
The D850 also inherits the incredible AF system from the D5/D500 – an AF system that, in my opinion, is currently the best on the planet.
It seems to have just about all the AF goodies we find in the D5 – Single Point, Group (not sure if it has the new Horizontal / Vertical Group AF options like the D5 or not), Dynamic (D9, D25, D72, D153), 3D, and Auto Area AF. I'm delighted to see D9 in that collection – the D500 lacks that mode and in my option D9 is one of the most useful of the bunch. I frequently use it in my D5, and it's incredibly handy when you need an area that's just a little bit larger than single point.
Thankfully, Nikon also saw fit to include a dedicated AF processor just like we have in the D5. So, I think it's safe to say you'll see AF performance that's identical to what you get in the flagship pro body. (Note – in the past, Nikon's pro series bodies sometimes shared the AF system with their "lesser" siblings, but the pro bodies always seemed to have more "aggressive" AF. This even seems to hold true with the D5 and D500, although the gap isn't as wide as we've seen in the past. With this dedicated AF processor, I think the D850's AF system will be every bit of what we experience with the D5.)
Another welcome addition from the D5/D500 is the little joystick on the back of the camera for moving AF points. I know it sounds like a minor thing, but try using one for awhile and then switch to a camera that doesn't have one! Nowadays, my thumb goes on strike every time I shoot a non-joystick enabled camera.
As I predicted, this camera also includes Nikon's Auto AF Fine Tune feature. This is a handy way to calibrate your lenses to your camera and solve any minor front or back focus issues. Plus at 46MP, you need army marksman-like precision with your AF system. Note that the typical way people use Auto AF Fine Tune tends to give mixed results. However, I have a system outlined at the link below (and in my Nikon AF book) that works much better:
Also, note that there is a bit of a learning curve to this new AF system. If you'd like to get a leg up on it as you wait for your new camera to arrive, be sure to check out my e-book, Secrets To The Nikon AF System. Since it uses the same AF system as the D5/D500, all the information for those cameras will apply to the new body. Of course, there will be a free update to that book once I get a D850 in hand and have the opportunity to run it through its paces.
Live View also gets an upgrade with an option called "Pinpoint AF." This feature allows you to use a focus area that's only 25% the size of the "normal" area and can be an asset when you need ultra-precise focus (macros come to mind).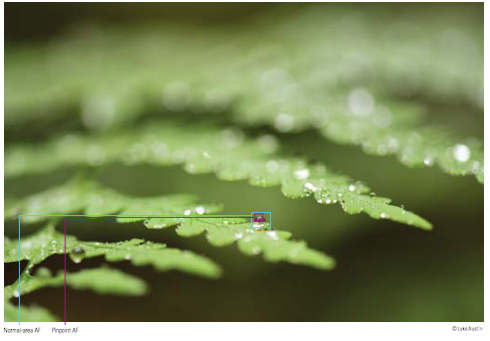 Speaking of cool Live View features, the D850 includes Focus Peaking. (Finally!) This feature has been commonplace in the Micro 4/3rds world for a long time, and it's a very welcome addition to the new camera. Basically, what focus peaking does is to "highlight" the sharp areas in the photo (usually with a very gaudy color) so you can visually see what's in critical focus. Focus peaking is a MAJOR upgrade for Live View shooters and a feature I know I'll use on a regular basis. It's also amazingly helpful for video, so I'm thrilled to see it included.
The camera also incorporates an innovative new feature for focus stacking that's sure to be a hit among landscape and macro photographers. In case you're not sure what focus stacking is, here's a quick overview:
The idea with focus stacking is that you can achieve perfect focus from foreground to background without resorting to diffraction-limited F/Stops such as F/16 or F/22. Instead, you take multiple photos at different focus points throughout the image using something like F/5.6 or F/8.
So, you typically start with a focal point near the camera, focus, and shoot. Next, you rack the focus out deeper into the photo, being careful to overlap the zone of focus from your previous shot and shoot again. You do this until you have a collection of images that contain sharp "pieces" of the entire scene.
From there, you use third party software (like Photoshop) to automatically assemble all the sharp portions of the series into one single image that's perfectly sharp from foreground to background. (I have a step-by-step walk through with examples of this in my Nikon AF book on page 369.)
This new automated focus stacking system in the D850 takes most of the hassle out of the process. You simply tell the camera the distance you want between shots, and it automatically changes the focus from shot to shot until the series is complete (plus it will store the stack in a separate folder on the memory card).
I'm VERY excited to try this out in the real world, and I'll give you a demonstration of it in the upcoming full field review. As a bonus, it sounds like this can happen at 5FPS so if you have a subject that's likely to move this may enable you to get the shot where manually adjusting focus is impractical. (Take that bugs and frogs!)
Frame Rate And Buffer
Next, let's take a moment to gawk at those FPS. We're talking 7 FPS with just the camera and a whopping 9FPS with the camera and grip! (Although you need the battery from the D5 in the grip to get those 9FPS, so just the grip itself isn't enough.) That's a ridiculous amount of data getting slid around inside that camera.
Also, note that there is no increase in frame rate with any of the crop modes. My understanding is that the mirror mechanism in this camera simply won't go beyond 9FPS.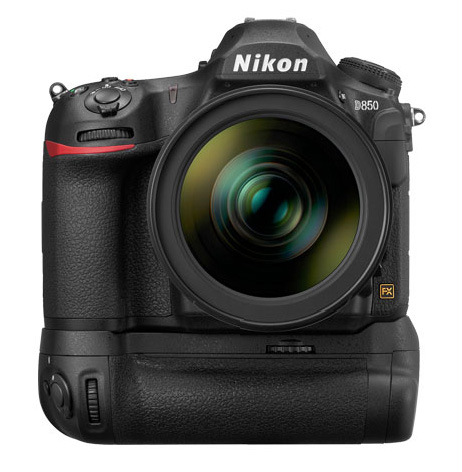 This incredible frame rate is groundbreaking for wildlife photographers in particular. In the past, we were always forced to make a choice: A slow, high-resolution camera capable of rendering extreme detail (and allowing for heavy cropping as needed) OR a fast camera at a lower resolution. Now, for the first time in Nikon's history, we have a camera that can deliver an astonishing amount of resolution at very respectable frame rates. For the vast majority of wildlife action scenarios, 9 FPS is all you really need (and matches the speed of the D3 and is only a single FPS shy of the D4!)
To go along with that massive frame rate is a wonderfully deep buffer. The D850 can deliver 51 frames (14-bit lossless compressed RAW) or 170 frames (12-bit lossless compressed RAW) before it starts to chug. However, the good news is that even if you fill the buffer, it should only take about seven seconds to completely empty if you have an XQD card inserted.
Yes, I know, it's not the 200 frame buffer we enjoy with the D500 or D5, however, after shooting both of those cameras for the last year and a half, I can tell you that I very seldom have gone beyond 50 frames worth of buffer for my action work. So, I think that although it comes up far short of the D5/D500, it's still more than adequate. (Heck, once upon a time even pro series bodies couldn't do much more than 20 frames in the buffer!)
Note that this cavernous buffer is thanks to having an XQD slot inserted in the body. I have little doubt that the SD slot will yield a smaller image reservoir before the buffer starts to chug. So, if you want to get the highest level of performance from your D850, make sure you budget in a few XQD cards with the purchase.
Buffer Note: One of our readers, Eric Bowles, sent me a message with an interesting point. It's very likely the 51 frame buffer is based on the slower frame rate of 7FPS. With two extra FPS going into the buffer at 9FPS, he estimates a buffer capacity of more like 40 frames. I'll test this when I get my camera, but something to think about. Although, keep in mind that switching to 12 bit will likely make it a non-issue if you need a high capacity buffer.
Another interesting new feature is the silent shutter mode. In Live View, you can shoot with a fully electronic shutter for completely silent photography (at up to 6FPS ). However, the lack of noise is just the icing on the cake in my opinion. The unique side effect of this system is that there is absolutely no vibration induced by the mirror or shutter mechanism at any time during the exposure. Think of it as mirror lockup on steroids!
Everything Else
The battery life also takes a significant step up from the D810, going from 1200 shots to 1840. In fact, if you use the D5 battery in the grip, you'll get well over 5000 shots on a single charge! Plus, I've found battery life to be much higher than what the rating indicates for every Nikon camera I've owned. I tend to shoot in short bursts and can often get over twice the rating – so battery life with the D850 is going to be nothing short of outstanding.
Now, let's talk about that tilt screen. The first camera I owned with this was the Nikon D500 and truthfully, I didn't utilize it very well initially. However, as time has gone on, I've really come to appreciate the ability to tilt that back LCD panel and it's starting to become a "must have" in my book. Honestly, I just can't imagine going back to plopping down in the cold mud because I was forced to lay down to use the viewfinder – just flip on Live View and knock out your low-level shots with the tilt screen.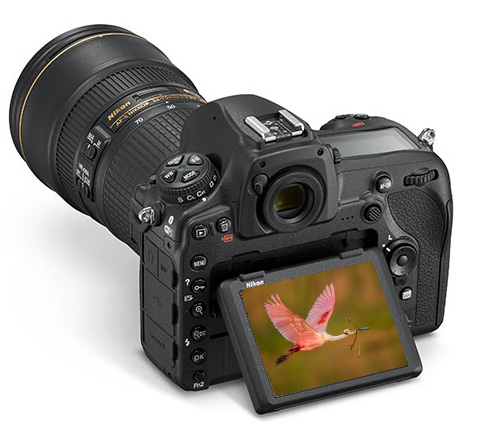 Thankfully, this implementation of the tilt screen allows you to use the touch feature for more than just a handful of chores. Unlike the D5/D500, you can now use touch for both image review AND menus. A very welcome addition and one that I really enjoyed with the D7500. I'm glad to see it here.
The specs also indicate that it's quite a durable body, incorporating what Nikon calls "comprehensive weather and dust sealing." That's coupled with a magnesium alloy body and a newly designed vibration resistant shutter rated to last through 200,000 clicks. (If you do the math that's just over 6 hours of continuous shooting. Umm, yeah, don't do the math.) As an added bonus, it also features illuminated buttons for night work!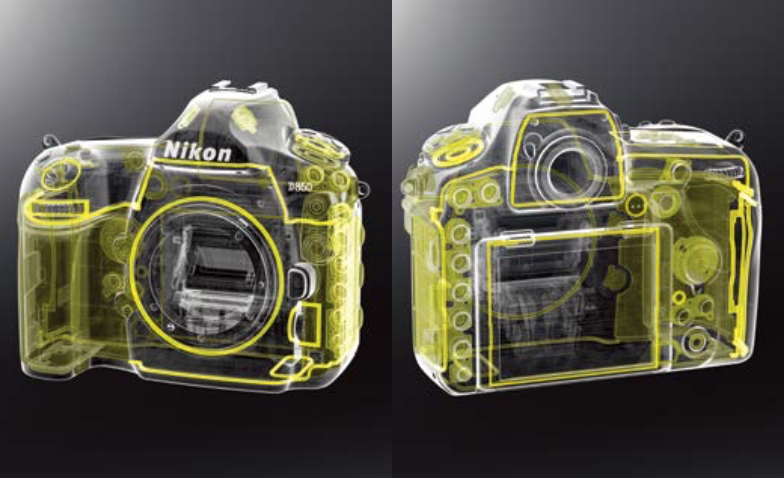 Finally, although I'm about as far from a DSLR video expert as you can get, there are a few points I'd like to mention.
First, the D850 can now do full frame 4K video – this is a REALLY big deal since previous Nikon bodies could only do cropped 4K (and there weren't too many doing that either).
As mentioned, it also has focus peaking to help with manual focus scenarios. In addition, it also adds "Zebra Stripes" to the mix. Zebra stripes show up on the back LCD panel in video mode as a blown highlight warning – much like the blinkies we use when shooting stills.
In the end, I see this as – potentially – the ultimate camera for nature photographers. You can easily use it to capture a jaw-dropping high-resolution landscape in the morning and grab some bird action in the evening. On paper, it seems like a camera that can do everything a nature photographer would ever want.
I know phrases like this get thrown around more than a stuntman in a super hero movie, but, "This could be your last camera."
Of course, all of this is based strictly on specifications so we'll have to give it a real test run in the wild. I already have mine ordered and I'm planning an extensive field test that will take at least a month or two to complete.
High-Resolution Concerns
Any time a new, higher resolution body appears on the scene, it's followed very shortly by a wave of concern over things like image quality and diffraction. So, let's put some of those fears to rest.
First, diffraction. In short, it's not a big deal. The #1 rule you must remember with diffraction is this: A higher resolution sensor will never give you worse image quality at a given aperture than a lower resolution sensor of the same size. So, in short, there's nothing to worry about. However, if that's not enough to set your mind at ease, take a look at my video that gives you the complete scoop:
Next, is overall image quality. The truth is, to get the most out of this higher resolution sensor, you'll need to have better technique than may have been required in the past. This involves better support and (very likely) faster shutter speeds. However, it's far from an impossible task. If you've shot with any DX body above 20MP and made acceptable images, you're already accustomed to using pixels at the same density as the D850. So, I wouldn't lose too much sleep over it.
Recommendations
Normally, I have to really give this section of my reviews / overviews some serious thought.
Not this time.
In my mind – and based on the information at hand – the D850 seems like the ultimate "do everything" camera for nature photographers. You can start the morning out with an incredible sunrise shoot, taking advantage of the amazing resolution and dynamic range of this body. From there, you can head over to your favorite wildlife area and knock off incredibly detailed shots and easily have the performance to capture any action scenario.
Basically, if you can afford it, get it.
I've had quite a few readers asking if this would be a "better" camera than the D500 for wildlife shooting since the DX crop is about the same resolution as the D500. That's a valid point, and the truth is, I think the answer is a resounding, "Yes, it's a better choice!"
Sure, it still falls 1 FPS short of the D500 for frame rate and has a smaller buffer, but the camera is more than adequate for just about any wildlife action scenario.
Plus, you have the advantage of a full frame sensor for better low light performance and dynamic range. And, most importantly, that full frame sensor allows you to capture images with shallower, subject-isolating depth of field – my #1 reason for preferring full frame to DX for wildlife work. In my mind, the only reason to stick with a D500 is if the $1300 price difference is just too much to swallow.
Speaking of price, the Nikon D850 retails at $3296 – far less than I had expected. Although, I know in other countries it is considerably higher in price. However, keep in mind if you want the vertical grip you'll need to add another $400 on to the price and if you want 9FPS, you'll also need to snag a D5 battery at the cost of $150, plus a charger for $370. That brings the total up to $4216. Not cheap, but keep in mind that this camera can easily replace two (like a D500 and D810), so not totally unreasonable either.
In the end, the hardest thing for me about this camera is resisting the urge to buy two of them.
If you'd like to help support these reviews, please consider placing your pre-order through my amazon link. Thanks!
PS…
If you enjoyed this article, I think you'll REALLY like my e-books, Secrets To Stunning Wildlife Photography and Secrets To The Nikon Autofocus System. They're filled with hundreds of pages of information just like this. Check it out – click here (hey, it's free to look 🙂 )