Nikon has just launched the brand spankin' new D7500 (DX body), and my inbox is already overflowing with questions. So, I thought I'd put together a quick post, first examining the camera itself, and then briefly comparing it to the D500 and D7200.
First, the camera. In my opinion, it won't beat out Kate Upton for the next cover of the Sports Illustrated Swim Suit Issue, but it's still a good looking body (and if it gets splashed, it's weather sealed to a "greater extent" than the D7200, whatever that really means).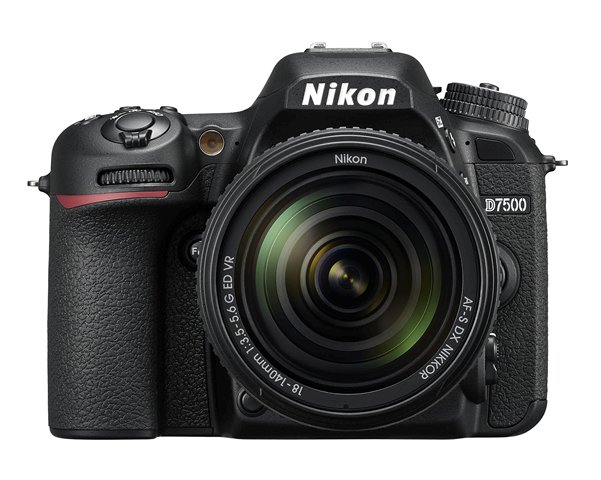 The body has been slimmed down and is a bit lighter than the D500 (4.3oz) and ever-so-slightly lighter (1.3oz) than the D7200. It also seems to have a deeper grip, which is always a welcome addition, at least for my hands. A few of the controls have changed positions, the most notable of which is the ISO button right in front of the shutter release – exactly where the camera gods intended. It also seems Nikon has finally given up on the Pv button, replacing it with an Fn1 button instead. Since very few people ever used the Pv button as a depth of field preview anyway, I think the new label makes more sense. (And I'm confident you can still program it for depth of field preview if you like.)

As for features, they really have changed things up compared to the D7200 – and there are both good and bad points in the mix. Here's the highlight show to give you all the facts for when you're chatting around the water cooler at the next camera club meeting.
Nikon D7500 – The Good
First, autofocus. The new camera has the same 51 point AF system as the D7200 but adds Group Area AF to the club – a very welcome addition to the menu. Otherwise, it seems on par with the D7200 – although don't misinterpret that statement as a disappointment. I've always been very pleased with the AF performance of the D7200, and I'm sure with Group AF supplementing the system, this will be even better.
In addition to the feature bump with Group AF, this is also equipped with Nikon's Auto AF Fine Tune, so it's good to see that option creeping into other bodies. I talk about how to get the most out of it in my Nikon AF book, but I'll probably do an article about it as well down the road, so stay tuned.
Speaking of which, if you have my Secrets To The Nikon Autofocus System e-book, don't worry – I'll be updating the guide to cover the AF system of the D7500 within a month or two of release.
Moving on, how about that sensor? This time, it borrows the excellent 20.9MP sensor from the D500. For some people, this will feel like a slight downgrade from the 24MPs of the D7200, but in reality, there is very little practical difference. If you're printing at 240 ppi (a pretty good number for most inkjets), the D7200 can do a 25×16 vs the D7500 at 23.2 x 15.4. In the end, I like both sensors, so for me, this wouldn't be a deal breaker either way.
Nikon also claims "substantially" better ISO over the D7200, but I don't think they understand what that word means. If the D7500 uses the exact same version of the sensor found in the D500, it's a wash for ISOs below 3200 and only enjoys a small advantage above that. Of course, they've had time to tweak the sensor, so it may be better than I anticipate (but don't kid yourself either – if it's more than a 1/2 stop improvement I'll be shocked).
Speaking of ISO, the new camera claims an ISO range of 100-52,000 vs the 100-25,600 range for the D7200 thanks to the new Expeed 5 image processing engine. The upper ranges are ideal if your standards are low and don't mind your images resembling something painted on sandpaper. Personally, I max out at ISO 3200~4000 with either camera (i.e. D7200 / D500 – and I'm sure the same will apply to the D7500).
Next frame rate. We go from 6 FPS on the D7200 to 8 FPS on the D7500 – a nice upgrade and one that puts it solidly into the action camera category (The D3 was only 9FPS, so this is pretty close). This extra frame rate is paired with an improved buffer that allows you to knock out 50 shots before it slows (compared to the D7200's 18). That's over six glorious seconds of continuous shooting and will cover just about every situation.
The D7500 also adds a touch-enabled tilt screen, which is another big plus in my book. Although I don't use the one attached to my D500 every day, I do like the option, and it has made some low-to-the-ground shots much easier to capture. Also, I like the touch screen for moving my AF point in Live view – so much faster than scrolling with the multi selector. However, it's not all cupcakes and kittens. The new camera's back LCD panel is 922,000 dots vs the D7200's 1,228,800 dots. Probably not overly noticeable in the real world, but still lower. That said, on I suppose I'm willing to sacrifice a few dots for a touchy tilt screen if that's the requirement.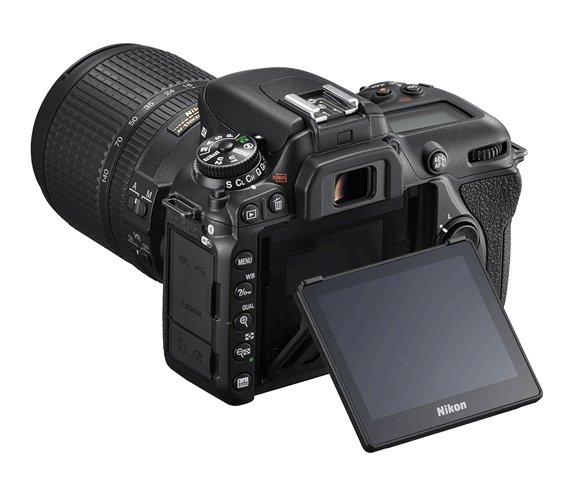 The next goodie the D7500 inherits is the D500's highly accurate 180K pixel RGB sensor. This should improve metering, white balance, and AF tracking performance. In fact, I predict the biggest upshot you'll likely notice is with 3D tracking – something that has improved significantly in the D500 and will likely carry over to the D7500 thanks to the 180K upgrade.
Speaking of metering, the D7500 now includes an option for highlight metering. This mode can be handy at times and I do occasionally flip to it with my D5, D500, and D810. While it's not perfect, it can sometimes help keep blown out highlights to a minimum. (Stupid egrets…)
I'm not too deep into video recording, but the new camera now supports 4K (30, 25, 24 FPS), plus allows you to save in either MOV or Mpeg format. I hear it also does zebra stripes for exposure, but sadly STILL no focus peaking. ARRGH!
Nikon D7500 – Concerns And Deal Breakers
Sadly, there are a couple concerns that we need to mention and these will no doubt save some readers $1250.
First, they have eliminated the AI index ring on the lens mount. That means if you enjoyed hanging legacy glass off your D7xxx series camera (think manual focus Nikon glass), you're in for a disappointment. While you can technically mount the lens to the camera and take photos with it, you'll discover there's no metering (although the digital rangefinder should still work for focus confirmation). In my mind, the lack of metering makes it a non-starter, but of course some may disagree. I know for most folks, using legacy glass is a non-issue, but I thought it was prudent to mention it.
The next omission will be of greater concern – it appears there is no option for a vertical grip. This is a huge departure from every camera in the D7xxx series and a serious step back in my opinion.
Next, we have storage media, and this can be a deal breaker for some. In the D7200, we had two SD card slots, so you could use the extra for backup or overflow. Well, it seems the D7500's SD card area has become a bit anorexic and now supports only a single, lonely little card. If you depend on a second SD card to act as backup / overflow, then this is a painful loss. However, the good news is you can probably get a good deal on a used D7200 right now…
The sting of that single SD card could have been less painful had they at least gone UHS-II, but the cards slot is still chugging along at UHS-I speeds. Although, with a 50 frame buffer, it probably won't come into play too much anyway.
As a final kick in the pants, your battery will die 160 frame sooner than it did on the D7200. The D7500 is good for 950 shots per charge compared to the D7200's 1,110 – although I'll bet real world impact is minimal.
Advice, Such As It Is…
So, that's the highlight show, now for some thoughts.
First, this camera is a bit of an odd duck. I'll admit I was pretty excited about this one at first, but as the omissions and downgrades began to pile up, my opinion began to waiver.
As an action shooter, I still tend to think the upsides of this camera tend to outweigh the downgrades. I love the fact that it now does 8FPS with a relatively large buffer and even features Group AF. Compared to the D7200, this is a solid upgrade for anyone trying to capture action. It's not a D500, but from strictly an action standpoint, it's close enough for most people. Although, keep in mind the D500 brings a LOT more to the table for the extra $750.
Of course, if you're not an action shooter, then what?
Well, it gets tricker. The D7200 is still a fine camera and while there are undeniable upgrades to this body, there are also quite a few potentially serious omissions.
If I were doing event work, the lack of the second SD card slot for backup would cause considerable discomfort on my part. However, as a nature photographer who backs up at least once a day, my risk with a single card slot is minimal so it doesn't really faze me one way or another. I've only had a couple card failures over the years and never lost an image over it (thankfully, they failed to format when they floated pins up at the top of the memory tank).
Of course, if I were using these bodies to shoot weddings or other once-in-a-lifetime (or so) events, the single slot would give me pause. That said, I tend to think that for the target audience of this camera (mid-range enthusiast), a single card slot is just fine. Of course, the internet is losing its mind over this, but I think it's overblown.
A bigger concern for my fellow nature photographers is that lack of a vertical grip. Really, what are they smokin' over there? Personally, I don't usually care for vertical grips, but I know for SURE this is a deal breaker for some folks. In my mind, this is probably the most serious oversight of the bunch.
So, right now my advice leans this way – if you need the most affordable action camera you can buy, then the D7500 fits the bill nicely if you can live without the vertical grip or the extra card slot. I think that for many photographers, the other omissions (or downgrades) are easily offset by the additional action features.
However, if your action work tends to happen on a more casual basis, the D7200 could be the better choice – and it's $250 cheaper.
What about the D7500 or the D500?
Based strictly on specs, I'd say the new best bang-for-the-buck action camera from Nikon is the D7500. Note – that's not to say it's a better action camera, just a better value. Although it has a slower frame rate (8 vs 10), less sophisticated AF, and a shallower buffer (50 frames vs 200), it's now the third fastest camera in Nikon's current line up (behind the D5/D500). I think the D7500 will fare well against the D500 – although it will always be relegated to standing in the shadow of its big brother.
The bottom line is if you need the ultimate in DX performance, the D500 will win that race every time. There are circumstances and conditions where it's going to nail the shot and the D7500 just won't be able to keep pace. The D500 also features a more ergonomic, professional layout, is more durable, is far more feature rich, and enjoys more customization options.
That said, in my mind, the D7500 seems like 70~80% the camera the D500 is when it comes to action (and more like 80- 90% with everything else). The big question is if you actually need the extra features the D500 brings to the game – and if so, do you need them often enough to justify the extra $750 expense?
Well, only you can make that call.
Finally, I'll be doing a full review on the D7500 once I have one in my hands for a month or so of shooting. At that point, everything I said above might be out the window, who knows? The camera is due to start shipping in June, so figure sometime in August I'll probably have a full video review ready to go. That's when I can really make some recommendations.
If you're the antsy type and would like to grab your D7500 right away, you can pre-order at the Amazon links below:
Nikon D7500 DX-format Digital SLR Body
Nikon D7500 DX-format Digital SLR w/ 18-140mm VR lens
PS…
If you enjoyed this article, I think you'll REALLY like my e-books, Secrets To Stunning Wildlife Photography and Secrets To The Nikon Autofocus System. They're filled with hundreds of pages of information just like this. Check it out – click here (hey, it's free to look 🙂 )