So, if you landed on this page you're probably interested in the Nikon 200-500 OR the Nikon 300PF OR maybe just can't decide which one is the best choice. Well, you've come to the right place. In the video below, I go over the two lenses in all kinds of detail, comparing and reviewing them simultaneously.
Also, this isn't like many of the reviews you stumble across out there in the wilds of the internet where the photographer plays with a lens for a few hours (or worse, just reads about it online) and then does a (cough cough`), "comprehensive" review. Nope, my review was done after extensive field use of both optics in multiple locations under varying conditions.
Finally, you'll notice that under the video there are some of the comparison photos from the video. Please note – looking at the photos without the benefit of the information in the video will cause you to come to the wrong conclusions. Trust me on this – watch the video first, and then check out the images below.
Also, if you're planning to purchase one or both of the lenses, please consider doing so via the Amazon links below. It won't cost you anything extra but it will help support this site and allow me to continue to provide free articles and videos.
Nikon AF-S FX NIKKOR 300MM f/4E PF
Nikon AF-S FX NIKKOR 200-500mm
Important note on the photos below
The photos below are downsized to fit on this page. Click the photo and it will open in a new window and enlarge. When that happens, hover over the image with your mouse. If you see a magnifying glass, then click again to see the full size image (if there's not a magnifying glass, then it's already full size).
Indoor test shots:
Outdoor distance + heat distortion
VR Test
Note that this image should be thought of as a relative comparison, not a sharpness test. These were shot at 1/125th and the truth is my hands simply aren't that steady so these aren't as tack sharp as I'd like. However, they were all shot at the same speed by the same hands, so it does allow you to see the relative differences between the lenses and setups.
Note – As I continue to use both of these optics, I'll post any updates here on this page.
UPDATE # 1
I've had a lot of questions about the sharpness of the first two copies of the lens – and how I could tell there was a problem. The thing is, it's really tough to give you a sure-fire way to make sure your lens is up to spec in the sharpness dept.
(NOTE: all test shots are done via live view and focused via live view – so AF tuning isn't a factor. That said, note that every lens was carefully AF fine-tuned before field use, a procedure I've done successfully with dozens of other optics.)
For me, I've been shooting telephotos for the last 30 years, so I know exactly what a sharp photo looks like (OK, at least I like to think I do). When I saw the images the first lens was regurgitating, it was obvious that it just wasn't up to what I expected nor was it up to the level of sharpness I'd observed from the 100% crops posted on various forums. In fact, it was so bad I'd wager that even if you had never touched a shutter release in your life you would have seen it. However, at the time I wasn't sure if this was just typical for the lens (hey, it's a cheapie by telephoto standards). In the end, I sent it back, knowing I would never use it.
Here's a test I did back then. This was a cool day with the sun going in and out and I was at a bit closer range than the tests above. Since the intermittent sun wasn't actively warming the ground, I don't think there was any heat distortion present for this one. Also, this was the typical level of sharpness I was seeing with this lens under a wide variety of conditions in the field. Click it and see for yourself – just not sharp…
(100% crops, Nikon D7200)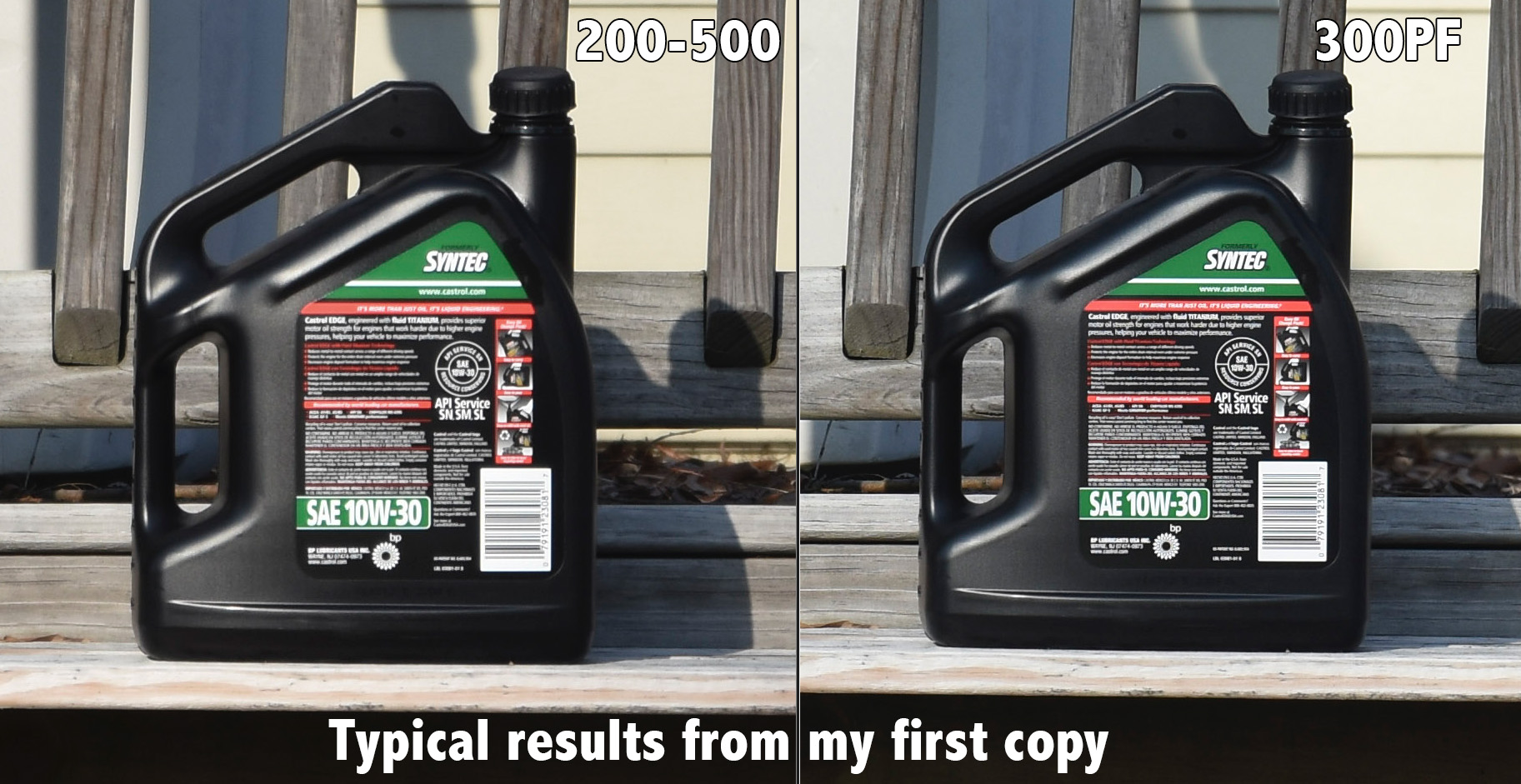 After sending the lens back, I thought I was done with the whole fiasco, but then I kept seeing frustratingly great results with the lens from other photographers. So, about 5 months later, I tried again.
The second lens was tricker and the truth is I have a feeling most people would have kept it. I had the advantage of testing it against another known sharp lens in the same focal range (the 300PF) and I knew from other tests I'd read that they should be at least in the same ballpark – with the 300PF having an edge. However, when I looked at the tests, that just didn't seem to be the case. Additionally, (and more importantly) I just wasn't happy with the sharpness I saw from my test shots in the field. I really expected more detail and acuity from the lens and I wasn't seeing it.
The truth is on the second copy, I was thinking that maybe that was as good as it was going to get, but decided if that was the case then this lens wasn't for me. It just didn't have the level of sharpness I needed in my images. So, I sent it back.
However, this time I wasn't so easily deterred. I thought I'd try it one last time and if I got another copy that just wasn't up to par, that would be how I did the review. In fact, when I purchased the third copy, I was already thinking that the 200-500 was going to take a bit of a beating in the video. Happily, that wasn't the case and the third time proved to be the charm.
When I tested it against the 300PF, it was close (as you saw in the photos above). More importantly, when I used it in the field and examined my images, I saw the sharpness and acuity I had been expecting all along from this optic.
Also note that I do like this lens better at close range than from a distance, and I think that is at least partially due to the way it handles atmospheric distortion compared to the prime. So, if you're not getting tack sharp images with the subject at a good distance, I wouldn't sweat that too much. As long as you're seeing good fur and feather detail when the subject is taking up 25% or more of the frame, I think you're safe.
One last sets of conflicting thoughts for you 🙂 I still think I was just unlucky getting two bad copies. After all, if there was really some kind of rampant sharpness issue with this lens, you'd think we'd see it more often on forums and such. On the other hand, when Photography Life did their review, they tested five lenses and found that two of the copies were of poor quality. So, I don't know what to think!
So, my advice is simply this: If you like the sharpness you're seeing from the lens, then I wouldn't worry too much about it.
Thanks for stopping by!
~Steve
PS…
If you enjoyed this article, I think you'll REALLY like my e-books, Secrets To Stunning Wildlife Photography and Secrets To The Nikon Autofocus System. They're filled with hundreds of pages of information just like this. Check it out – click here (hey, it's free to look 🙂 )