OK, I'll admit it, this is a weird post for me. The thing is, I realize I'm covering a topic that pretty much every photographer already knows:
If you want better wildlife photos, get to eye level or even lower.
In fact, getting eye-to-eye with my subject(s) is something I've been doing for a couple of decades now and is one of three techniques I would classify as having a "game changing" effect on my wildlife photography. (The other two are ensuring critical focus is on the eye and watching your background. We'll probably do an article or two down the road, but all three of these have been in my back pocket for decades.)
The thing about eye-level wildlife photography is that it starts off as an instinctive way to shoot for most lens jockeys. In fact, if you take a new photographer with a 70-300mm lens on an entry level camera, you'll frequently find them hunkering down to get a lower perspective.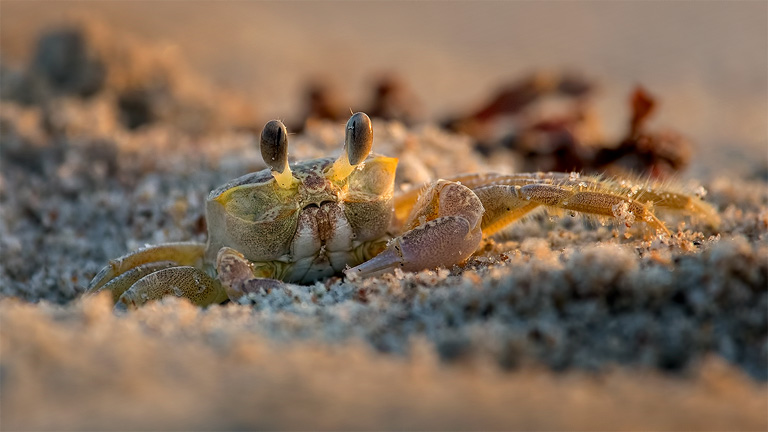 However, over time and seemingly as the gear gets more expensive, this seems to fall by the wayside. And I'm not sure why.
The thing is, although everyone knows they should get down to eye level with their subjects, the vast majority of shooters avoid the ground like it's made of hot lava or something (come on, you played that game as a kid too).
Without fail, it seems like whenever I end up shooting a wildlife subject with a group of people, I'm about the only one getting low and/or attempting to get to eye level – the rest of the crowd just stands there, lenses pointing down at angles that would intimidate even the most ardent roller coaster enthusiast.
Heck, I remember photographing a coyote in Yellowstone last year near the roadway. I jumped out with my 500PF and got as close to eye-level as the scenario allowed. A van pulls up and a "photographer" pops out of the sunroof, big glass in hand, and shoots from a height of no less than eight feet with the coyote right next to the vehicle! I guess if you want a shot of the coyote's back, that works, but I think the image below makes a much nicer portrait.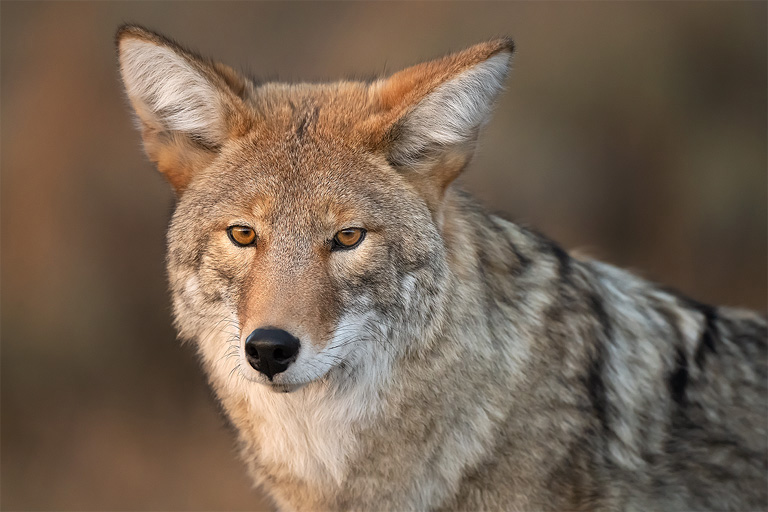 I can only conclude the reason for all this "shooting down on the subject" I see in the field must be that while everyone "knows" getting to eye level or getting low can improve an image, they don't fully appreciate the incredible impact it can have.
In addition, I suspect that the larger, heavier gear – and tripods that often go along with it – play a part, since getting low with the big stuff isn't as easy or fun as that old 70-300 was. The sad thing is, most images are much better off captured with smaller, lighter equipment and a lower/eye-level perspective than they are with high-end gear at the wrong height.
OK, I know that seems a bit harsh, but when I said eye-level photography was a game-changer for my portfolio I wasn't exaggerating – this one simple technique really did catapult my work to the next level – and I've stuck with it (whenever possible) ever since. Once people fully embrace it, they too find themselves avoiding downward sloping lenses the way my cat avoids the pet carrier when it's time for a visit to the vet.
I can't tell you the number of times I've passed on a "great subject" if I have no choice but to shoot down on it. Why? I know I won't use an image shot at a steep, downward angle. Eye-level shooting is like an addicting drug for photographers – once you start doing it, you can't go back.
To get an idea of the difference, check out the images below, one from a standing perspective and one from an eye-level view. Yes, it's the same bird in the same spot taken moments apart. (No it's not "art" but serves as a good example.)
A casual glance through my wildlife gallery will reveal that in the vast majority of cases I'm shooting at eye level or even a bit lower. The only time I deliberately shoot down on a subject is when I'm using it for creative effect, such as you see with the little Bryce Canyon chipmunk below.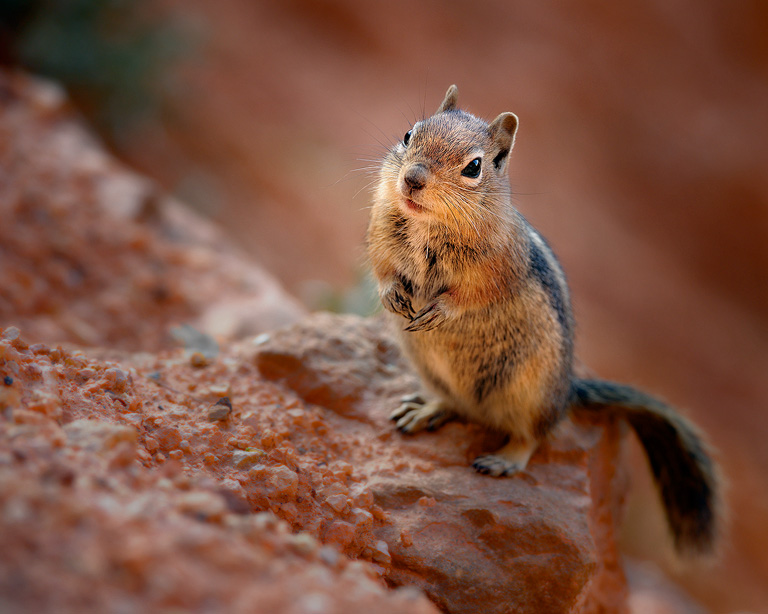 Advantages To Shooting Eye-Level
So, why does shooting at eye level work so well? Simple – it puts your viewer into the scene and into the animal's world in a much more intimate way than the typical "standing and shooting down" stance does. Rather than feeling like a human looking down on and "dominating" the animal, your viewer feels more like a kindred soul, experiencing the world the same way the critter does.
It's actually surprising how often the difference between a "no shot scenario" and a "great shot scenario" comes down to a difference in tripod height!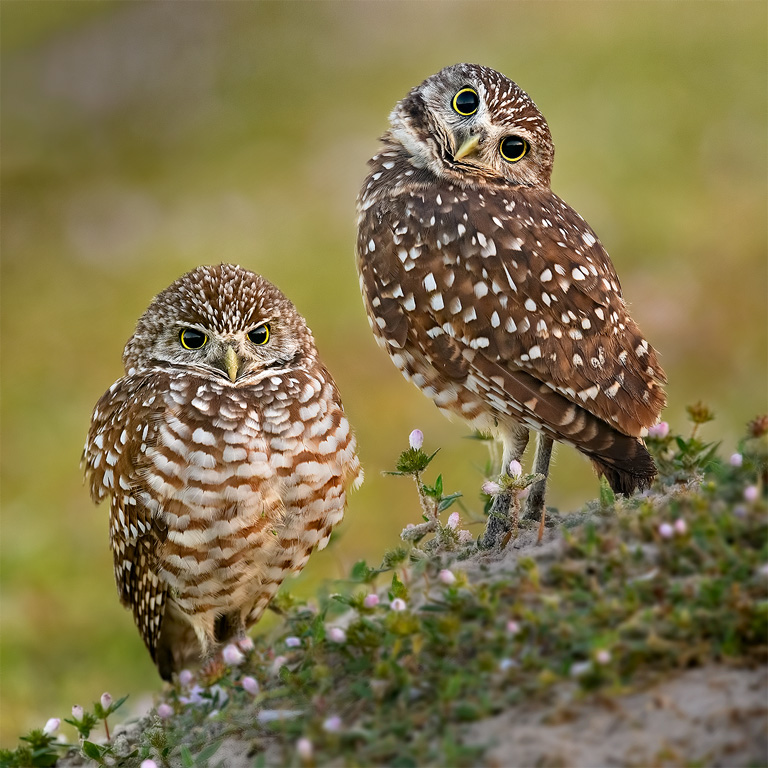 Another aspect of shooting eye-level that I absolutely love is that it often gives your photos an interesting, uncommon perspective. In my experience, one of the easiest ways to get a unique-looking shot is to shoot it low when everyone else is shooting the same thing standing up.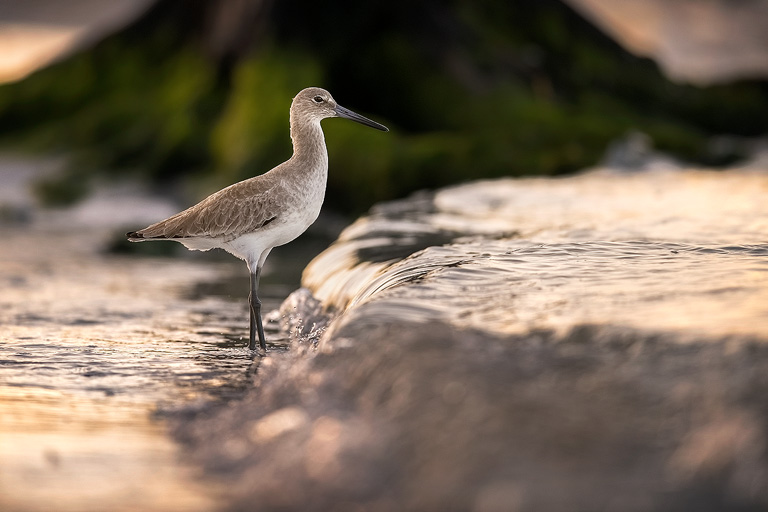 An additional, sort of "hidden" benefit of a lower perspective is that it often allows the foreground and background to compress and "pile up" more in the image than a higher stance does. This effect can lead to a better sense of subject isolation, such as what you see here with the prairie dog. From a standing position, this image would have had quite a bit more grass in focus in front of and behind the little guy.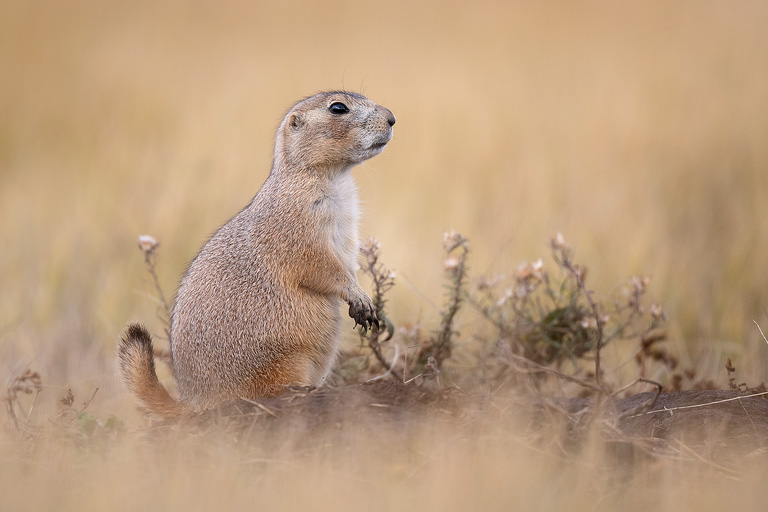 Finally, I find an eye-level perspective can provide a greater sense of "intimidation" when dealing with a more formidable animal. When you're at eye level or lower with a predatory or potentially dangerous creature and it's looking right into the lens, it provides the viewer with a truer sense of just how powerful or threatening that animal is.
As a guideline remember that the lower you are, the more dominant the subject feels, the higher you are, the more dominant the viewer tends to feel.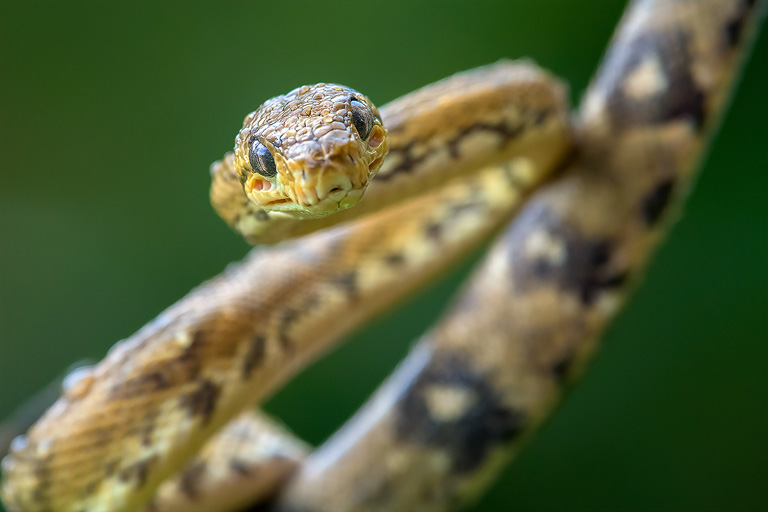 Tips For Getting Low
OK, so you're convinced, but you also know there are situations when getting low isn't as practical as I make it sound. In some cases, there are environmental or physical limitations preventing you from achieving the height you want (like if you're on a hill and the animal is lower, or if you have to shoot from a vehicle in order to avoid becoming lunch). And of course there are times the body doesn't want to cooperate either – a new friend I met in Florida put it this way, "Getting down is easy, but sometimes getting back up, well, that's the hard part!"
So, let's go over some tips for getting that low-angle look.
Drop Your Height
The first and most obvious way to get low is to adjust your own height so you're at or below eye level with the animal. Keep in mind that this doesn't always mean crawling around on your belly either – there are plenty of occasions you can set your tripod for your own standing eye-level and stare into the subject's peepers. Some examples that come to mind include photographing elk, moose, larger deer, an animal in a tree, most flying birds, a standing bear, Bigfoot – those kinds of situations. For the image below, I was standing behind the tripod and I'm perfectly happy with the height.
Of course, there are times you'll want to get lower. I'm frequently adjusting my tripod height so I can achieve an at-or-slightly-below eye level shot with my smaller subjects. Often, this puts the tripod at a comfortable height for kneeling, other times I have all the legs spread out with the tripod base firmly planted in the mud (my head awkwardly tipped to the side peering through the viewfinder – I gotta remember to bring that right-angle viewer).
In fact, for the shot below I set the tripod aside and set the D850 directly on the ground, using Live View and the tilt-screen to focus. (Hint – using Live View + the tilt screen with a slower moving subject is a great way to shoot low comfortably.)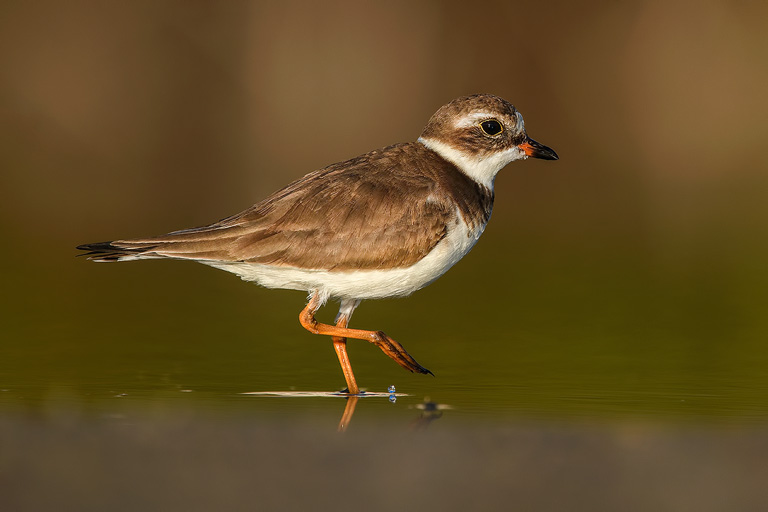 By the way, if you're planning on getting low, my recommendation is to consider pants that can keep your knees dry and even grab a set of knee pads (or a small square of foam can also work well and is more comfortable when hiking). Having a little knee protection is especially handy when the ground is full of tiny, sharp little pebbles or shells.
By the way, I've discovered over the years that kneeling works far better than trying to squat. Sure, squatting can give your legs a nice workout as the minutes pass by, but this is diametrically opposed to my "no pain, no pain" exercise philosophy.

Use The Terrain
The other trick is to use the terrain to your advantage – and this can help if you have a difficult time physically coaxing your body up and down.
For example, when I'm shooting from a vehicle, I try to position myself downslope from the animal I'm photographing whenever possible. (Or I bribe the driver to do so).
For example, I captured this polar bear image from a deck on the back of a polar rover that was probably ten feet off the ground (at least). However, the driver positioned the vehicle in a dip that was at a lower height than the bear, so the shot appears much more eye-level than it otherwise would have been.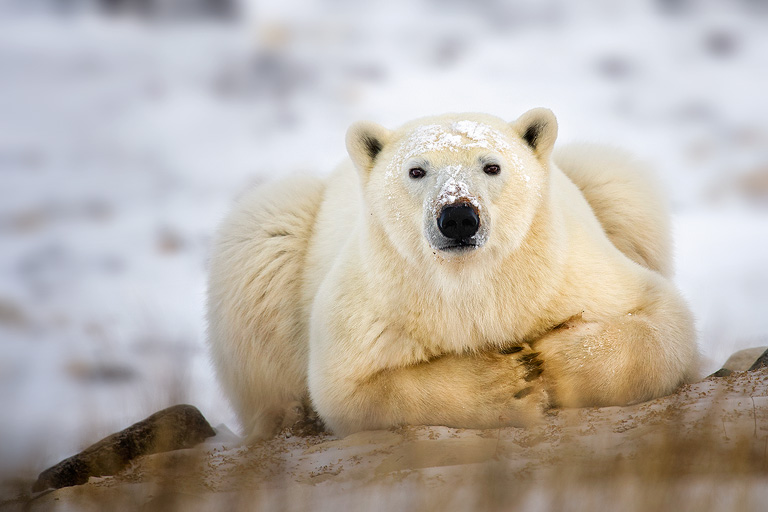 Leveraging terrain also applies when you're on foot – I often use the topography of the area to position myself lower than the animal so I'm shooting at either eye-level or upward. This elk photo was captured using that exact technique from a standing position.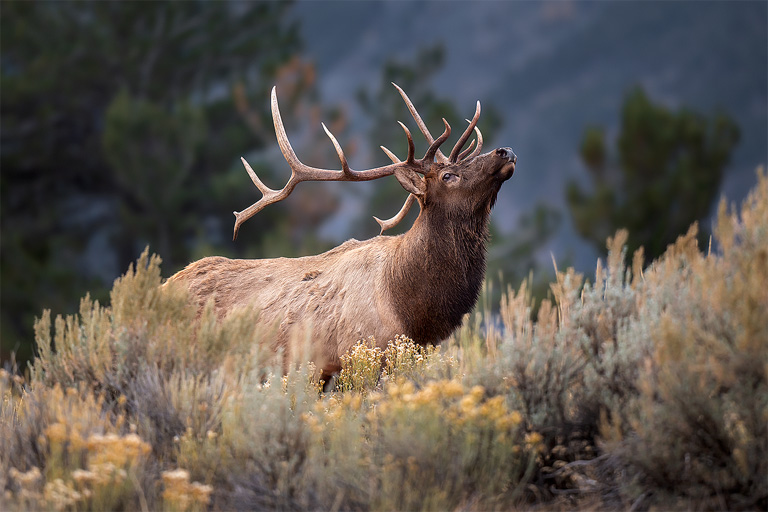 Finally, I find that animals in trees usually lend themselves to a comfortable standing position. I captured the image below while I stood leisurely behind the camera.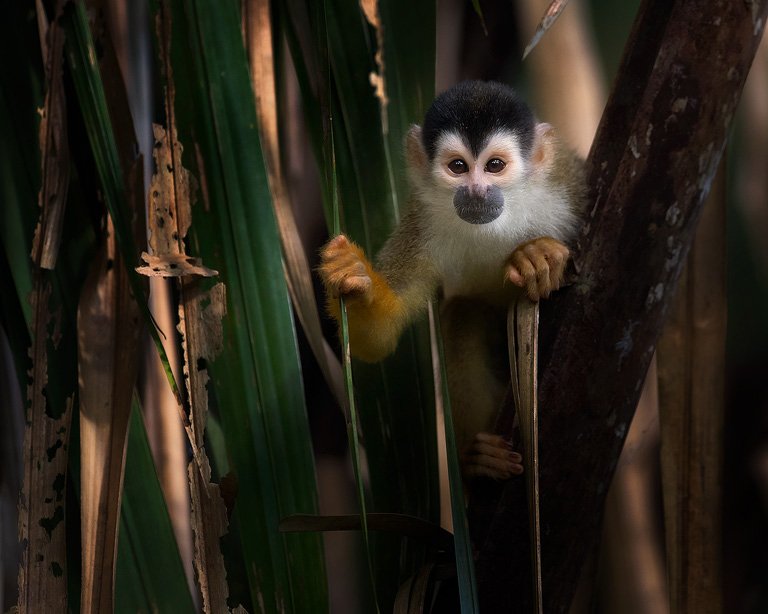 Stay Back And Use Long Glass
The other trick – and you can use it in conjunction with the first two tips – is to stay back and use longer glass. I know, seems odd, but stick with me here.
The further you are from your subject, the less extreme the angle is between your height and their height. The best way to explain it is with this diagram: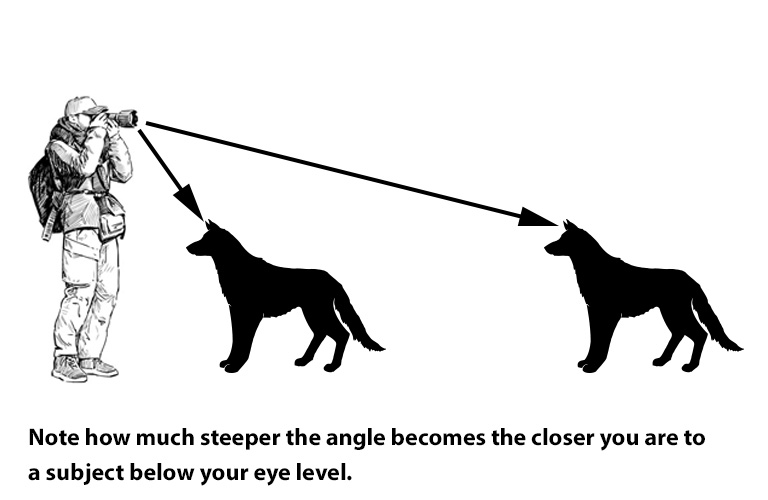 I leverage this little bit of geometry all the time when I can't quite get to eye level. I was recently in Africa and, although we could easily get right next to many of the animals, we instructed the driver to stay back farther. So, even though we couldn't get to ground level in the vehicle, the increased distance to our subject made it appear that we were eye-to-eye with our targets. Had we been right next to the subject, we'd have been forced to shoot at a much steeper downward angle and the images would have suffered as a result.
However, this isn't an excuse to strap on a long lens, stay back, and shoot from your normal standing height either. Although it's a workaround and can help, you still can't beat physically changing the perspective by getting lower. I use this "distance" technique in combination with first getting as close to eye-level as I can on my end.
Don't Go Crazy Either
Finally, I want to mention that anything – including this guideline – can be taken too far.
First, there may be times that, for creative reasons, you want to shoot down on your subject. (Remember the ground squirrel from the beginning of the article?)
You'll also encounter times when a low tripod places too much grass or vegetation between your camera position and the subject. In those cases, I'll elect to go a little above eye-level and capture an image where I can actually see the subject.
In addition, you may have to contend with the sky more frequently when you start shooting lower-angle shots. In some cases, this is just fine (like a pretty blue or partly cloudy sky), but in others it's a non-starter (i.e. plain white or gray sky). So, keep an eye out as you drop height and make sure you like what you see in the background. In some cases, a distracting sky in the background hurts the image more than a lower perspective helps it.
Then there are shots in trees – at times shooting up at too steep of an angle is just as bad as shooting down. I love a nice shot of a bird in a tree, but not if it's a belly shot! (Think about it – would you like someone to take your portrait from that angle?)
Of course, other times shooting straight up can produce a fun shot like the one below. So, remember that everything in this article is meant to serve as a guideline, there are always times you'll want to break the rule for creative effect.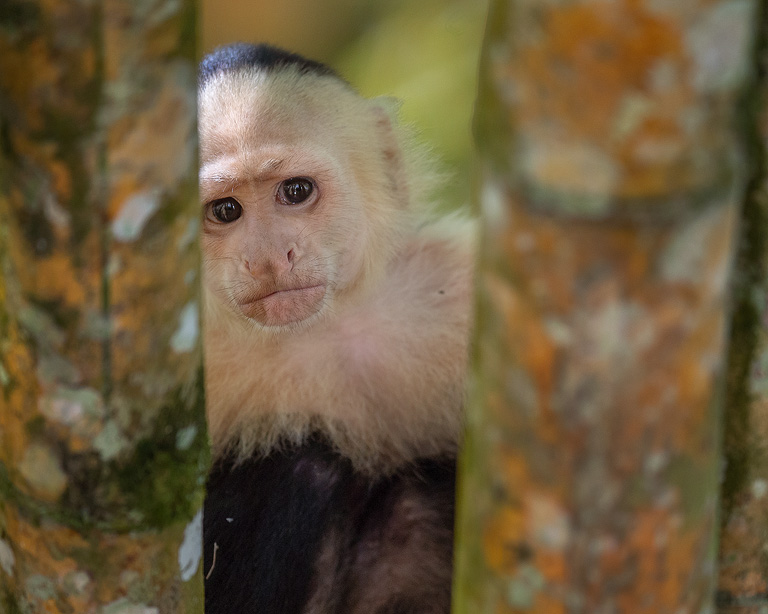 In the end, you have to balance getting an eye-level or low perspective shot with both the environment and your creative goals. Like any photographic guideline, use it when it works but remember the camera police aren't going to drag you off in chains and whip you with camera straps if you don't always shoot low.
Give It A Try
So, I hope if you're not already in the habit of getting eye-to-eye with your subjects you'll give this some real consideration. Like I say, this was seriously a game-changer for me, and I would like to challenge you to try it on your next few outings. I think you'll enjoy the results 🙂
~Steve
PS – If you enjoyed this post, I think you'll REALLY like my e-books and video workshops! Thousands of pages and hours of videos filled with tips, tricks, and techniques – all my best content! Check 'em out – click here (hey, it's free to look).